Photos of Wigan
Photos of Wigan
Album Contents
Album Contents
Wigan Album
Sacred Heart, Springfield
10 Comments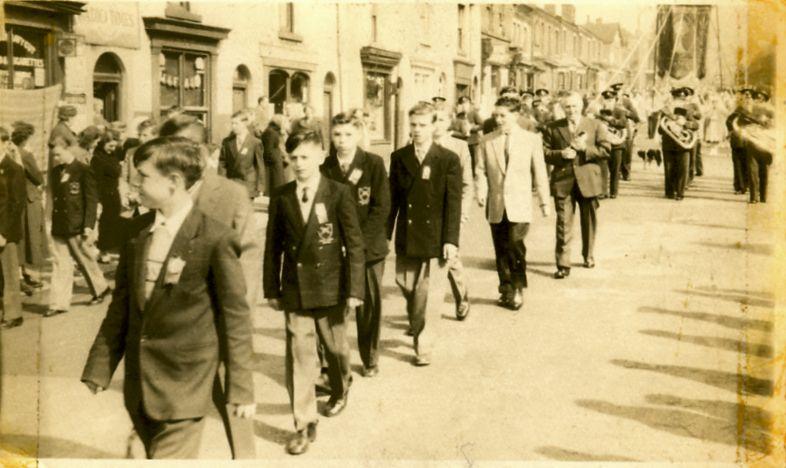 Sacred Heart Walking Day, 60's?
Photo: Kath Aspey
Views: 5,004
Item #: 78
Sacred Heart Walking Day, 60's?
Comment by: FRANK HEALY on 13th July 2007 at 17:07
Looking at the "visble" faces, only, in the near line, the third from the front looks like Joe Prior whilst the lad with the white jacket at the rear is almost certainly Alan Buckley. Just in front,and partially obscured, is possibly Peter Flanagan. The photograph is taken coming down Gidlow Lane just before the junction with Park Road at the Pagefield Hotel.
Comment by: kath aspey on 4th September 2007 at 16:54
yes you are right it is my brother Joe Prior, and just in front of him is one of the Murry lads, sorry can't rember his first name, I used to go to school with his sister Maureen.
Comment by: FRANK HEALY on 10th September 2007 at 14:17
I'm probably way off, but the name Bernard(Murray) springs to mind.
Comment by: b.o'brien on 20th January 2009 at 21:29
Comment by: Frank Healy on 9th February 2009 at 13:08
Hi Barry the second lad ( smart heh ) is yours truly Bernard Mullaney and the date is 1949 as Joe Proir was 1 year older tham me. Say your Terry the other day bozzzing in Wigan lol --- keep em coming
Comment by: John on 16th December 2020 at 21:42
It was Michael one of 7. Brothers
Comment by: John on 16th December 2020 at 21:51
It one of my brothers Michael