Photos of Wigan
Photos of Wigan
Album Contents
Album Contents
Wigan Album
North Ashton Holy Trinity
8 Comments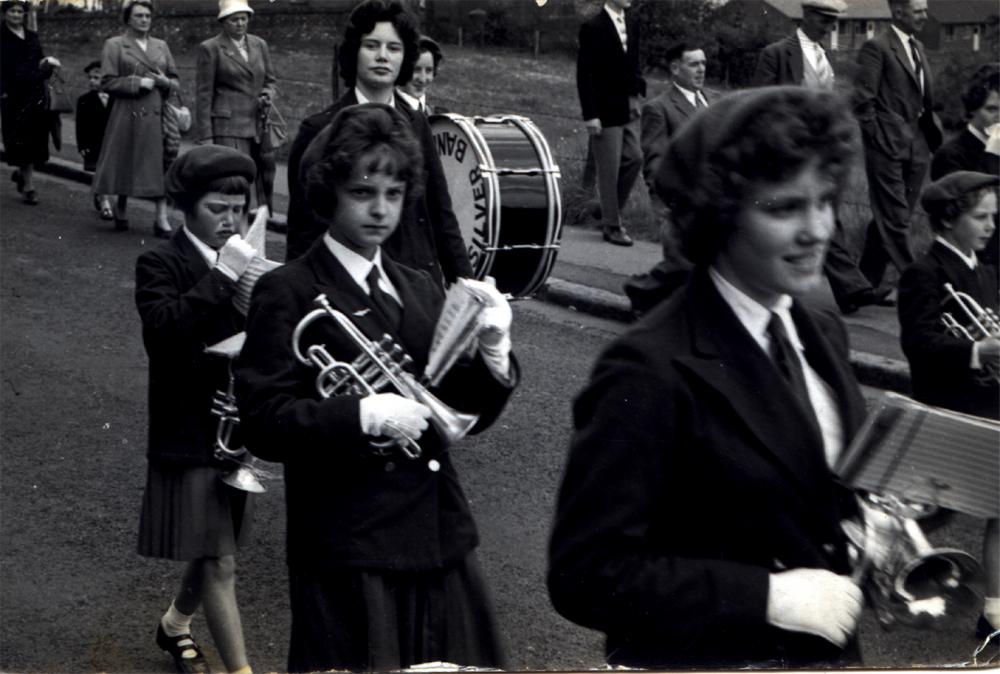 Trinity Girls Band on Trinity Sunday 1960
Photo: Kath Nicholson nee Roberts
Views: 3,221
Item #: 7635
Taken walking down Booths Brow Road.From left to right: Me, Kath Roberts aged 7 years having trouble finding the right music sheet, Hilda Brown, My sister Glenda Roberts, Valerie Woodcock on Big Drum, Marjorie Cunliffe, Anne Chisnall, and nearly out of focus is Marilyn Shaw. This is one of the earliest Trinity Girls Band Photos when Nurse Margaret Stokes first started the Band!
Comment by: Susan Atkins (nee Atherton) on 18th October 2008 at 22:11
Great photo Kath! Your Glenda looks fab but Wow what a face you're pulling hahaha! Love it lol! Jelly Sunday, such good memories. xx
Comment by: Kath Nichoslon nee Roberts on 19th October 2008 at 20:31
Hi Sue, you're right about the face ha ha. Still looking for more of those elusive band photos, I will put them on as and when I find them! LOL
Comment by: Lyndon Crompton on 21st October 2008 at 10:10
Great photo Kath. I was walking with the Boys Brigade on this day. Wasn't the Girls Silver Band originally part of North Ashton Girls Guildry and like the Boys Brigade used to have band practice in the school hall next to the Blue Bell?
Comment by: Kath Nicholson nee Roberts on 21st October 2008 at 16:43
Yes Lyndon you are spot on there, Nurse Stokes formed the Girls Guildry and then the Band, and we did rehearse in the village hall next to the Blue Bell. In fact my brother Dave Roberts was also in the boys brigade and would be walking that day too I think
Comment by: Lyndon on 22nd October 2008 at 20:16
Kath, I remember Dave very well both in and out of the BB. We all used to make swings in Bluebell Wood. If I remember correctly your family lived in Birch Grove near Kenny Livesley. I gather from Albert Thompson's comment on another photo that Dave is no longer with us, so plaese accept my condolences.
Comment by: Kath Nicholson nee Roberts on 28th October 2008 at 22:54
Hi Lyndon, lovely to hear your memories of our Dave, and yes tragically he was killed in a car accident in 1985 whilst he was living in america - we flew him home and he is buried at Holy Trinity - thankyou for your condolences
hi kath thanks for reply looked at trinity walking day,brings back memories.your dave was the last one of your family i saw,going back a few years, i decided to have a look for you all, and went in the bluebell one night to ask around and dave appeared at bar,he didnt recognise me until i told him my name, had about ten minutes or so before he had to go, that was quite a few years ago, sorry to hear he s past away.good photo of you both.when i can get the hang of this computer i ll stick a photo on of some of the mates i play guitar with these days.were having a reunion on the 14 nov at the turks head in St Helens with one of the folk groups i used to play in,so will take my camera with meand take a photo before i get carried away(they have 8 real ales on )and they certainly make you sing and play better.anyway will talk again later all the best, keith
Comment by: Kath Nicholson nee Roberts on 9th November 2008 at 16:57
Thanks Keith, will really look forward to seeing the photos!