Photos of Wigan
Photos of Wigan
Album Contents
Album Contents
Wigan Album
North Ashton Holy Trinity
6 Comments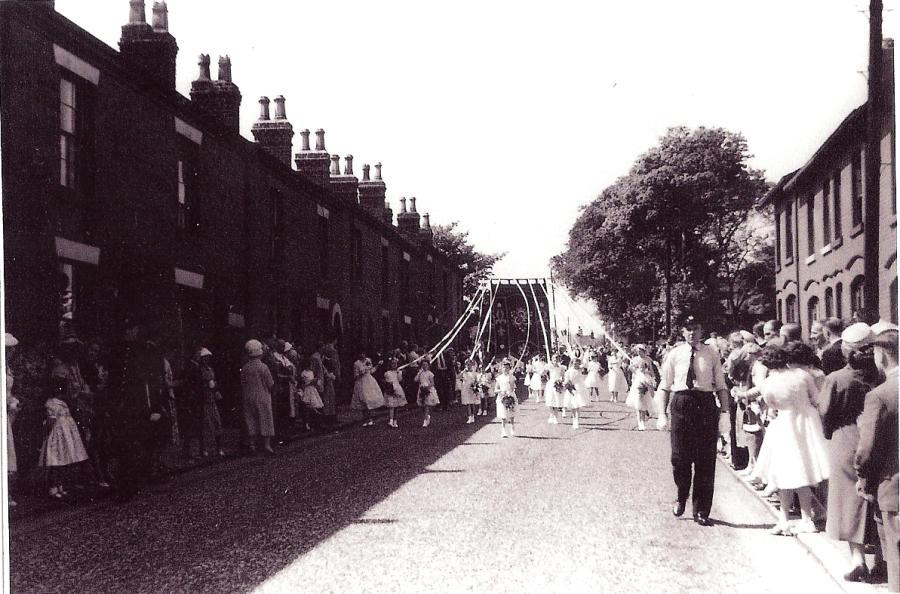 North Ashton Holy Trinity Walking Day, c1961
Photo: Lyndon Crompton
Views: 2,768
Item #: 7254
The procession in Rectory Road. The young lady, in the centre, leading the procession, is Lynne Davies and the more forward of the two on her left, I think, is Sandra Walker.The policeman on the right is once again my dad now promoted to Special Sergeant Cyril Crompton but I don't know the other one.This point in Rectory Road was about 200 yards from the end of the walk, the end being Downall Green village green at the bottom of Rectory Road. When all the procession had gathered on the green the vicar of Holy Trinity would conduct a short service to which most of the village would attend. As regards traffic, buses between 1pm. and 4pm.took a different route,all the rest just had to wait.
Comment by: janet on 13th September 2008 at 12:58
It has been many many years since Rectory road was void of cars, bumper to bumper along both sides of the road. I loved Walking Days.
Comment by: Carol W on 19th September 2008 at 22:32
Jelly Sunday! What a day. An occasion remembered with affection by many. Rector Hall was certainly on top form on the Green.
Comment by: lynn Frodshm (nee Davies) on 2nd November 2008 at 13:31
Yes, that was me leading the banner. It always seemed to be hot on Trinity Sunday and your new white shoes ended up with melted tarmac on them.
Comment by: shirley roberts on 9th November 2008 at 19:33
hi lynne yea great memories of jelly sunday,used to love it when everybody came to visit good times,xx
Comment by: carole birch on 16th May 2012 at 23:25
i used to walk with st andrews from garswood an we used to meet up with holy trinity at birch grove. happy days all the family would cum round for tea on jelly sunday.beatrice lowe my aunty used to do the flowers at churchz
We lived near the Cromptons. I remember Lynne Davies. I used to go to school with her husband James who lived near my fruend Marie Whittle in Garswood.