Photos of Wigan
Photos of Wigan
Album Contents
Album Contents
Wigan Album
St William's RC Primary School
5 Comments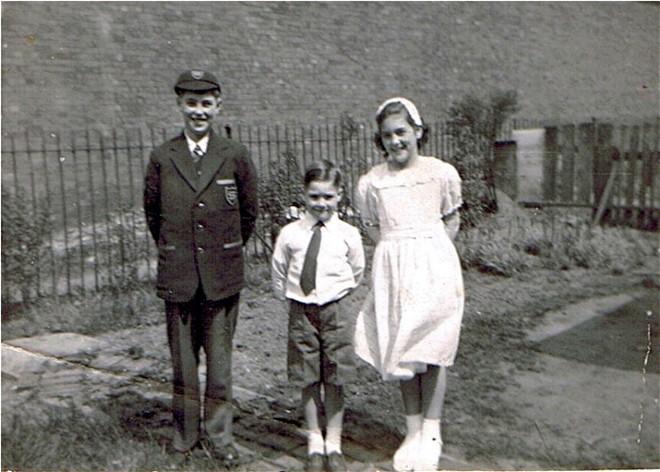 Getting ready for Walking Day
Photo: Jack Lawton
Views: 2,132
Item #: 7183
Taken about 1954 or 1955 in our back garden at 22 Leaway, Ince, before we left for the church. I am on the left, my sister Lilian is on the right and my brother Tommy in the middle.
Comment by: josie pennington nee beckett on 17th February 2010 at 22:04
hello again jack,have u seen the dvd of st williams walking day i just saw this pic in leaway and the dvd starts in leaway i think from the tarpeys house,year june 1957.
Comment by: Jack Lawton on 21st May 2010 at 09:44
Hi Josie, no I havn't seen a DVD of the walking day. Do you know where I can buy a copy of it?
yes jack i have a couple of spare ones,you can have one gladly, its not very good quality but watchable i think the original was filmed by two brothers ,finnys,possibly lived in leaway , it starts in leaway think tarpys?it was on a video and my cousin put it on a dvd and added band music,i have seen myself my sisters my grandma and loads from school although when i first saw it i didnt see anybody untill further viewings ,i was 6 at the time,if you send your adress by e mail i will drop it off.
Comment by: Jack Lawton on 9th June 2010 at 19:33
Thanks Josie. My email address is in my profile,(jacklaw), but I doubt if you will manage to drop it off as I am in Inverness just now. I will be coming down to Wigan towards the end of June so maybe I could pick it up off you.
hi jack, yes it would be a bit difficult, and yes you can pick it up if you want just let me know,i dont know how to get into your profile? so have left you my email adress you can send me an email if you want.