Photos of Wigan
Photos of Wigan
Album Contents
Album Contents
Wigan Album
Higher Ince Walking Day
12 Comments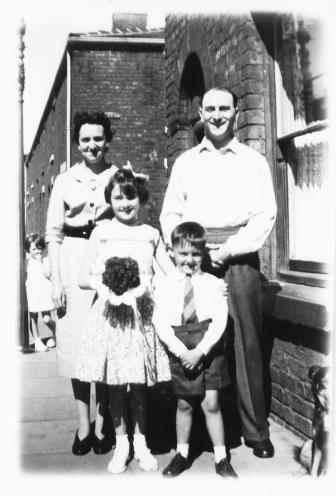 Family photo
Photo: Stephen Price
Views: 3,017
Item #: 7173
The Price family, Marian, Tony (ma and pa) Janet and Stephen taken just before walking day
'59 or '60. It was taken outside our house 30 Belle Green Lane. The little girl leaning on the gas lamp is one of the Dean girls (Josie Or Marie). I can remember the man coming round every night to light the lamp.
Comment by: carol togher nee hilton on 17th June 2009 at 15:04
stephen did you go to ince central school? if so i was in the same class along with billy green i see billy ever week in the pubs round wigan
Comment by: Stephen on 27th June 2009 at 17:04
Hi Carol, yes i went to Ince Central and was in same year as Bill. Your name is familiar but it was a long time ago.
Not seen Bill for about 35yrs but we've been in touch by email through this site. Lovely to hear from you. Hope all is well with you. Do you have any old school or family photo's you could put on here?
Comment by: carol togher nee hilton on 29th June 2009 at 12:29
nice to hear from you stephen and you are ok & i am very well thanks for asking billy is the only one i see from school he did tell me you keep in touch by email your ears must have been burning i read your other coment on the teachers can't believe you can't remember them do you remember the teachers in the juniors miss melling 1st class miss morgan 2nd then miss melling again 3rd and 4th class mr heaton then i went to rose bridge great to hear from you
Comment by: Stephen Price on 29th June 2009 at 19:43
Hi Carol, Yes, i remember some of the teachers from junior school. The ones you mentioned apart from mr heaton (no recolection) plus the Headmaster Mr Lowe. I'll make it my business to come over and get to one of Bills gigs soon and hopefully we can meet up. I see you also went to Rose Bridge. Have you seen the photo of the football team in the 1st year?
Comment by: carol on 6th July 2009 at 10:41
hi ste mr heaton is on the school photo 1953 sports
Comment by: Stephen on 7th July 2009 at 20:35
Hi Carol, thanks for the info about Mr Heaton. I've just had a look at the photo and can honestly say i have never seen that man before lol. I'm afraid my memory is very selective these days. I can remember a younger teacher who took us for PE. Dark haired man who was quite good at sports himself. Not got a clue what his name was though. I'm sure Bill will remember him, he (in his own words) has a 20-20 memory.
Comment by: ct on 8th July 2009 at 11:32
hi ste there was a mr. fairchild tall dark hair we should have gone into his class in the 3rd year but i'm sure he left thats why we got miss melling again can't remember any other men just mr. lowe the head i'm sure bill will remember i have seen his band Billy and the Temprementals miss glover was right he does have a vivid imagination
Comment by: Gerry on 20th October 2009 at 18:33
I remember Marie Dean she was in my Class at St Williams and lived in earl St
Comment by: Stephen Roche on 19th February 2010 at 19:17
Hello stephen iam bill kings son in law late wife susan king
Comment by: Stephen on 21st February 2010 at 10:34
Hi Stephen, trying to remember last time I saw you. I can remember taking you, my dad and Harry Welch to Abram Labour Club (or somewhere close) so I could borrow his car for the night to take my girlfriend out. Came back later to pick you lot up again. That would have been about 35yrs ago.
Hope you are keeping well.
Comment by: Kathleen Lewis Ne Hilton on 13th May 2010 at 23:29
hi stephen i used to play with your sister janet and marie josie and james dean in your back yard you all shared the same yard my dads sister and my auntie was annie capper who had a shop in bellgreen lane i lived in engerneer st and i went to st bills with stephen roach and gerry it was nice to see the photo of the family a blast from the past
Comment by: Kerry Murphy on 10th September 2012 at 22:04
The girl at the back is my mum Josie. Still as nosey now :-)