Photos of Wigan
Photos of Wigan
Album Contents
Album Contents
Wigan Album
Higher Ince Walking Day
10 Comments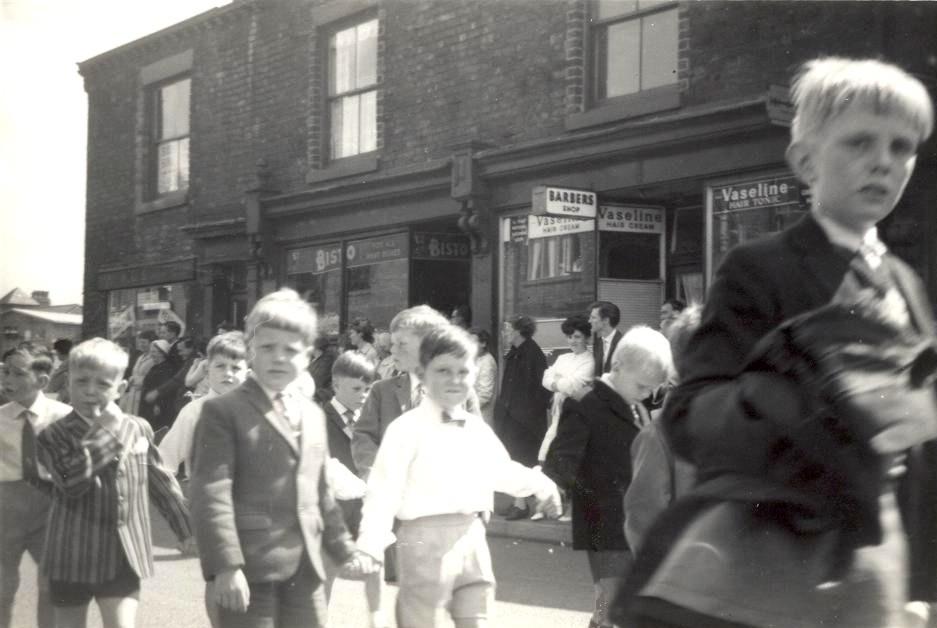 Walking Day Higher Ince
Photo: Graham Thompson
Views: 3,615
Item #: 7050
Higher Ince 1966
Comment by: John on 16th August 2008 at 16:02
The picture looks like it was taken where Kentucky Fried Chicken is now at the top of Stopford St
Comment by: pam on 16th August 2008 at 18:14
is that Jeffery Hunter in the striped blazer.
Comment by: Douglas on 17th August 2008 at 10:57
That must be Kens barbers shop then. Didn't matter what style you asked for you all came out looking the same.I remember we used to kneel up on the chair.
Comment by: peter frost on 17th August 2008 at 17:00
i remember that barbers shop.
me dad would drag me down to have me hair cut if it needed it or not
Comment by: Stephen on 5th October 2008 at 10:24
The lad turning around behind the lad with the white shirt and dickie bow looks like Steve Tomlinson
Comment by: Gerry on 20th October 2009 at 18:25
W O Simm had the plumbing shop on the left of this picture next door was the fruit and veg shop and then the Barbers I cant remember his name but I do remember he had a gammy leg and closed on Wednesday to go to Wrightington Hospital to cut patients hair Ken Crawshaws Barber shop was jut out of shot behind W O Simms
Comment by: jeff hunter on 24th March 2010 at 15:44
yes-its me in the striped blazer-jeff
Comment by: Trevor Hardy on 26th September 2015 at 21:31
think thats me next to Jeff, lad looking back deffo looks like steven Tomlinson, is that Howard Davies behind Jeff?
Comment by: Anne Varley (nee Davies) on 7th February 2016 at 19:25
Yes, that is my brother Howard Davies behind Jeff