Photos of Wigan
Photos of Wigan
Album Contents
Album Contents
Wigan Album
St William's RC Primary School
8 Comments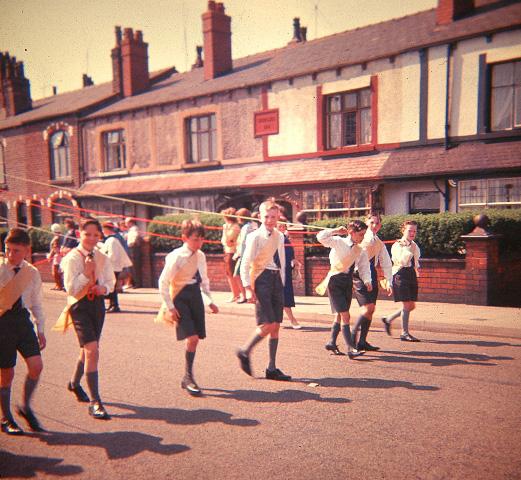 St Williams mid 60s
Photo: Gerry
Views: 2,862
Item #: 6460
From about 1960 Far right is Chris Docherty who now runs the Royal Oak in Wigan I am sure that some of you will show him this and take the
..oui oui (french)
4th from right is Joe Lowe who is now an Inspector on Wigan bus station yes Graham Taylor that is you closest to the camera.
Comment by: aitch on 26th June 2008 at 20:11
You can say one thing about Joe Lowe, he has not changed in his looks, I worked with him and also lived near him when he lived in Heber street Ince
Comment by: Darren on 27th June 2008 at 14:34
Does he only have one leg?
Comment by: Gerry on 28th June 2008 at 21:29
Darren you make it so obvious that you did not listen at school.. Joe is FOURTH from the right.. start counting from your thumb when you get to your ring finger thats FOUR.
Comment by: Darren on 30th June 2008 at 15:17
Comment by: Martin on 2nd July 2008 at 02:51
it's becuz he's the one with only one leg. you've gone and hurt his feelings now!
Comment by: Bill on 21st December 2008 at 23:29
Surely this should be in the Hopping Day category? (Sorry!). Bill (Gerry's dafter brother).
Comment by: joe low on 28th February 2010 at 16:30
me and my mum are looking at these any more please or does anybody have any from about 1966/7 so i can find our mark
Comment by: Dm on 14th April 2010 at 16:48
It Just shows I brought up two daft lads Gerry & Bill@s Mother