Photos of Wigan
Photos of Wigan
Album Contents
Album Contents
Wigan Album
Bethel Church Walking Day / Other Events
7 Comments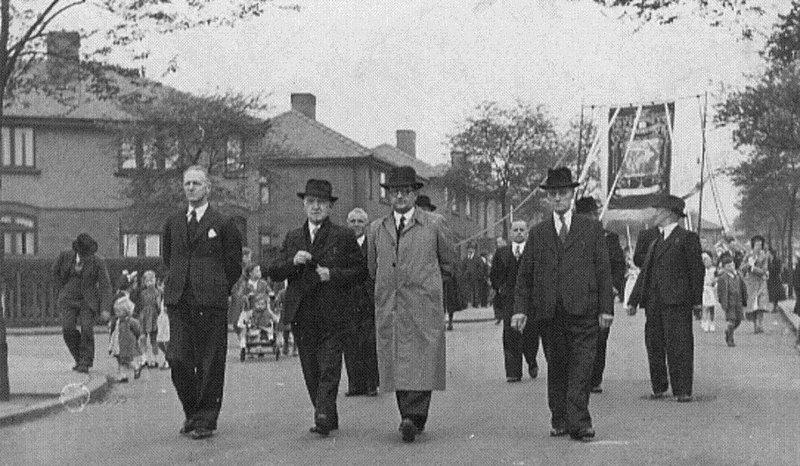 Bethel walking day
Photo: Peter Mason
Views: 1,525
Item #: 6328
again, looks like Almond Grove. My uncle, Tom Mason is on the left
Comment by: Bob Aspey on 11th June 2008 at 13:40
Hi Peter...Front Row:- Tom Mason, Peter Benson, Minister for the day in mac,Sam Smith.
2nd row:- Jack Knowles, Jim Knowles,Jim Green (looking over his shoulder)
Comment by: mrs. garry nee hitchen on 12th June 2008 at 14:20
this looks like heather grove to me, corner of pine road on the left . i remember the masons and the knowles family s.and also someone we used to call uncle joe.a
Comment by: Elayne on 13th June 2008 at 20:45
Would the Knowles' descendants later belong to Clowes? I remember David Knowles some relation of his married into the Mason family, I went to Sunday School with their daughter.
Comment by: Peter Mason on 14th June 2008 at 14:35
Hi, sunshine.
David Knowles was the grandson of Jim Mason - son of Muriel who married Jim Knowles
Comment by: Donna on 27th June 2008 at 00:18
Is this not taken on Poplar leading to Daisy? It looks very familiar, but i now only know of there being trees on Almond and Larch, Were the trees all around the estate and have been removed now??? ps thank you for the photos i love to see what my estate looked like way back when!
I agree with Mrs.Garry.think this is Heather grove,and pine road on left.
I came from Daisy road,and know the trees in poplar ave.,were much larger than those on photo,but have long since been removed.
Comment by: Tom Meehan on 14th March 2013 at 19:17
It could also be cypress road,and bottom of daisy road on left.