Photos of Wigan
Photos of Wigan
Album Contents
Album Contents
Wigan Album
St Patrick's Walking Day
17 Comments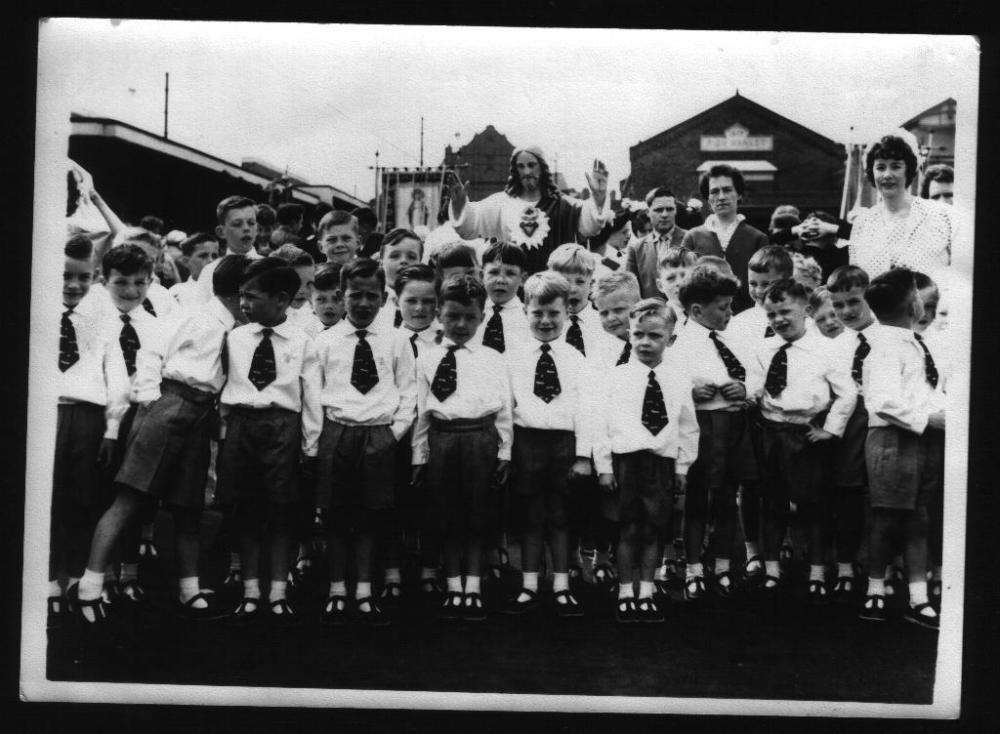 St Patricks walking day
Photo: Joan Beckett (Wilding)
Views: 6,622
Item #: 5979
June 1962, my brother Robert Wilding is the blonde haired boy peeping around the smallest boy at the front
Comment by: frank clossick on 30th April 2008 at 00:46
anybody know any other names of these kids
behind The boy at the front right turning round, looks like Thomas Gibson.
Comment by: Peter Hill on 1st June 2008 at 18:40
The lad third from the left, looking to his right - is that Bernard Coyle, used to live in Knowles Street ?
Comment by: frank clossick on 3rd June 2008 at 17:42
yes joan from 57 onwards, i think the lad on the front row second from the end is joe berrigan
Frank we lived on Darlington St near to what was Billy Seddons butchers my mums maiden name was Rooney not sure if you parents knew them or not.
Comment by: lynne kirk on 8th August 2008 at 19:06
l remember some of the lads on this photograph : on the front row is Ian Pictcher, 2nd row is Stephen Lynch :and on the left hand side to the picture is Frank and next to him is James Bennett these a few of the boys what where in my year at school.
Comment by: jacqueline penman on 2nd September 2008 at 17:48
Frank don't think it was Joe Berrigan cos he was in my class at school,think this was our Frances's class,Can see Terry Moran and Joe Hare,Bernard Coyle
The boy 5th from the left on the front row is my uncle : Thomas Duffy.
there are some familiar faces on there but i can't put names to them
the boys in the picture are of mixed age groups and mixed years. rob wilding, ian pitcher, and some of the other lads where in the same class and year as john clossick at st pats and so was l.
Comment by: lynne kirk on 22nd September 2009 at 23:14
l have some walking day photo's and crowning photo's of when l walked with st pat's.
hi rob im doing fine, hows things with you.
Comment by: john clossick on 1st June 2010 at 22:28
owd mon all i can say is thas sum ugly buggers among thiss lot,anno loads a faces but cant name um aber i was ther sumwer pity a was so hansum ha ha ha.
Comment by: Anita Clayton on 2nd September 2012 at 18:29
Kev Ashton i think is 2nd from left.
i was in the same class as john clossick,and would like to conntact him
Comment by: Frankclossick on 26th December 2019 at 15:49
You will find John clossick on face book