Photos of Wigan
Photos of Wigan
Album Contents
Album Contents
Wigan Album
Higher Ince Walking Day
6 Comments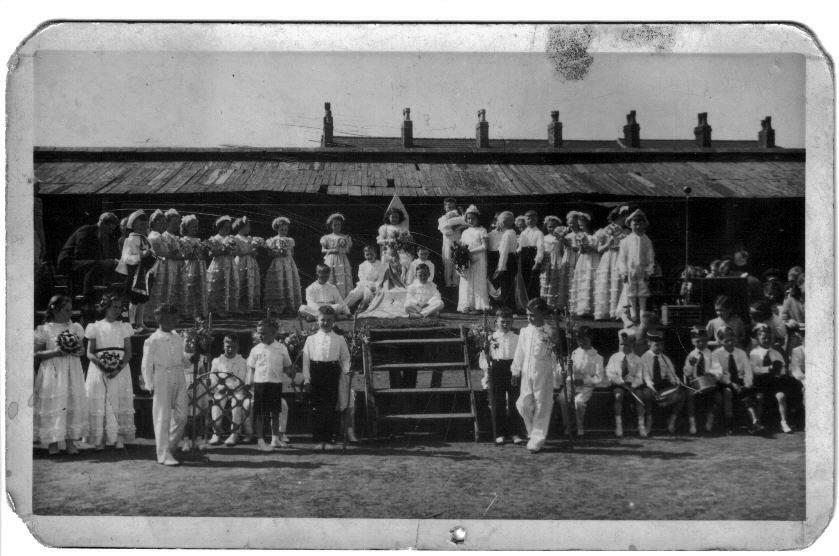 walking day 1956
Photo: aitch
Views: 2,909
Item #: 4827
Ince walking day
Comment by: RON on 2nd February 2008 at 21:27
Looks like it is a Coronation re enactment ? and everyone has a sign with 1953 which would fit in. I
Comment by: aitch on 2nd February 2008 at 22:07
it was the may queen of that year, after walking round the streets, they all went back to the rec for dancing round the maypole, the houses in the background are in Pickup street, the wooden structure is the stand behind the goals of the rec
Comment by: Helen West on 3rd February 2008 at 09:52
Is it me just being an old misery or did we do things with a lot more style years ago.? What a wonderful picture & what hard work went into oranising events like that....& all the sewing that was involved !
Comment by: RON on 3rd February 2008 at 12:01
In those days children were CHILDREN untill they were about 12.
Alas, the innocence of children is gone. No one can tell me that kids today are happier then we were. Although in those days money wasn't the be all and end all. My kids can't understand how I could have a GOOD DAY OUT(8 or 9 hours train spotting) on 6d. 2d each way bus fare, 1d platform ticket, and 1d chew. Butties and a bottle of water provided my mum.
If you had 1/-, you were RICH. beyond your wildest dreams
HAPPY HAPPY DAYS....Kids today don't know what true happiness is.
Comment by: Evelyn on 3rd February 2008 at 15:06
I was in the retinue for the May Queen at Ince in 1948 and we used to have a wonderful time. The picture above would be on the crowning day in May,then we walked in procession during the church walking day in June,then in August we used to ride on the back of a decorated lorry in Ince Carnival.Wonderful memories---- thanks Aitch
Comment by: Keith Bowen on 24th April 2009 at 17:09
Hi Evelyn, I'm so pleased you mentioned Ince carnivaland the month, since a pretty early memory of mine in 1950 was watching this event from the upstairs "Clubroom" of the Crispin Arms, we had a great view all the way down Manchester Road of all the fantastic activities. Strangely I can only remember that particular year, do you know when it came to an end since we lived at the Crispin until 1956.