Photos of Wigan
Photos of Wigan
Album Contents
Album Contents
Wigan Album
St Mark's, Newtown
11 Comments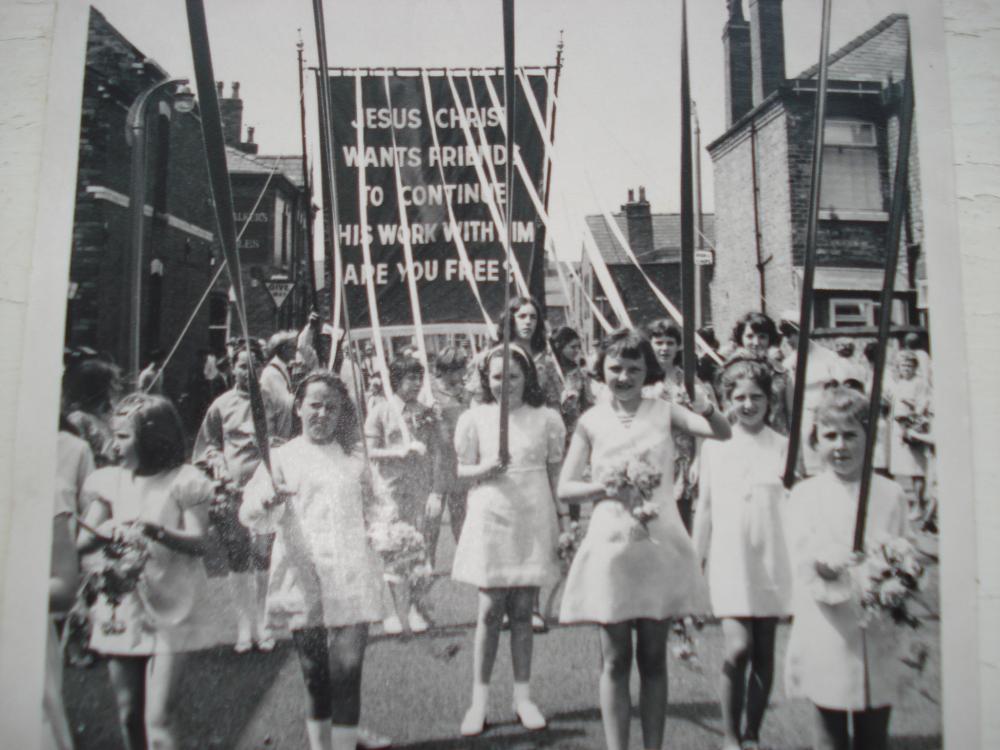 St Marks Walking Day
Photo: Nadine
Views: 5,723
Item #: 3514
Photo taken whilst in Arundel Street Newtown approx 1968-69
Any more pictures as I think I was at the back , Remember you from Sunday School
Comment by: nadine on 17th January 2008 at 13:59
Sorry no more pics of this walking day, yes I remember you too, hope you are ok.
i was a bit too young to be in the picture,but im sure i would have watched with my mum.i lived at number39
Comment by: Michael Ardern Mason on 18th September 2008 at 06:37
Hi Nadine
I remember you and your mum and dad from my Newtown days. You lived in Victoria Street, next door to Mrs Liptrot's (later Ralph Freeman's grocers shop). I lived at number 40 Victoria Street in the house adjoining my parents' grocers and confectioners shop. I particularly remember Mr McDonald, Vicar of St. Mark's, introducing the walking day banners with biblical quotations to replace the old picture banners, and have many happy memories of St. Mark's Church, Newtown.
Best wishes, Michael Mason
Comment by: John Jarvis on 25th September 2008 at 21:11
Christine Croston says: I can see Christine Lancaster...so I must have been at the back with you Jean...
I had my hair up that year; Malcom Foster did it.
Happy days...
I used to live in Newtown and attended St Marks church and school I was born in 1943
Hi Enid, yes I do remember you as I use to go to church with you and sunday school. You use to live next door buit one to Swifts the chemist at Union Bridge
Comment by: pamela on 21st March 2011 at 21:23
Hi Nadine, think i'm on that picture next to you, nice to see the pic. thanks
Pamela yes it is you hiding behind the rope! How lovely to hear from you, I have often thought of you and wondered how you are. If you would like to catch up, please drop me a line.
Fascinating to see these old pictures, though I was long gone by 1968. Quite a different world now, at least for me in Texas. I do recall Enid Smallshaw being in the same year at St Marks.
Hi Enid, how are you? I am still in Glasgow, although sadly Felix died 2+years ago. I found Gummerson papers in my dad's box if you would like me to send them.