Photos of Wigan
Photos of Wigan
Album Contents
Album Contents
Wigan Album
Belle Green Lane, Ince
5 Comments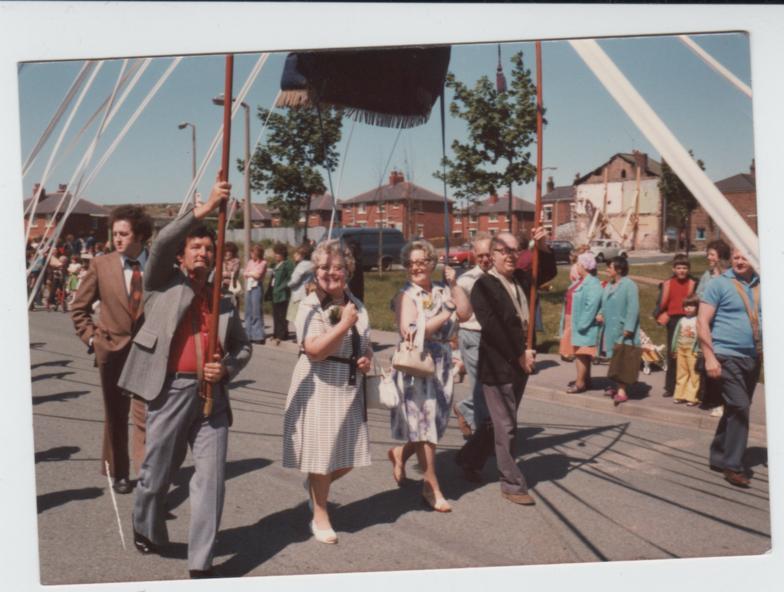 Belle Green Mission Walking Day
Photo: Maureen Rutter
Views: 2,674
Item #: 3375
Taken going down Kendal Road,Banner carriers Arthur Pennington on left, Harry Appleton on right and my Mum Hilda Green and sister Milly Appleton
Comment by: rudolph on 16th June 2008 at 16:40
peter, are you the 6th member of the jacksons?! what an afro(wig)!!!!!!
Comment by: Kath Devine on 8th November 2008 at 11:44
Did harry live in Springview?
No my Uncle Harry Appleton used to live at the top of Petticoat Lane and originated from Scotland
Comment by: dave thomas on 26th January 2009 at 13:37
7


maureen i was looking at your pics of belle green school i know a lot of these especially denis boyd cliff &alan darbyshire etc.i was at belle green from 1953 to1958 i remember a boy in early class being stabbed to death top of lane he sat next to me in class but i cant recall is name it was a big thing at the time. i was in the same class as bill ashurst & little billy ashurst as he was called who lived in the same street as sandra mulvey also wilf holland polly" was in my class but alas no pics of our year unless someone out there has one great to see your pics anyway bring back smashing memories of my time there. p.s. i replied on this site because of the later date you replied yo this pic.
Comment by: Glenis on 31st March 2009 at 11:00
Hi Dave
The Boy you are Thinking About Could Be Wilfred Schofield. I Have Put A School Photo on Belle Green School Site You May Find Interesting I Think You Could Be on it.