Photos of Wigan
Photos of Wigan
Album Contents
Album Contents
Wigan Album
St Anne's, Beech Hill
6 Comments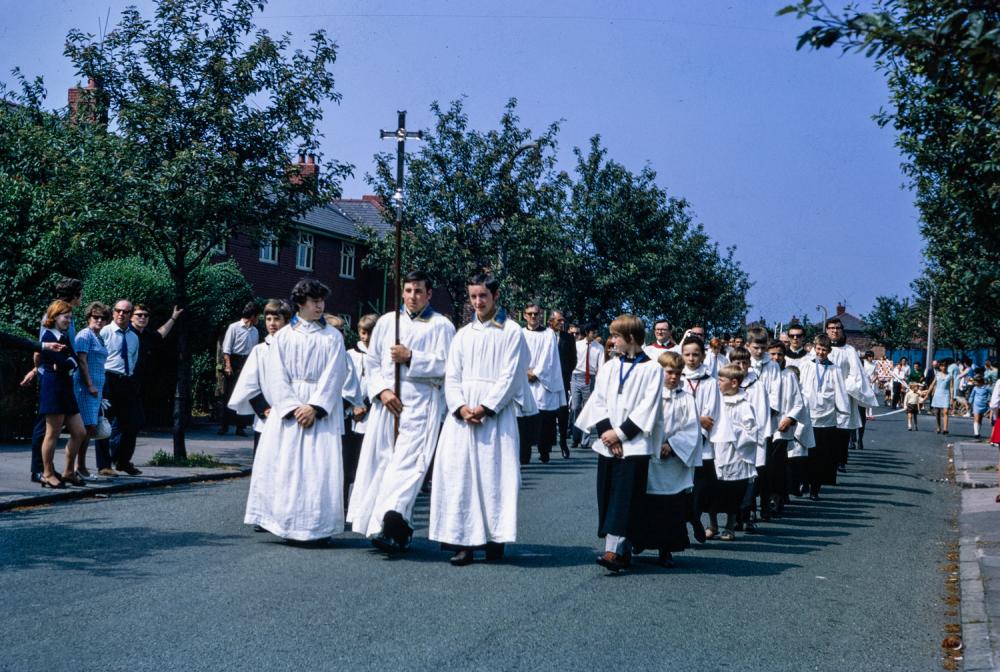 St. Anne's Beech Hill, Walking Day, July 1970
Photo: Bill Woodcock
Views: 951
Item #: 33192
The choir at the head of the procession. Frank Cartwright was the vicar. Taken on Gidlow Lane near the end of Dawson Avenue by my father, Ernest Woodcock
Comment by: George (Hindley) on 7th July 2021 at 19:10
They don't have a vicar at St.Anne's, Bill, they have a priest. My wife was confirmed there.
Comment by: Bishop Len Brennan on 8th July 2021 at 22:18
Yes George, that would be due to the church being Anglican Catholic. So it would.
All vicars, curates, canons, etc in the Church of England are priests, no matter what their function within the church... or whether, like me, they're retired.
John Lawton was the first priest there - firstly as a curate of the mother church, St Andrew's, then as its priest-in-charge, then as its first Incumbent, or Vicar. But always a priest.
When I published to the photo I hoped it might bring back memories for people rather than spark a debate concerning the correct title for the incumbent of St. Anne's Parish. As choristers we often referred to Frank Cartwright as FF the V. You can make your own mind up about the first F but he was a rather rotund gentleman. Reverend Cartwright had been curate previous to returning as the vicar. We once asked him what he carried in the box at the rear of his little motor cycle, thinking it must be the sacrament or similar. He told us it was a couple of bottles of Green Worthington in case of emergencies.
As a matter of interest, the inside cover of the prayer book I received upon confirmation at St. Anne is signed ... for his Confirmation on 9th June 1961 and his First Communion on 11th June 1961 Donald F. Thompson, Vicar, St. Anne, Wigan. He obviously referred to himself as a vicar. I believe he followed John Lawton at St. Anne.
Comment by: Eric on 19th July 2021 at 20:32
Hi william the bloke wearing something red round his neck ,wearing glasses would that be mr lester a teacher at Gidlow school whose nickname was uggy.? Cheers eric
Eric, well spotted. I think you're right. Peter (?) Lester had a spell as choir master and organist. One of the other gentlemen you can see to Peter Lester's right is Jack Grundy I believe. He was a fine bass. I'm the first young gentleman on the far right, having worked my way up from boy soprano joining the choir whilst at Beech Hill Primary. Those ruffs weren't very comfortable.