Photos of Wigan
Photos of Wigan
Album Contents
Album Contents
Wigan Album
unknown walking day
21 Comments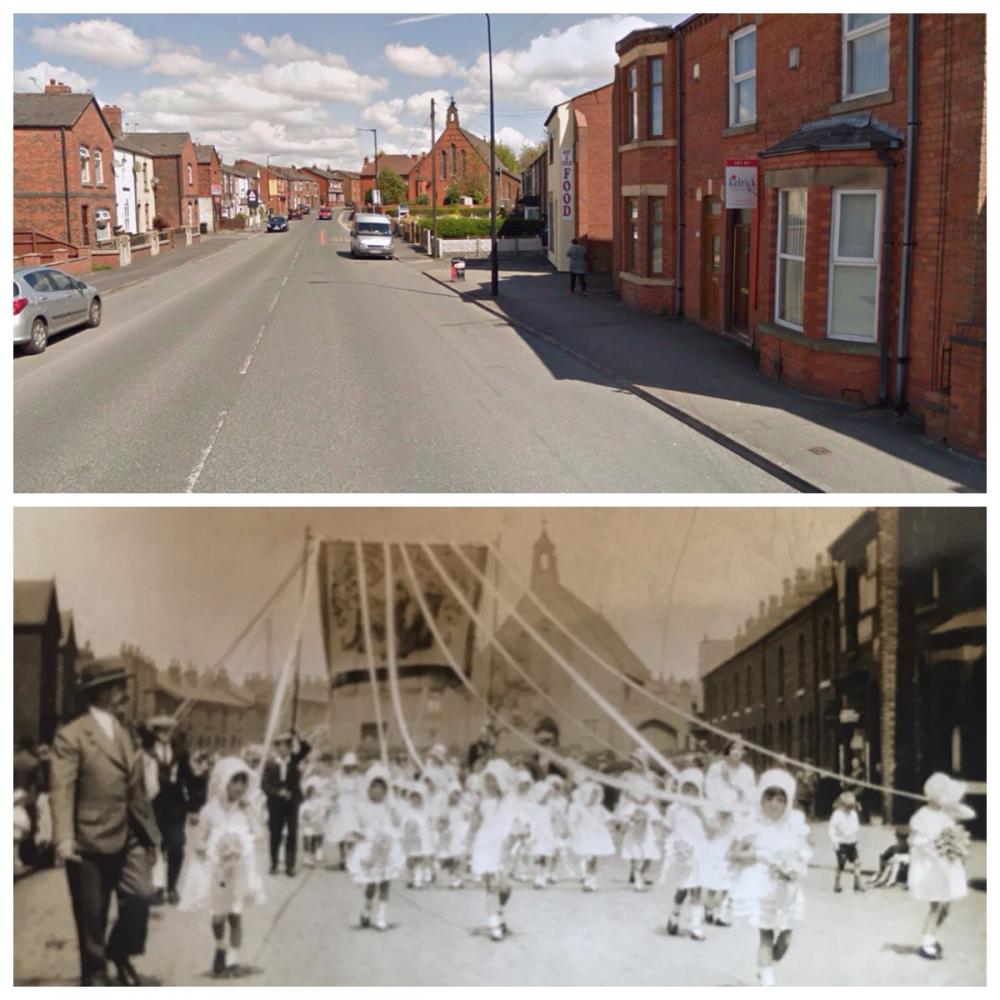 Walking day Ince
Photo: Graham Parkinson
Views: 2,187
Item #: 32552
Photo of walking day in Ince somewhere on Ince Green Lane with St Williams in the background. Then and now!
Comment by: XPat on 26th June 2020 at 14:27
Thanks Graham , I like then and now pictures. It shows what Wigan has lost . Wigan still exists but its soul is elsewhere . Thank you for posting .
I was born and brought up just behind the church, in a little row of six houses set back behind the presbytery garden wall; they were numbers 75 to 85 Ince Green Lane. I lived at 85. This lane was my childhood and those pavements were my way home.
Comment by: Albert.S. on 27th June 2020 at 11:32
Irene. Great family friends lived in one of the houses, at the extreme end of the houses on the right hand side, before the church. Jimmy & Jane Mayers.
Albert, the people in the end house just before the church were called McKnight when I was growing up but that was in the 1960s. The Mayers may have lived there in the 1950s or before.
Comment by: Albert.S. on 28th June 2020 at 09:23
Thank you Irene for your reply. If I remember correctly, the row of houses went on a bit of an angle towards the church. They lived in the house, about three or four houses in that terrace, before reaching the church.
Comment by: Dave on 28th June 2020 at 11:30
I served some of my apprenticeship with Bill McKnight a real character,he lived in Pickup Street before moving to Ince Green Lane.
I left a comment earlier Albert but it seems to have been missed off so I'll re-try. I apologise about misunderstanding about where your friends lived...I thought you meant they lived in the house next to the church. Yes, the houses WERE at a bit of an angle and the pavement if front of the McKnights was very wide and we children took advantage of it to play top and whip. The pavement in front of the houses at the other end of the row was standard width.
Comment by: Evelyn on 28th June 2020 at 21:12
Irene in the 1940/50s the end house nearest to church was Dawbers.Albert.S was Jimmy Mayers an Irishman and worked at Irlam Steelworks?
Thankyou Evelyn. I hope Albert sees your reply and gets back to you. He is an absolute Gentleman and his posts are always welcome and interesting.
Comment by: Albert.S. on 29th June 2020 at 09:22
No Evelyn. True Wiganer, both him and his wife, Jane. In the sixties they both went to Australia to visit a relative. Prior to living in Ince Green Lane they lived in Tank Street, at the top of Belle Green Lane. Jimmy was a staunch Wigan.R.L. Supporter. Thank you Irene for those few kind words.
Comment by: Edna on 29th June 2020 at 23:40
I remember Bill and Annie Mc Knight.He worked on quite a few jobs with my husband, and his brother. Late 60's
Comment by: Evelyn on 30th June 2020 at 23:34
Albert S...then we didn't know your friend Jimmy. We lived at No 111 from 1961 to March 1968.
Comment by: Albert.S. on 1st July 2020 at 10:08
Evelyn. It may be me that I'm getting the dates wrong. It may be the 1970s. They moved when they demolished the houses at the top of Belle Green Lane.
It may also have been the time when they built all those houses where Raven Street was. Relations' of mine moved into one of those houses. They had lived at the top of Belle Green Lane.
I remember Raven Street and Farmer Street being demolished. I would say it was mid-sixties but the mind plays tricks. I remember looking down Farmer Street one dark night off the church bridge in the early sixties and it looked almost Dickensian. I'm glad I knew those streets, though.
Comment by: Albert.S. on 1st July 2020 at 15:02
Mentioned this previously Irene. My grandmother lived at either No1, or No2, Raven Street. She died in 1950, aged eighty seven. She would have been eleven when Custer had his last stand, at the battle of 'The Little Bighorn'
Comment by: Albert.S. on 3rd July 2020 at 09:23
Irene. My grandmother was born in 1863. The ' Battle of the Littlebighorn ' Custer's last stand, was 1876. I remember her telling me that she was in service with a well to do family, in White Chapel when Jack the Ripper was carrying out his dastardly deeds.
Comment by: jean holcroft on 5th July 2020 at 14:26
to Albert you must be talking about my auntie jane and uncle jimmy mayor. my mam was margaret auntie janes sister.they moved from tank st to smith st when uncle john and auntie heidi emigrated to australia in 1959/60 and we moved to 9 tank st auntie jane and u jimmy moved to 137 ince green lane mid 60s. he did love his rugby he also loved his pen which he had at the top of the lane he grew everything from dahlias to every veg you could name. our house was never short of a bunch of flowers or veg. loved them both very much
Comment by: Albert.S. on 6th July 2020 at 16:02
Thank you Jean for sorting it out. My Aunty Annie (my mother's sister) lived next door to them, in Tank Street. All were good friends.
Also my Aunty Bertha,.( married to my mother's brother. Thomas Jackson) She lived around the corner from them.
Comment by: jean holcroft on 6th July 2020 at 19:55
Albert S I remember annie and tommy porter and their 3 daughters also bertha and tommy jackson and their daughters aileen and stella they lived in kirkless st
Comment by: Albert.S. on 7th July 2020 at 08:50
Jean. Sadly Eileen, Aileen, nor Stella are no longer with us. May they each rest in perpetual peace, and happiness.
Both Vera, and Marjorie are still with us. One lives, or lived on Warrington Road, Platt Bridge, somewhere opposite Neville Street. The other one lives in Devon. I haven't seen them for quite a few years.
Comment by: jean holcroft on 7th July 2020 at 13:34
Albert Iknew about Stella as she lived local in Anderton st higher ince.