Photos of Wigan
Photos of Wigan
Album Contents
Album Contents
Wigan Album
St John's, Standishgate, Wigan
8 Comments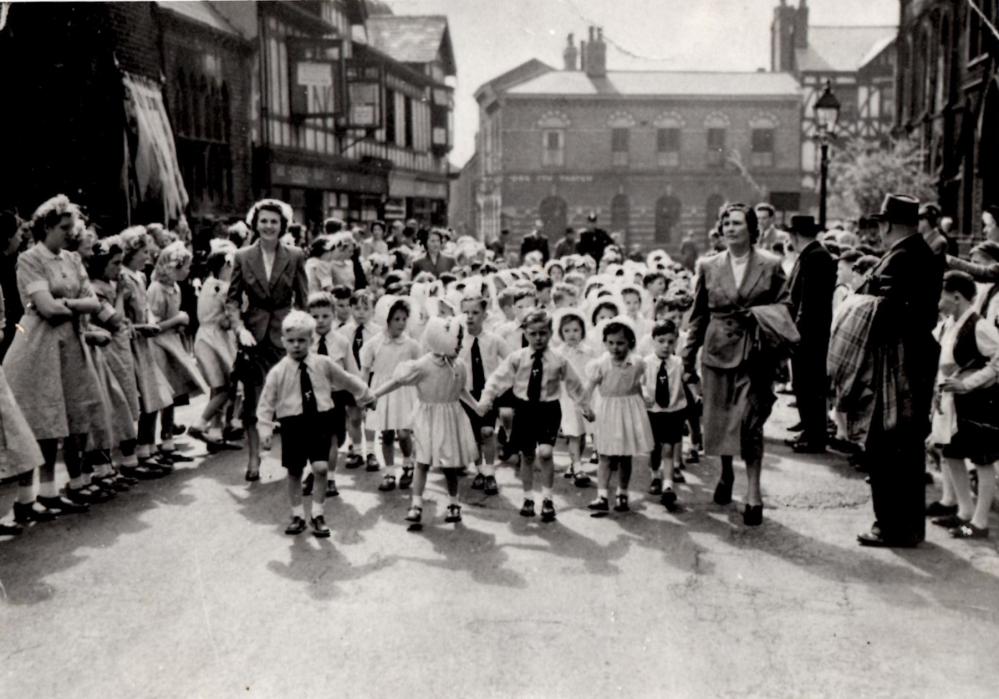 Whit Monday walks
Photo: ROBERT HIGHAM
Views: 2,436
Item #: 32010
Assembled outside St John's Hall in 1951? led by "Little Miss Davis" on the right and I'm 3rd from the left.
Comment by: Cyril on 21st March 2020 at 21:05
Which route did the walk take Robert.

The Dog 'ith Thatch was a wonderful pub, I've always thought the building that replaced it to be so ugly. When being demolished it was found that the present pub had been built around parts of a medieval inn building, there are photographs showing parts of the old inn somewhere, possibly Wigan Observer archive.
Comment by: Mick LD on 22nd March 2020 at 02:14
Cyril - there's a good picture of the old pub in the 'Pubs' album in the 'Places' section of this site. Item #: 10178.
Comment by: Cyril on 22nd March 2020 at 13:35
Thanks Mick, yes that's the the photo of the original Dog 'ith Thatch, of which remaining parts were discovered when the latter pub was demolished. Here's a link if anyone wishes to view it in their browser. http://www.wiganworld.co.uk/album/photo.php?opt=5&id=10178&gallery=PUBS&offset=40
Comment by: DerekB on 22nd March 2020 at 17:42
Probably the last landlord and landlady of the Dog 'ith Hatch were Eric and Beth who were a Yorkshire couple. From the Dog they took over a pub at Bryn (whose name escapes me) next to the Cranberry restaurant.
Comment by: Tics on 23rd March 2020 at 06:55
I think the pub was The Red Lion(now a house)
Comment by: DerekB on 23rd March 2020 at 15:15
Thanks Tics - it was the Red Lion.
I.was hoping for comments about the people in the photograph.
Comment by: John on 3rd April 2020 at 17:10
I am told the lad on the left is called Leslie Hurst and the girl behind him is Christine (surname not known)