Photos of Wigan
Photos of Wigan
Album Contents
Album Contents
Wigan Album
St George's, Wigan
9 Comments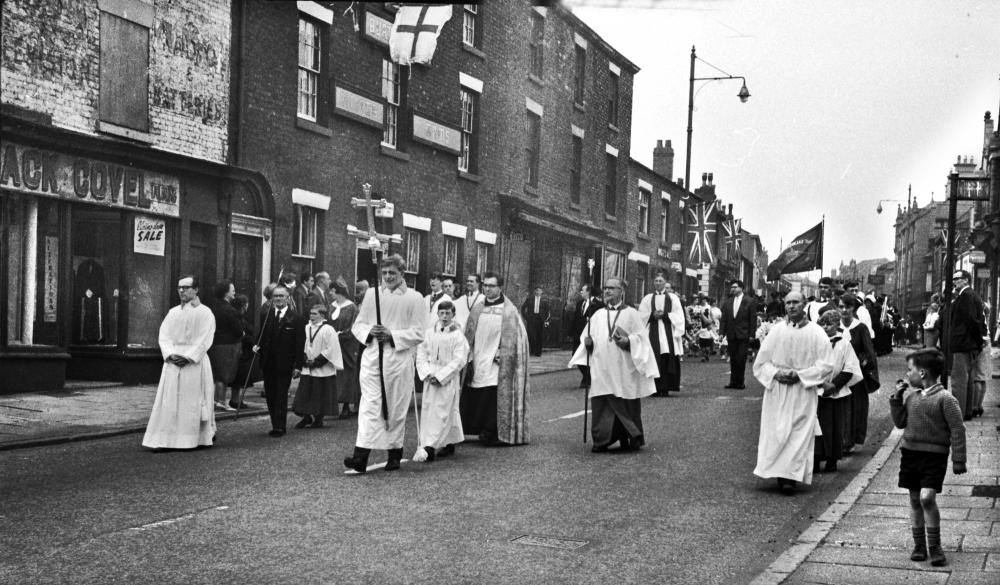 ST. GEORGE'S WALKING DAY
Photo: Frank Orrell
Views: 2,009
Item #: 31925
St. George's walking day in 1966 passing the King's Arms pub in Scholes.
Comment by: Veronica on 20th February 2020 at 22:40
It's always nice to see different photos of Scholes to wake up the memories - another one for the collection! The well trod Scholes of my childhood and all the errands I went on.
A bit before my time - I don't recognise the Vicar - but I think that's Bill Spencer with his hands clasped, wearing his Reader's stole, behind the main party.
Comment by: Tom on 21st February 2020 at 11:57
It is Bill Spencer rev,the lad carrying the cross sure is name is makinson used to work in butcher's shop in scholes I think they lived near st georges church
Comment by: Mrs J Makinson on 21st February 2020 at 17:23
The young man carrying the cross is my husband Bill Makinson , he sadly passed away 5 years ago ,
Comment by: Mr X on 23rd February 2020 at 09:41
This was St George's church walking day parade in 1966. The Catholic church walking day parade in Wigan was different that took place at Whitsun, when the five churches St Mary's, St John's, St Patrick's, St Joseph's and Sacred Heart gathered in the Market Square and went all round the parishes, but the last year was 1968. There are very few walking day parades today especially in Wigan, one reason is the disruption to traffic.
Comment by: Stephen Giles on 24th February 2020 at 17:16
I am pretty sure the vicar is Rev Allsopp
Comment by: Emc on 27th February 2020 at 22:56
MrX There is no disruption to traffic when the Pride parade takes place, and the police are in it.Makes my blood boil.
Yes that is my dad the vicar Revd Peter Allsop.
Comment by: JH on 31st March 2020 at 15:57
the choir boy on the left is Morris Tait. the choir boy on right is John Higham. the alter boy centre is Andrew Sherrington is his father Mr Sherrington who is front right. the man behind the left hand alter server is Mr Cunliffe (Harry and Freds dad)the choir man in the centre is Mr Nichols or Nicholson.