Photos of Wigan
Photos of Wigan
Album Contents
Album Contents
Wigan Album
BICKERSHAW WALKING DAY
10 Comments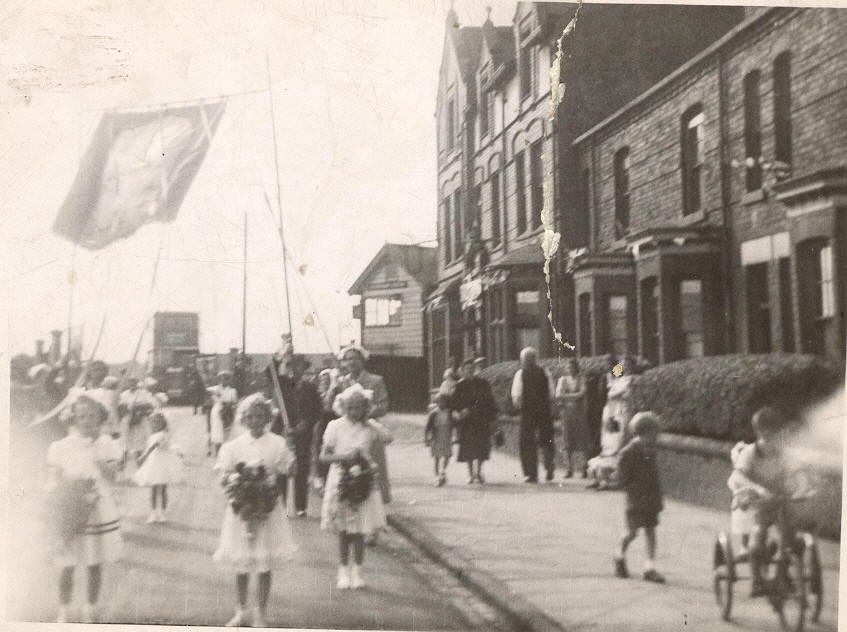 BICKERSHAW WALKINGDAY
Photo: GE0FF GASKELL
Views: 2,415
Item #: 30704
BICKERSHAW WALKING DAY JUST TURNED ROUND AT THE QUEENS HOTEL 1953
Comment by: Helen of Troy on 19th August 2018 at 13:05
Another good one. Just how & remember Walking Days, the girls dresses & the flowers, lovely.
Comment by: Garry on 19th August 2018 at 17:04
The signal box next to the Queens pub, the line ran from Manchester to Wigan Central.
Comment by: Broady on 20th August 2018 at 02:15
Geoff, Did your Dad ever have the Queens?? My family the Broads and the Jobs used to live in Bicky and frequented the public houses there and in Platt Bridge.
Comment by: Sandra Durden on 20th August 2018 at 13:06
The Monies had the Queens in the 50s?
Comment by: GE0FF GASKELL on 20th August 2018 at 14:58
YES BROADY MY DAD HAD THE QUEENS AROUND 1948 TO 1952 THEN THE IMPERIAL IN HINDLEY & LAST OF ALL THE PLATT BRIDGE INN
Comment by: broady on 21st August 2018 at 14:59
Geoff, Was your Dad named Jimmy?? When I was just starting out drinking a lot from Abram went there. Brothers Jack and Tommy G, Manny M, Alf V and Charlie J amongst them. Do those names ring a bell??
Comment by: irene roberts on 22nd August 2018 at 19:15
Broady, I am not trying to push in on this post, but just in case Geoff doesn't return to it, his Dad WAS Jimmy. I used to in The Platt Bridge Inn with my parents in the early 1970s and we were in on the night Jimmy and Kitty retired. I remember Jimmy made a very moving speech and my Mam was in tears! I later worked there for Jimmy and Kitty's successors.
Comment by: broady on 22nd August 2018 at 21:03
Irene, You are most welcome to comment and you certainly aren't intrusive.. I thought I remembered you worked at a pub in Platt Bridge. For some reason it is a pub I rarely went in. I shall be walking down Warrington Road for a day or two early next month.
Comment by: irene roberts on 22nd August 2018 at 22:47
Broady, I worked in both The Platt Bridge Inn and The Queen's Arms. Warrington Road will be proud to see you next month. You can take the lad out of Abram, but you can't take Abram out of the lad. Welcome Home. xx
HI Broady,i know thi sis of Subject, ive been trying to get intouch with you to ask about Johnny Meadows