Photos of Wigan
Photos of Wigan
Album Contents
Album Contents
Wigan Album
St Patrick's Walking Day
6 Comments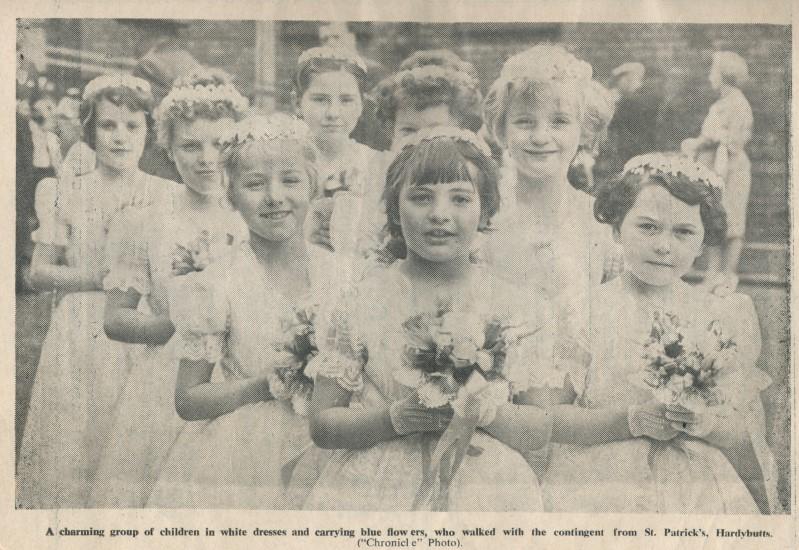 Walking day 1962
Photo: RON HUNT
Views: 1,658
Item #: 29194
Taken from the WIGAN AND DISTRICT CATHOLIC MAGAZINE July 1962.
Thanks to Tom Penman
Comment by: LEP1950 on 24th March 2017 at 22:02
Is the smaller blonde girl in the second row not Ann Connor, who was tragically stabbed in her classroom a couple of years ago? She was in my brother's class. So the girls here would have been about nine years old. They are wearing long dresses and it looks like they were the crowning group.
Comment by: Veronica B on 25th March 2017 at 08:55
It does look like the same girl. I remember her as child as her grandparents lived in John St.
Comment by: Wiganreds48 on 25th March 2017 at 12:24
The girl front left looks like one of the Atkinson's from Scholes, I think here name was Irene or Doreen. Her father Harry played for Wigan and then Barrow and was a regular in Morris St. Working Mens Club. He was also shown on a picture in Eddie Waring's book on Rugby League with the comment " A three pronged Wigan attack on Barrow's Harry Atkinson ". I think the year was 1951 and Wigan won 10-0.
Comment by: Veronica B on 25th March 2017 at 13:27
I'm almost sure the girl's name was Eileen Wiganred! I do remember her from school.
Comment by: Rita adams on 2nd May 2017 at 18:46
Definitely Irene Atkinson at front and Ann at back of her God bless her xx
Defo ann connor iren atkinson and ann Topping