Photos of Wigan
Photos of Wigan
Album Contents
Album Contents
Wigan Album
St Patrick's Walking Day
9 Comments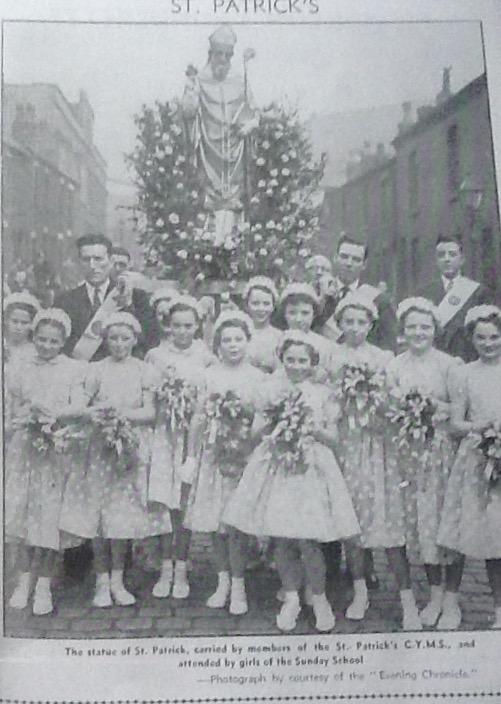 St. Pat's Walking Day 1968
Photo: Tom Walsh
Views: 2,526
Item #: 27966
Newspaper Cutting 1968 Any names?
If anyone has any photographs of Whit Monday I would be grateful if I could take copies,also anyone interested in taking part in audio memories of the day please contact me . I'm organising an exhibition of the day. The last joint Walking Day was 1968. It's important that part of our heritage is remembered for future generations to be able to reference . The audio will give a flavour of what the day was like. Who knows your memories may be listened to by generations still unborn !
Comment by: Thomas(Tom)Walsh on 10th June 2016 at 11:07
Looking at this again it's clearly before 1968, note the gas lamp, I think it's more likley to be 1958. I'll check the corect date and post it later
Comment by: watchalot on 10th June 2016 at 12:30
the girl front centre looks very much like margaret winstanly
Comment by: Joseph on 10th June 2016 at 13:21
Thomas(Tom)Walsh, there re lots of photos of the scholars walking days on here under ST Patrick's.
Comment by: watchalot on 10th June 2016 at 13:27
looks like it was taken at bottom of rupert st girs school on left fait outline of st pats church at back
Comment by: Vb on 10th June 2016 at 14:15
I would say late 50's for this photo Tom. The girls were in a class below me. I recognise 2girls 3rd from right lived in Gee St. Another girl was called Kennedy from around Cambridge St. She is 3rd from left.
Comment by: The Lad on 10th June 2016 at 17:41
The men on the right are Sil Lyons and George Coates.
Comment by: mac on 11th June 2016 at 13:10
the man on the left could be paddy waters
Comment by: Joseph on 13th June 2016 at 16:14
The clothes and headdress look similar to the ones worn in 1960.