Photos of Wigan
Photos of Wigan
Album Contents
Album Contents
Wigan Album
St James', Poolstock
6 Comments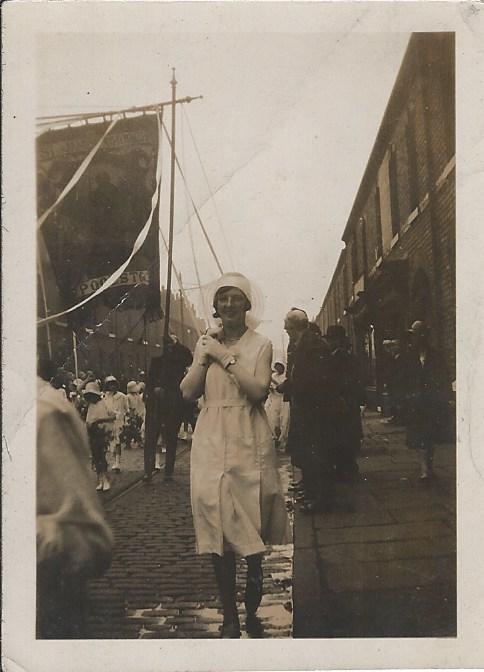 St. James' Church, Poolstock
Photo: Susan Banks nee Bridge
Views: 1,773
Item #: 26630
My mother Margaret Brewer at St. James' walking day.
I presume this would be between 1933 and 1944 - can anyone suggest a more accurate date and the name of the street please?
Comment by: A.W. on 30th June 2015 at 14:21
From what can be seen of the style of clothes I would think 30s rather than 40s.
Comment by: Jimmy on 30th June 2015 at 16:35
Judging by the tram lines it was a major road.
It may be earlier than you think
Comment by: Jarvo on 30th June 2015 at 19:15
I would go back further. Looks like the roarin' twenties to me.
Comment by: Susan Banks nee Bridge on 30th June 2015 at 20:20
My mother was born in 1915 so I don't think it was the 20's
Trams ran along Poolstock from Marus Bridge to St James', then via Pool Street and Swan Meadow Lane to Wallgate. There's a pic of the line looking down from the Honeysuckle along Swan Meadow Lane in EK Stretch's 'The Tramways of Wigan', with St James' looming behind the close-packed houses along the Lane. At a guess, this pic was taken around that area - Poolstock is quite a bit wider. Stretch gives the closure date for the trams as June 1928 - but presumably the tracks weren't taken up immediately. Knowing the date that happened might help date the pic.
Comment by: MarieM on 30th June 2015 at 20:35
My grandma and grandad got married here in 1906