Photos of Wigan
Photos of Wigan
Album Contents
Album Contents
Wigan Album
Whit Walks
14 Comments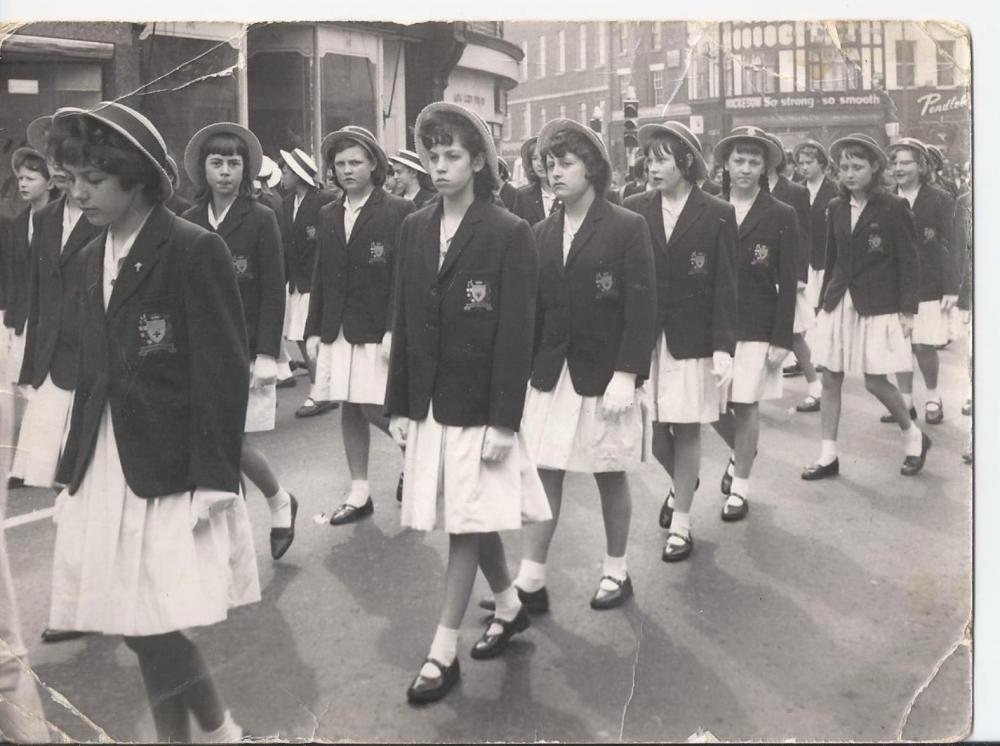 Convent Whit Monday
Photo: geraldine long
Views: 4,048
Item #: 25920
Turning into Mesnes St on the way to market square to join up with Catholic Whit Walks 1964
Comment by: LEP1950 on 27th January 2015 at 11:46
Thanks a lot for posting; Geraldine. I recognise you on all three photos, but I can't remember any of the others. I see most of the girls are wearing their "indoor shoes". Can you imagine asking 14-year-olds to wear ankle socks and shoes like that nowadays? Mind you, it didn't bother us all that much. Thanks again!

Linda
Comment by: geraldine long on 27th January 2015 at 13:08
Hi Linda is the 1st girl on this photo not Jean Fitsimmons from your class. Also on the others' nuns garden photo' I'm sat on Betty Penman from St Patricks
Comment by: LEP1950 on 27th January 2015 at 18:49
I did wonder whether it was Jean, but you can't see her face properly and Jean was always so small. Actually, I met her and Colette a few years ago. We had cofee together. But the only other person I have seen since school is Julia Lydon. I was at my niece's christening in Standish years ago and Julia's sister's baby was being christened at the same time. Going back to primary school, three or four years ago Betty Penman got on the same bus as me when I was visiting my brother. She hadn't changed at all. I have a photo of St Patrick's school play "The Stolen Prince". Were you in that? The trouble is that I can't upload photos. Anyway, I'll look for it and when one of my children is here, I'll get him/her to do it. Mr McDermott is on it.

Linda
Comment by: jcf on 27th January 2015 at 20:07
The girl 2nd from the left in the line nearest nearest to the camera, looks like a young Jane O'Brien !
Comment by: Jarvo on 28th January 2015 at 08:59
Miserable looking bunch, aren't they?
Those nuns have a lot to answer for...Lol.
Comment by: Albert. on 28th January 2015 at 13:09
I sincerely hope, that journey through the last fifty, or so years, have treated these young ladies very well.
Comment by: LEP1950 on 28th January 2015 at 17:41
Jarvo, yes they do look a bit glum on the photo, but I can assure you that we also had a lot of fun. I loved the school. And as for nuns, I can only remember the headmistress and two teaching nuns. Sister Margaret Paul was wonderful and a real laugh.She was my form teacher. The rest were mostly female teachers, but during my time (1961-68) we also had half a dozen male teachers, too. Perhaps the school wasn't everyone's cup of tea, but I am really thankful for the education I had there.
Comment by: Peter 'Jehovah' Knowles on 28th January 2015 at 18:21
Jarvis should look closer to home when commenting on miserable women.
Comment by: Wiganer on 29th January 2015 at 11:16
They look a lot smarter than the school kids do to day. BRING BACK THE GRAMMAR SCHOOLS AND THE DISCIPLINE WHICH WENT WITH THEM.
Comment by: Jarvo on 29th January 2015 at 12:26
Check out my poem on General - 'The Whit Walk'. :)
Comment by: geraldine long on 29th January 2015 at 14:50
Linda yes I was in the play were we not dressed in Chinese costume.
Comment by: Jimmy on 29th January 2015 at 23:31
Jarvo,the girls are looking down in dumps as they have all just seen a Italian Romeo ( born in Wigan) leaning on railings outside Woolys chatting up the Girls from Woolys .
Comment by: Willy Wackum on 30th January 2015 at 18:47
I think they are on their way to one of Jarvo's poetry readings?<g>
Comment by: John G on 4th February 2015 at 00:11
Well Geraldine I was going to leave a comment just before jarvo,but he looks like he has a high fan base a lot of people responded,well done Jarvo keep saying it as it is.I thought nice pretty young girls but why is no one smiling then remembering the year early sixties and whit week may be they have encountered the usual bigotry that was around at that time?I was in my local walking day 1960 hot day and being a young lad enjoying myself,then a woman threw two oranges at me I said thanks very much I'll have them later turned round to my mate and said how nice is she do you want one.