Photos of Wigan
Photos of Wigan
Album Contents
Album Contents
Wigan Album
St John The Baptist, New Springs
10 Comments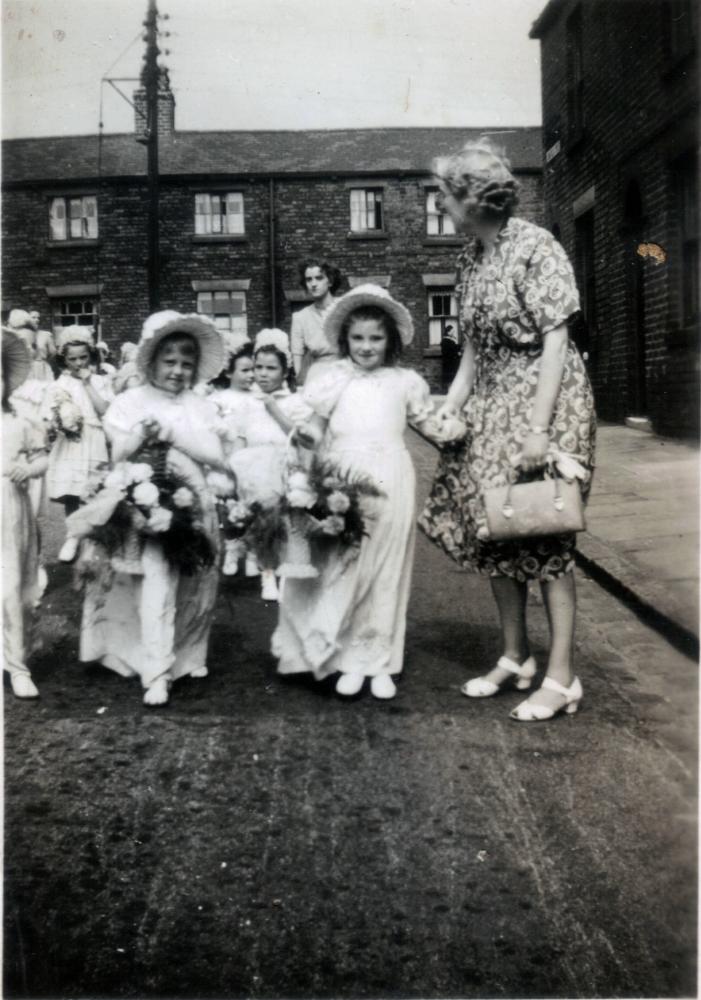 Walking Day, New Springs c1950
Photo: Stephen Oakes
Views: 2,863
Item #: 25630
My mum, Kathleen Oakes (nee Hodkinson), is the girl on the right with St. John the Baptist Church walkers on an unknown New Springs street. I'm not sure of the date, but around 1950.
Comment by: terry s on 17th October 2014 at 09:39
looks like top of longfield street
Comment by: Eunice cadman on 18th October 2014 at 13:53
Someone with the surname Oakes was my godmother I was born in 1950 my maiden name was schofield my mums name was Annie Donnelley maybe it was a relative of yours
This brought back memories. I was on the other end of the row and have a similar photo but not as clear. I remember Kathleen and can see Mary Marsden and Dorothy Barker in the background. My name was Irene Bennett
Hi Eunice, All the Oakes's in my family originate from the Bedford area of Leigh. It's possible one of my more distant relations is your godmother, but I'm afraid I don't know. There were several Oakes families in Leigh & Atherton, and I imagine more in Wigan.
Hi Irene, my mum's memory is not the best, but she does remember you and those names. She thinks the girl next to her in the photo is Patricia Winstanley. Is it definitely Longfield Street? She was doubful about the houses at the top, and surprised the walk turned into Longfield Street.
Comment by: Irene Langton on 19th October 2014 at 19:28
Hi Stephen, I think it is Longfield Street because I have older photo's taken further down. Think they must have changed the route later.
Comment by: Jean on 30th November 2015 at 11:49
I remember Annie Donnelly. We lived a couple of doors away in St Elizabeth's Road. Eunice is on one of my wedding photos (1963) handing me a horseshoe
Comment by: Eunice cadman on 6th July 2016 at 22:53
Thanks for that comment Jean was your name houghton
Comment by: Jean on 1st July 2017 at 21:57
Yes Eunice. My name was Houghton. I remember your mum well. Did you have a white piano at one time?
Hi Jean I can't remember having a white piano don't know where we fitted one with all us kids I remember you getting married