Photos of Wigan
Photos of Wigan
Album Contents
Album Contents
Wigan Album
St James', Poolstock
5 Comments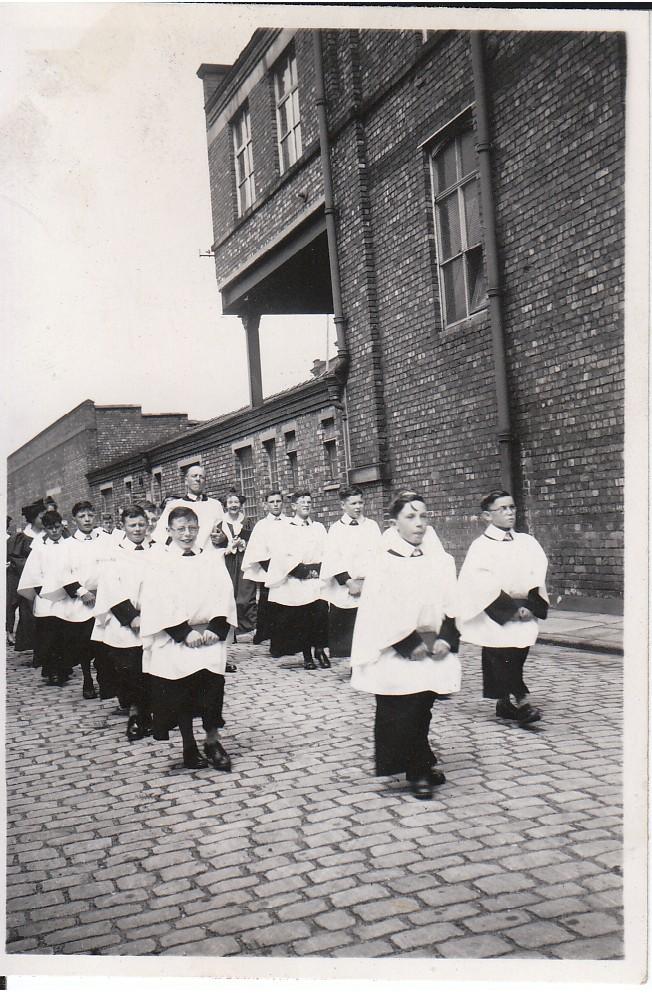 Pottery Terrace
Photo: Derek Wilde
Views: 2,271
Item #: 24700
St James walking day in Pottery Terrace with Eckersley's mill in the background.taken circa. 1952/3
Comment by: Jim Latham on 31st January 2014 at 09:41
Hi Derek, another great photo with Billy Sharratt leading out, followed by his brother Graham, and on the left, well, we all know who he is. Frank Jones as well, and I'm wondering if that's me just behind Frank. Billy Dawber at the rear. Billy was a fantastic singer. I remember he used to sing the solos. Quite a feat in St. James' Church.
I recognise most other faces, but can't put a name to them. Could one of them be Kenny Baker?
Have you any more photos from this era. Poolstock in those days was a brilliant place to be, and that from a Worsley Mesner!!!
Hi Jim, Glad you liked the photo.Thought it was you behind Frank Jones, not changed has he, Not sure about kenny Baker, but John Cotton 3rd left, Ken Higgins? 4th left and Stanley Heyes, I think. Thats Thelma Gaskell behind the choirmaster.
Comment by: Jim Latham on 1st February 2014 at 21:02
Hi Derek, yes Frank still looks the same. The last time I saw him was at his dad's funeral a few years ago.
I met Kenny Baker in Asda, again a few years ago. He told me he had recently met Finnish girl and he was going over there to sing in a choir. His time in St. James' choir must have stood him in good stead. I think Stanley Heyes died a few years ago. The choirmaster was Mr. Walker.
Have you any more photos of school, church, or Poolstock in general.
Comment by: Maureen Topping nee Roberts on 2nd February 2014 at 00:27
Hi Derek is the boy next to Mr. Walker Gerald Hodgkiss and the boy next but one behind you Gerald Marsden? Thanks for sending in the photo.Good to see some OLD,(that being the operative word) school friends. Hope you are well.
Comment by: Susan Mint on 3rd February 2014 at 10:31
Hi guys, lovely to see this old photo. It was before my time, I was born in 1960 but I lived in Letterewe Street which was just off Pottery Terrace I think. I remember the cobbled streets very well.