Photos of Wigan
Photos of Wigan
Album Contents
Album Contents
Wigan Album
St George's, Wigan
15 Comments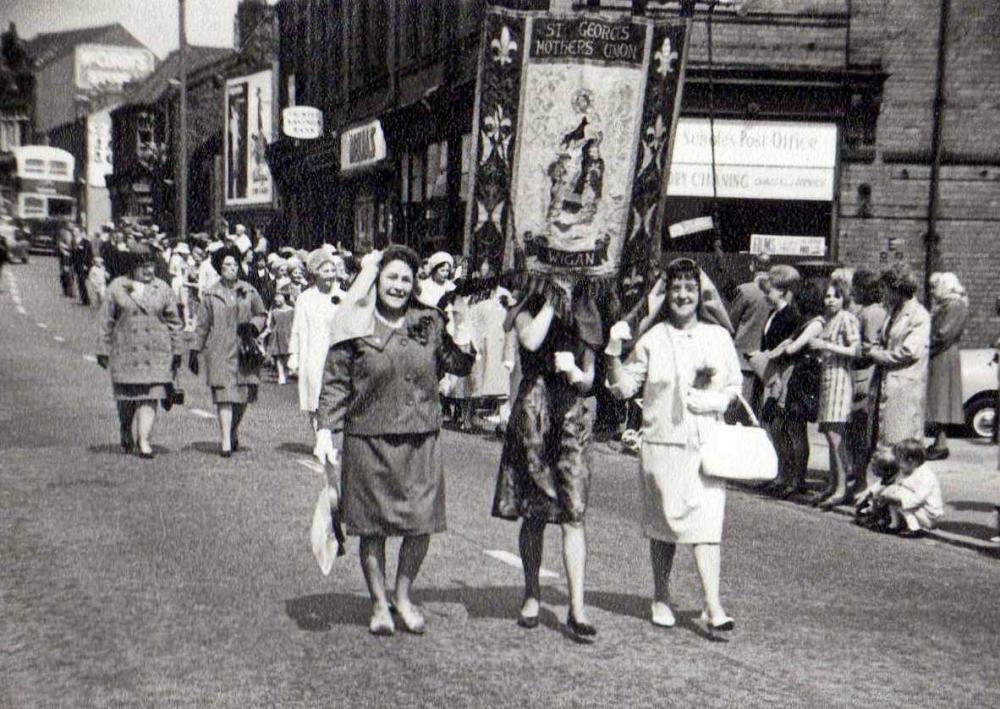 St. George's walking day
Photo: Harry Cunliffe
Views: 2,969
Item #: 24178
St. Georges Mothers Union on walking Day, early 1960's with the banner, left my mother, centre? right Mrs Wilson Geoff's mother, Mrs Wadeson directly behind my mother.
Comment by: Thomas(Tom)Walsh. on 24th November 2013 at 17:37
Harry ,a very interesting photogragh ,taken roughly from The White Swan.
The shop on the corner of Vauxhall Road was Wildings Gents Outfitters ,but was always known by Ted Browns ,the previous owner ,MrWilding worked there before taking the bussiness over,the shop next door was Raffertys Fishmongers. The notice in window reads Scholes Post Office, it must have relocated there waiting for the Scholes Precinct to be built ,I must admit I can't remember that ,which is strange as I knew every nook and cranny in those days.Incidentaly on tho opposite corner stood The Harp Inn. I enjoyed my childhood in and around old Scholes.
to Thomas (tom) walsh, did you live at the lower end of lower morris st near to the off licence? and went to wigan grammar school?
Comment by: ann21 on 24th November 2013 at 18:54
Comment by: betty on 25th November 2013 at 08:09
i think the big lady at the front was my grandads sister Edith(Jolley)Blackledge.
Comment by: Harry C. on 25th November 2013 at 08:43
Tom, do you remember Sherrington's hardware shop on the corner of Schofield Lane? you could get almost anything there.
Comment by: Thomas(Tom)Walsh. on 25th November 2013 at 10:16
Joe Harrison, I'm afraid I wasn't bright enough for grammar school, and I lived in Mc Cormick Street, I did have a school pal who lived in Lower Morris Street ,James Gaskell, did you know him ?. Going through some old photographs recently I came across an old snap of James and myself I try to put it on the site.
Harry ,yes I remember Sherrington Hardware Shop very well, as you say you could buy almost anything there . I recall the different smells of the merchandise ,paraffin ,wood, oilcloth,and myriad of other aromas, you could buy screws and nails in penny numbers ,the men who worked there were always very obliging , a far cry from todays out of town megastores.
Comment by: eunice cadman on 25th November 2013 at 11:52
remember going into Melias grocers on a Saturday getting a crusty roll and going down to the pictures lower down for the matinee
Comment by: DerekB on 25th November 2013 at 15:21
A relative of mine was the postmaster for many years at Scholes Post Office. His name was Bob Hilton and at that time it was situated just further up Scholes than the Scholes Picture House but on the other side of the road. I seem to remember that the street entrance to Scholes Conservative Club was adjacent (the club itself was on the upper floor) and opposite was one of the early Bendix launderettes. Re Sherringtons hardware shop - they also had another branch in Whelley, almost opposite Vine St.
Comment by: Pauline (Hill) on 5th December 2013 at 16:13
Joe Harrison, did you pass your scholarship in 1952 at St. Georges?
Comment by: joe harrison on 30th March 2014 at 19:43
to Pauline Hill.Yes I did pass the 11+. I still have the photograph taken in the school yard with you,myself ,Mr Gregory and the rest of us that passed that year.
Comment by: Pauline nee Hill on 18th April 2014 at 14:51
Thanks for responding Joe, hope you are well. I can't contact any of the girls because of name changes. Hope some see this and get in touch.
Comment by: kevin charman on 17th May 2014 at 22:35
joe Harrison. hi joe r.e.your enquiry about tom walsh.sadly tom died a few years ago,he lived in reading and was principal lecturer at london university,long time no see.hope your keeping well.
Comment by: joe harrison on 18th May 2014 at 18:23
Hi Kevin glad to hear from you .Sorry to hear about Tom, I knew he had done well in academia.I hope you are keeping well. I miss the old days at Billy Rileys gym. I hope Graham Freeman is still with us.
Comment by: KEVIN CHARMAN on 18th May 2014 at 22:24
HELLO AGAIN JOE.GRAHAM FREEMAN IS STILL WITH US,HE HAS HAD A FEW PROBLEMS HEALTHWISE OF LATE BUT IS ON THE BEST SIDE AT PRESENT.DO YOU STILL REMEMBER GOING DOWN THAT CAVE AT ANGLEZARK?IT IS SEALED UP NOW (SCARY).
Comment by: joe harrison on 25th May 2014 at 17:59
Hi Kevin, yes I do remember that day at Anglezarke.I think Tom Walsh was with us there, but memory plays silly tricks.I'm glad you replied.