Photos of Wigan
Photos of Wigan
Album Contents
Album Contents
Wigan Album
St James', Poolstock
4 Comments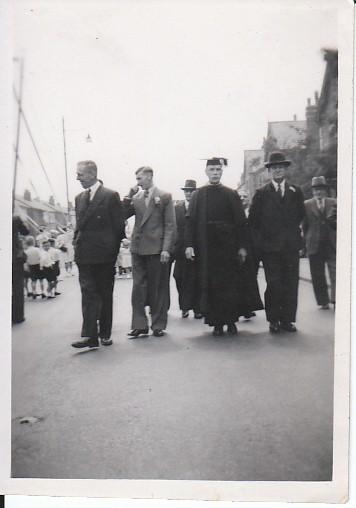 Walking day St James pre 1950
Photo: Derek Wilde
Views: 1,608
Item #: 22763
earlier photo to the last one I sent, Tommy Walker ? Organist & Choirmaster, my father, the REV owen and I think Mr Etherington Sunday School teacher .
Comment by: Ken R on 18th February 2013 at 23:51
Look out Rev,Long, that Vicar is here again.
Comment by: Jim Latham on 19th February 2013 at 08:37
I can't quite locate this photo. Is it on Poolstock Lane, between Holborn Ave. and Grange Ave?
I was in the choir around the time of the photo, with Gerald Hogkiss, Billie Dawber, Harry Morgan, Willie Sharratt and the best singer of us all, Stanley Heyes.
Jim, I think it is further towards Worsley Mesnes, close to Snowdon Ave and practically opposite the vicarage as was.Remember we used to turn around somewhere in the vicinity of whats now tesco's? The houses on the right are a good clue. By the way I was in the choir at the same time.
Comment by: poolstocker on 22nd March 2013 at 10:42
Are you rlated to the Wildes who lived on Park Street near the Suckle? I used to mate with Rodney Wilde who lived in Chadwick Street. His dads name was Frank and they moved to Leyland. I was from Byrom St.