Photos of Wigan
Photos of Wigan
Album Contents
Album Contents
Wigan Album
St James', Poolstock
9 Comments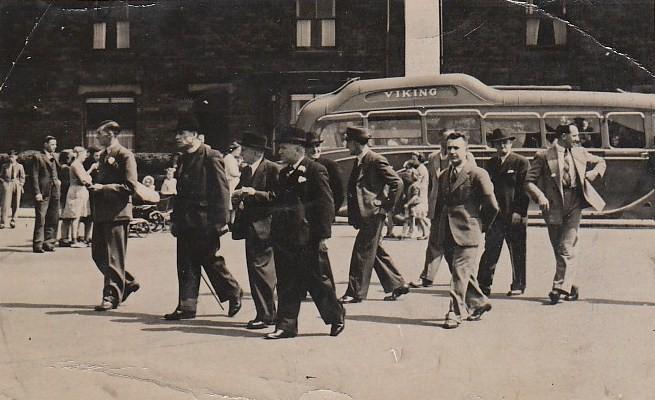 Walking Day c 1950s
Photo: Derek Wilde
Views: 2,287
Item #: 22762
This is a photo I came across recently, I recognise my father , front row far left, next to him the Vicar who's name I beleive was Owen, and Tommy Horrocks front row right. maybe someone can add others,
Never mind the Vicar - what's that beautiful coach in the background? It's a pity the photographer didn't manage to get all of it in his shot.
Comment by: Ken R on 18th February 2013 at 23:48
It would appear that the Rev. Long has a fettish for old coaches, never mind the Vicar, indeed.
Well, I'd be a bit strange if I had a fetish for old Vicars!
Comment by: irene roberts on 19th February 2013 at 11:48
Brilliant, Rev. Long......that really made me chuckle!
Comment by: poolstocker on 18th March 2013 at 11:18
Are you one of the Wildes who lived on Park Rd at the top of Byrom St. I used to mate with Rodney Wilde who lived in Chadwick St and moved to Canada. His father was named Frank and he movbed to Leyland. He was the related - I think - to the above mentioned.
The only people I recognise are the Rev Arthur owen and tommy horrocks the headmaster of the School in Poolstock who had a red face and always seemed to be angry. Rev Owen christened me
Poolstocker - I am not related to the Wildes you mention although I do know of them.Don't know Rodney but recall Bert who later lived in Shevington and ran the shop on the corner of Parkbrook Lane. Do believe they are cousins of Mr Dave Whelan WAFC who lived in Chadwick street.
Hi poolstocker - see comments on other photo. Barbara I was christened at St James, do know your name where abouts did you live? was it in the Peel Street area?
Derek, I lived in Grange Ave., until 1960 when I got married & moved to Stockport. My Dad Tom worked at the Ironworks, who died aged 57. My cousins are Roy Leather, Terry & Ken Broxton. I am now 72 and have very fond memories of Poolstock, Worsley Mesnes and Wigan. Before I left I worked for Corletts Electrical Engineering in Wallgate as a typist. I have 3 daughters ( 2 in Australia) and 9 grandchildren. I attended All Saints Sec. Mod. Frog Lane.