Photos of Wigan
Photos of Wigan
Album Contents
Album Contents
Wigan Album
Belle Green Lane, Ince
8 Comments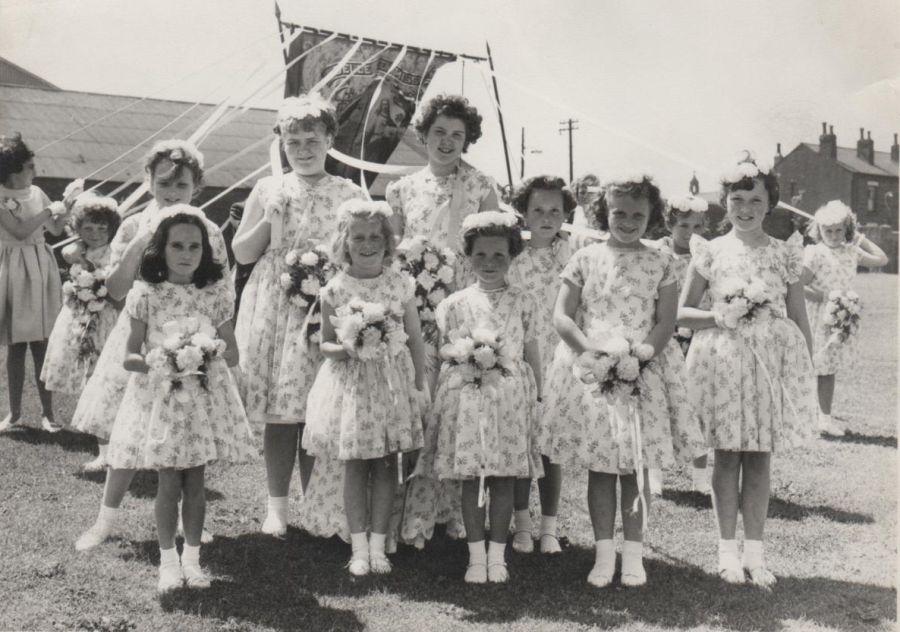 Belle Green Mision Walking Day, 1962.
Photo: Maureen Rutter (nee Green)
Views: 4,306
Item #: 21
Belle Green Mision Walking Day 1962 taken on playing fields at Ince Central School where Ince Parish, Christopher Mission and Belle Green all got together for a service. I am the one in the middle in the long dress some of the other children are Jean Appleton, Mavis Wrigley, Susan Crompton, Sinclair sisters, Susan Sheppard.
Comment by: June on 21st December 2007 at 21:29
I remember Susan Shepherd falling and dislocating her knee cap on a day trip to Rhyl with Belle Green School.I still have the brooch I bought for my mother that day.
Comment by: sandra McLeod on 17th December 2011 at 18:08
The name of the girl at the back is Avis Ridley not Mavis Wrighley. Who now lives in Beverley in East Yorkshire
Comment by: Avis Ridley on 17th December 2011 at 18:13
Mr Barnes was the Headmaster on the trip to Ryll and immediately rang the emergency services to deal with the situation. We had a good day.
Comment by: susan sheppard on 16th February 2012 at 22:51
it was morcombe where I fell on the pleasure beach not rhyll
Comment by: josie on 12th June 2012 at 23:27
hi avis,do you remember me ? my maiden name is beckett i was born in york st hr ince top of belle green lane,when i was 12 we moved to levens place mid belle green lane,i remember you in our teens didnt you live in petticoat lane ? my aunty mildred mawdsley lived near you her maiden name was tinsley they lived up the little steps and i seem to remember your house did you have to step down into it,i would love to see them houses now.
Comment by: josie on 12th June 2012 at 23:36
susan , have you seen the dvd that was done in the 50s of a bit of belle green lane,chatham st area as well,there are some kids on it with prams and im'e sure one of them is you i might be wrong but i couldnt think of your name untill i saw this pic .
Comment by: sandra mcleod nee kirk on 17th September 2012 at 21:19
Hello Josie, I am a very close friend of Avis and have just been browsing through looking for photos of her and saw your comments. I regret to tell you Avis died on 25th August after a short but brave battle with cancer.