Photos of Wigan
Photos of Wigan
Album Contents
Album Contents
Wigan Album
St Thomas's Walking Day
10 Comments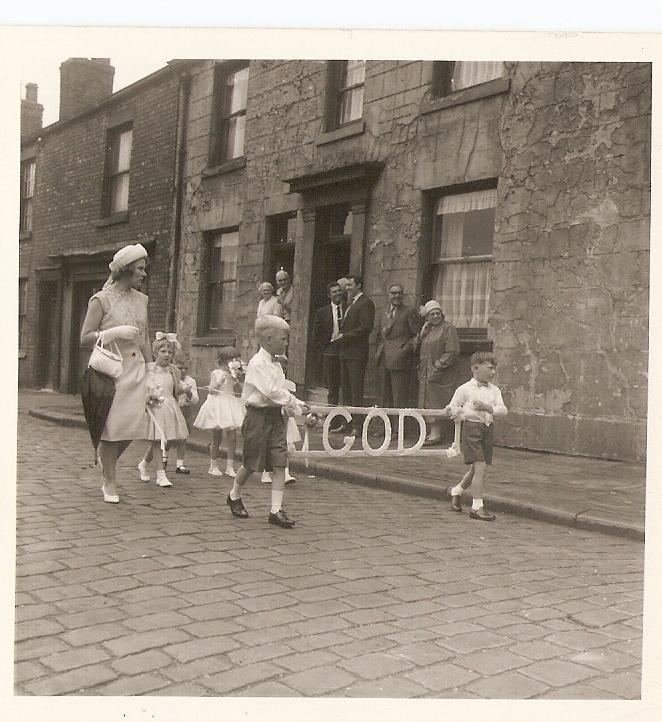 Outside Appleton Cottage
Photo: Jean
Views: 1,988
Item #: 20945
Another one to bring back memories Maureen. I'm really happy my photos brought you so much pleasure.This one was possibly taken around 1957/8.
Mr +Mrs Woodward are standing in the doorway of Number 9, Great George St. I think Mrs Woodward used to be the landlady of the Whitewash before she retired and married Mr Woodward.
My brother, Charley and friend are alongside my Dad and auntie.
So sorry your grandparent's house is not included in the photo - I don't remember much about your Grandad. I remember your Grandmother more and she was lovely.
I don't recall the names of the people in the procession.
Comment by: Maureen Andrews nee McGovern on 27th June 2012 at 18:19
Thank you again Jean..these photos are a treasure..maybe sometime somewhere my grandmas house will come into view..I'd love to know what happened to the Appleton Cottage sign,and yes my Grandma was a lovely little Irish woman..I loved her dearly..your Charley looks very handsome doesn't he..but then again your Mum and dad were a handsome couple.Jean your'e a cracker for showing these...take care.
Comment by: Dave Marsh on 27th June 2012 at 23:20
I remember saying to Brian a while back,"there are hundreds of photos tucked away somewhere that will one day be forgotten unless they are collected in an album like this one and then they will be a source of joy for generations.Jeans photos are some of the best I have seen with the backgrouns of the backstreets of old Wigan.
Comment by: harry barrow on 28th June 2012 at 08:47
Jean,how good are these photos you have put on w,w,I can't thank you enough,and how good to hear from you after all this time.I still can't believe what I'm seeing! H.
Comment by: Carol on 28th June 2012 at 09:04
My Gt Gt Aunt Margaret Sweeney moved to Gt George Street at some point after 1914. She was deaf and dumb. She lived with her son James and his wife Margaret. james and Margaret were living in the same street at the time of their deaths in 1953 and 51 respectively. Margaret died at the grand old age of 89 in 1960. Although she died in Frog Lane hospital, her address was given as 11 Gt george st, so would that have been next door but one to Appleton Cottage?
Your photos are fantastic. Thank you for sharing them.
Comment by: Maureen Andrews nee McGovern on 28th June 2012 at 10:16
Hello carol..the house that is just out of sight on the right hand side was my Grandma's which was no.5..then of course Jeans house that you can see was no.7,the Woodwards no.9..all three house were known as Appleton Cottage..after those was a garage and the house next to that was your gt gt Aunts,she was very often stood at the door,and when I got to my teens I had many a chat with her when I was off up the street..she knew what I was talking about and vice versa..but she had Jackie living with her..he'd been in the navy but I don't know what relation he was to her..he later came to live in Beech Hill,we lived further down at no.23,were the Sweeneys that lived in between us and your Aunts related to her..if they were I never knew that..when your'e young you don't ask questions like that do you? I hope this has been of some help Carol.
Comment by: Jean on 28th June 2012 at 10:24
I remember James and his mother but I don't remember James's wife. I think James had been in the navy.
When I was a child,a girl about my age used to come and visit them and she used to play with me. She had a pair of roller skates.She allowed me to have the left foot and she wore the right foot. We skated on one foot, up and down the road together. The only place we could skate was Brown St which was tarmaced. Our street was useless for skating because it was cobbled.
In between the entrances to no 9 and no 11 Great George St was a garage which belonged to no 11. The owner of no 11 had left an old open-topped car in there and it had green mould on it. I don't know what happened to it but I've no doubt that it would be worth a fortune nowadays.
Harry I'm very happy that the photos have brought you so much pleasure.I remember the times we played together in your back yard down all those steps. I remember May Queen processions. The May Queen dressed up in old net curtains, others dressed as gypsies or cowboys and Indians. Later, we counted up the money we had collected and bought a packet of bicuits, some marshmallows and a bottle of pop.
I remember the blocked up passageway at the back of your house which we were convinced was a secret passage to the Parish church.
I remember your grandma had a pianola which I loved to play. Hope you are well and happy
Comment by: harry barrow on 28th June 2012 at 10:38
Carol, I remember Margaret Sweeney very well,Ilived across the street at no.2a.In this photo you can see her house and a big door,known to one and all as the "Green gate".it played a big part in our street ball games, goal posts etc.Margaret would come out, and move us all on.She was a lovely lady who we all respected.I new her grandson Jack,who worked on the G.P.O.we had a drink or three in the Grapes together,Jack always drank Rum and black"without the rum"because he was looking after his grandmother Margaret, who he loved very dearley
Comment by: Roy on 28th June 2012 at 10:46
No money but everyone dressed really smart, a credit to our parents! I remember my mother sitting up half the night before walking days sewing our outfits.
Comment by: Jean on 29th June 2012 at 09:46
Yes, Roy, the weeks before walking days were hectic times for our mothers. They put such loving care into making sure we looked our best for the big day.
My mother helped her sister who had six daughters, to make their dresses and both houses were like a production line at times.
Our mothers had no say in which material was chosen and did not always like the choice. It was chosen by the Sunday School teachers. They must have had a difficult task in choosing material to suit the pockets and expectations of so many individuals
Comment by: Philip Young on 15th July 2012 at 21:59
The lady in the photograph appears to be Muriel Ratcliffe -
used to live in St Thomas Street.