Photos of Wigan
Photos of Wigan
Album Contents
Album Contents
Wigan Album
St Paul's, Goose Green
9 Comments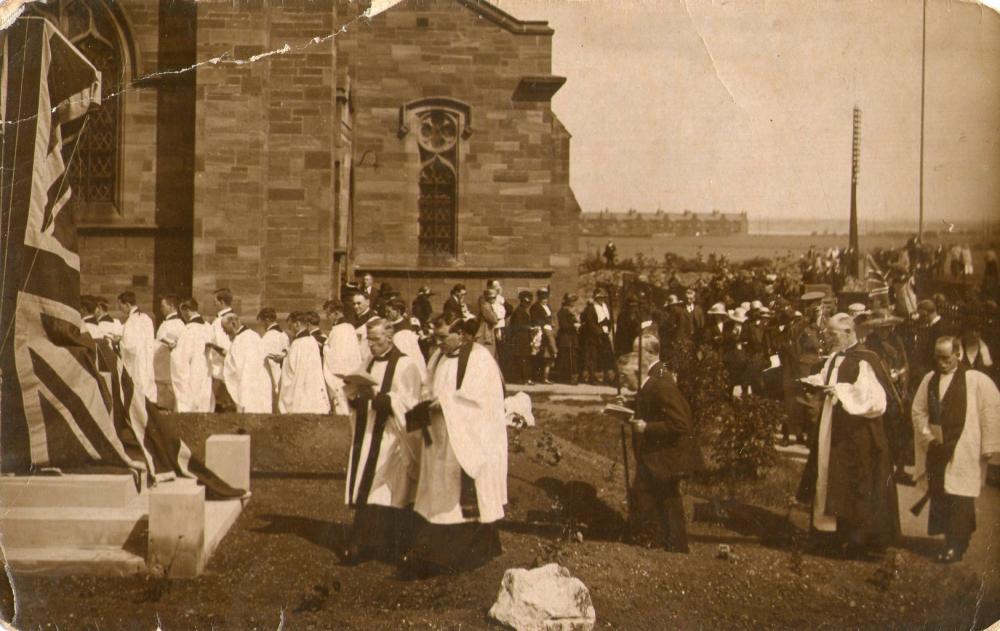 St. Pauls Photograph
Photo: Stuart Jarvis
Views: 2,478
Item #: 19282
This is from my father William Jarvis's collection and is untitled and so I didn't know where to place it on WW. I have just looked at St.Pauls Church on Google Earth and the subject of the photograph is now obvious to me.
Comment by: micky east on 24th December 2011 at 18:40
the picture is pre 1954 when st pauls estate was being started
Comment by: micky east on 24th December 2011 at 18:44
forgot to say those houses in the background are on poolstock lane they now face the tesco express.
It looks as if they have just processed out of church and are about to dedicate the WW1 Memorial - so early 1920s. Knowing when the Memorial was dedicated will give the exact date.
Comment by: Jenny on 25th December 2011 at 22:53
I was thinking 20's. The hats of the women in the background reminded me of the 20's though I'm not the best with dating clothes.
Comment by: John Brown on 26th December 2011 at 14:21
Great picture Stuart. I was brought up on St Paul's estate, and this is the only picture I have ever seen that shows empty land where the estate is now. If I'm not mistaken you can just make out Scotsman's flash in the background. Also, the man stood on the old railway embankment, just to the rear of the church. Don't suppose you have any more of this area do you?
Comment by: micky east on 27th December 2011 at 01:08
john you cant see the flash from there its to low down.the railway ran from winstanley colliery to wigan pier.
Comment by: John B on 27th December 2011 at 15:14
Sorry Mickey, still looks like the flash to me.
Comment by: Stuart Jarvis on 28th December 2011 at 12:12
Sorry JonnB but that's it i'm afraid. My father moved from Goose Green to Whelley in the late 1920s and lost contact with the area.
Comment by: Irene Carruthers on 19th January 2012 at 15:00
It's the unveiling and dedication of the War Memorial by Rev Edwin Kempson on Saturday 15th July 1922