Photos of Wigan
Photos of Wigan
Album Contents
Album Contents
Wigan Album
St Paul's, Goose Green
13 Comments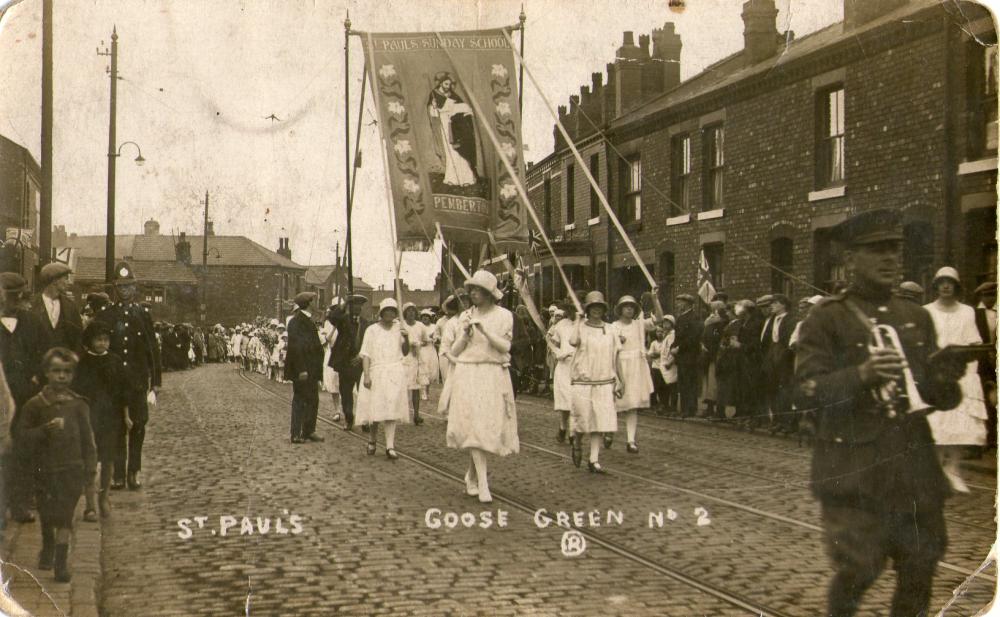 Walking Day 1920s
Photo: Stuart Jarvis
Views: 2,714
Item #: 19225
This photograph is from my father William Jarvis's collection. He was born at 24 Northumberland St. Pemberton in 1914 and sang in the St. Pauls Church Choir. He died in 1984.
Comment by: Ron Hunt on 20th December 2011 at 18:32
Another superb photograph to add to the wiganworld photo archive. Much better to put them on here than to give them to Wigan Heritage, who then charge people from £11.00 for a 6"x4" copy. Up to £20.00 for a large sized copy.
Comment by: Stuart Jarvis on 20th December 2011 at 19:53
Glad to be of service Ron. I know my Dad would have prefered Wigan World every time.
Comment by: Bill f on 20th December 2011 at 19:58
Any idea where the picture was taken?
Comment by: RON HUNT on 20th December 2011 at 21:00
Hi Stuart, As it it is on the site everybody can enjoy the scene. At Wigan Heritage it would probably have never seen the light of day again. Locked away in their archives until someone was willing to pay an extortionate price for a copy.
Comment by: dave c on 21st December 2011 at 12:01
Not only that Ron, past experience has shown that they can't get it right when they catalogue items. I bought one some time ago only to find that one of the photo's I had purchased wasn't anything to do with the place they had said it was. No refund obviously!!!!
Comment by: Dave on 21st December 2011 at 13:47
On the Banner it reads St Pauls PEMBERTON, was there a St Pauls in Pemberton and did they go through Goose Green, can any one clarify.
Comment by: Ron Hunt on 21st December 2011 at 14:07
St.Pauls is in Goose Green which probably, at the time this photograph was taken was classd as Pemberton.
Comment by: Tom Clancy on 21st December 2011 at 14:55
Goose Green was part of Pemberton U.D.C.until absorbed by Wigan in 1904.
Comment by: Nads on 21st December 2011 at 18:11
My Grandparents married at St Pauls in 1925 and on their marriage certificate it states St Paul`s Pemberton not Goose Green.
Comment by: Dave on 21st December 2011 at 19:42
The banner reads, St Pauls SUNDAY SCHOOL. Could it be that there was a school in Pemberton that did Sunday school for Children, which was afilliated to Goose Green church. then when there was a main function, then all different schools would meet at the main church? just a thought. Thats what we did in old Skem.
Comment by: John Clarke on 21st December 2011 at 22:07
Bill f. I'm not 100% sure but confident that this is on the main road, Warrington road, just about were the new school fields are. That Banner is still in use today, I have carried it on a few occasions.
Comment by: Janet Green on 1st March 2012 at 23:03
Actually, the banner in the photograph is no longer with us. It became too old to have repaired so a few years ago the Sunday School raised the money to have a replica made, as near to the original as possible. We were able to save Jesus' face and one of his feet which were incorporated into the new banner.
Comment by: Cosmic Monkey on 10th September 2012 at 20:18
John, you are spot on with the area, I've done a bit of cross referencing on google maps and a bit of surveillance work looking at chimneys and bay windows etc. Our old house is in the picture, we only moved out last year. I've lived on that front for 38 years and it's amazing to see what it was like over 90 years ago.