Photos of Wigan
Photos of Wigan
Album Contents
Album Contents
Wigan Album
Belle Green Lane, Ince
11 Comments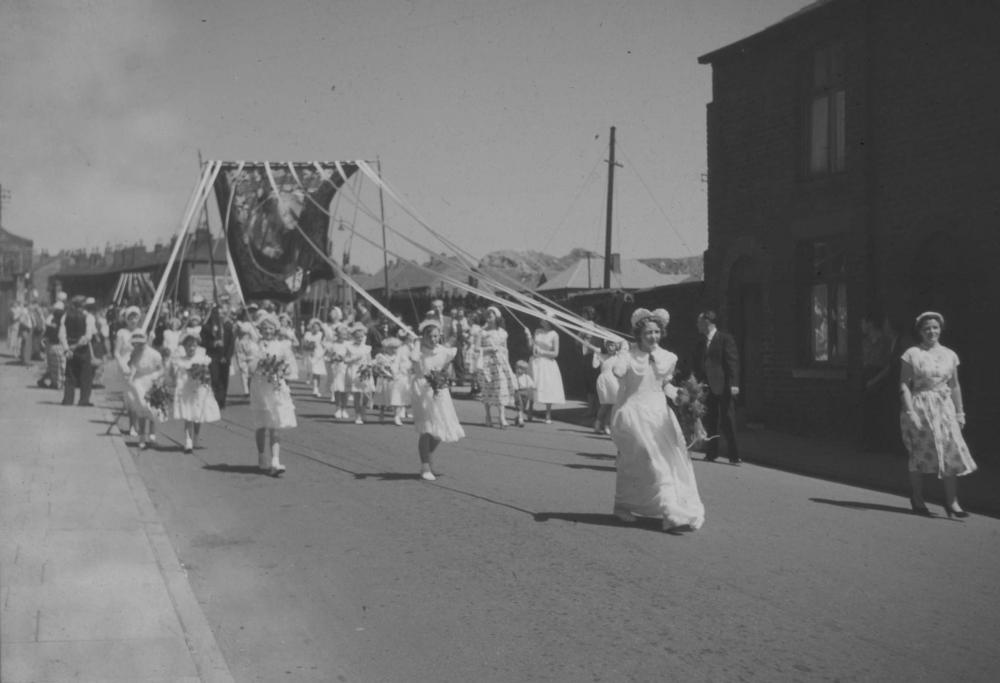 Walking Day 11
Photo: dk
Views: 1,386
Item #: 19115
Opposite Oak Tree late 1950s
Comment by: Gerry on 11th December 2011 at 11:07
I think thats the house on the right where Granvill lived with his hairdresser mam Ernie and Nelly Prescotts shop in the distance with the big poster Ad on the gable end.. some folk called this shop "OWD BILLS"
Comment by: dk on 11th December 2011 at 19:09
It was alluz Ernie's to us kids Gerry. Oppen on a Sundy ant best penny tray int lane.
Comment by: Gerry on 12th December 2011 at 10:01
It were always ernies to me too Derek he had a bubber mat at the door that said KILKOF on it and a picture of a frog he used to let you weigh out potatoes too if you could lift the five pound weight onto the scales Penny tray were awesome.. 2ounce of winternips please and 2 ounce of Kay Lie for me brother My dad once said to me when you go to Ernies, buy summat uz ul last aw neet. Ernie told me they will last aw wick if tha duzzent eight em. Another time my mam sent me for some shopping and I forgot summat so my mam made me go back.. as we only live yards from the shop Ernie was amazed to see me back so quickly he said "Owd Mon Gerald thar uz fast as thi shadow" I took this as a great compliment......not realising what it really meant
Comment by: dk on 12th December 2011 at 14:46
I wuz banned frum Ernie's, Gerry. When I went Belle Green, schoo Nurse took exception to mi bally and mi man boobs – they cawd 'em titties then. She towd mi Mamt put me on a diet. She towd aw teachers. She towd Mrs Hardy an aw. I think she towd aw Ince. Dinner ladies were aw oer mi like a rash. They wuz watching me eight an appu an I wuz watching fur any o tuther kids leaving any semolina. Jammie dodgers an choclit fingers went throught winder at breyk an aw. Tha con be sham't even when thar ony ten.

There was another shop across the road from Ernie's, on the up-lane corner of that terrace on Elizabeth Street. I used to go in and buy an orange or another apple. He was a greengrocer mainly, I think, but I can't recall his name. He was a tall thin man with specs and a dark complexion. There was a bell on the door and he was always in the back when you went in. Sometimes he would do conjuring tricks for us if we asked him. He would take the paper off an orange, screw in into a ball and juggle with it for a bit and then make it disappear. We would ask him to show us how it was done but he never would.

I wuz ont lucky side, I reckon. Ney, kids av fot eight five appus evry piggin day.
Comment by: Gerry on 12th December 2011 at 16:53
The shop you refer to was named Moss's You are quite correct he did sell greengroceries and the like, he also was a purveyor of a frozen confection named Jubbly (see we con tawk posh when we want to)
Comment by: dk on 12th December 2011 at 17:46
I say Gerry, old boy, what a simply splendid memory you possess. You appear to be especially sharp and detailed on the ticklish topic of local emporia. Can I make the, rather forward, perchance, presumption that you found some employ in running messages for your Mama and Papa?
Comment by: Gerry on 13th December 2011 at 15:58
You are quite right Derek I was always busy running errands to moss's Alices, Ernies Minnies (up lane) and Amys. What were that shop called on the corner of Hemfield Road, was it Briscoes? and also the one a bit further down BGL between Hemfield and the bridge.. he collected corks from medicine Bottles I never found out why.. I have a feeling I should know you DK but the only Derek I new was Derek Rigby lived a couple of houses down from the Bush on BGL
Comment by: dk on 14th December 2011 at 09:50
I don't think you would know me Gerry. How can I put this age thing gently? Err... if we'd been in Ernie's at the same time you'd have been buying Woodbines when I was still buying toffee cigs.

I remember Ernie's row and the one opposite coming down, or, at least, being empty. I'd have been about twelve or thirteen. It seems they were empty one minute and the next they had gone.

We knew the corner shop on Hemfield Road as Lily's. It was always heaving with kids on the step and this was our Jubbly shop. The one lower down I don't remember very well other than it was there. It was next door to Carl Riley who I went to school with and later, at Gullicks, I worked with his Dad, Jimmy.
Comment by: Gerry on 14th December 2011 at 14:53
DK if you look again at this photo look past the row of houses in Ernies block you will see another gable end (light grey) this was Malcom Tabeners house we lived in that black on Battersby st opposite the Bush I was born in 1952.. dont be Gentle on the age thing I am now 59 but my Battersby St days seem to be only yesterday.. although I dont remember LILLYS maybe that was after my time, I remember Tolketh St Collapsing I would be about 9 years old. shorlty after that they build the Kendal Road estate. our house in Battersby St was on compulsory purchase and we moved to 33 Kendal Rd in 1964
Comment by: dk on 14th December 2011 at 15:46
Well that explains a lot then Gerry. They must have knocked the corner off prior to the rest of the row. I never realised that there was a backs there. I thought it was the end of the Bush. I wondered why you mentioned a terrace at the end of Battersby St on those other pics. MY Aunty lived in the second house of the newer houses. I can't remember terraced houses on the corner at all. I am going to have to search through all my pics now and see what's what. There might be a picture of your house.

We moved away to New Springs when I was five and came back when I was eight or nine, so in 64 I would have been at St Johns Infants. Sorry about the old. Am not so far atbackothi.
Comment by: Maureen Rutter (nee Green) on 17th January 2012 at 21:27
You can see the houses you are referring to (I think) if you look at page 1 here on walkingdays and look at the 10th picture, the one with a sign just in the left corner, this was taken from our house 123 Belle Green Lane when I was "leading" out at walkingday, it quite clearly shows the terraced row further up on the opposite corner to the Bush There was a bus stop outside where we caught the bus into Wigan,there was a pathway through to the new estate (Langdale etc), we used to cut through here if we had to use the telephone box which was in the middle of the estate as of course very very few had telephones in those days.