Photos of Wigan
Photos of Wigan
Album Contents
Album Contents
Wigan Album
higher ince may queen
8 Comments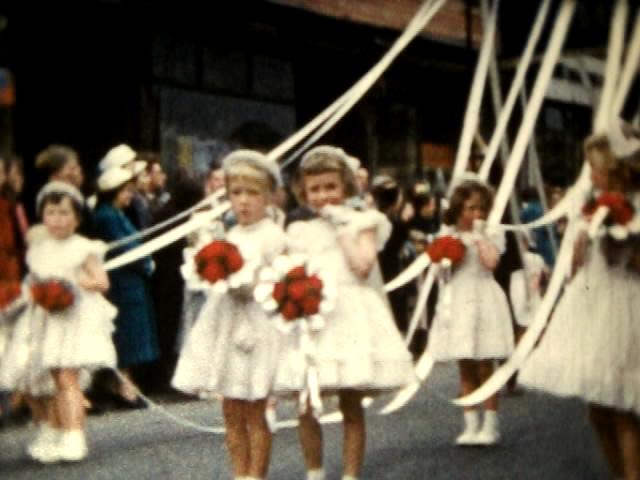 Ince Bar c1958
Photo: dk
Views: 1,742
Item #: 19107
Part of May Queen or possibly walking day.
Comment by: halsall on 5th December 2011 at 09:17
hi dk. thats definately Lynda Gaskell and now i think the little girl next to her might be Carol Cunnliffe. thanks for these there great.
Comment by: irene roberts on 5th December 2011 at 11:09
Yes, I recognise Lynda too. Wish the other girl WAS you, Brenda!
Comment by: dk on 5th December 2011 at 12:32
Never mind Halsall. I have found some more black and white transparencies of Belle Green Lane from 1958 or earlier. You might turn up on one of them. I am related to Carol but I don't know how exactly. She taught us to swim when we were kids which was handy considering the number of times we fell in the cut, and influenced a liking for books as well. I've not seen her for ages.
Comment by: halsall on 5th December 2011 at 12:51
dk thats ok i still think im the one on the right of the picture. the fuzzy one. not changed there then. in the other picture im sure im the one on the right.and also i think ive seen my dad in the other picture. he died when he was only 47. hes also a bit blurred in the picture but i think it looks like him. hope im not just wishing it.thanks dk.
Gimme a clue on t'other picture Halsall and I'll try to extract a clearer frame of him. On this one, you all wouldn't look at the camera at the same time - I can step backwards and get a pic of the little girl extreme right looking at camera when the two in the middle aren't. It would be too similar to this one to put it on but I can send if you want.
Comment by: halsall on 5th December 2011 at 14:25
the other pic is now on page 2 dk. its the one with the 3 picks together. the middle picture of the man outside of the oak pub and hes also in the last pic as well hope im not wasting your time dk.
Comment by: dk on 5th December 2011 at 14:51
You need to point him out, Halsall, because there may be a better picture as the walking day procession continues. Is he the chap stood in the doorway on the left in in your pic?
I may not be able to get any better than there is though.

You're not wasting my time - it's freely given.
Comment by: karen topping on 25th December 2013 at 17:52
Lynda is my sister, we have just found the photo of her and will be emailing her to tell her. Our mum says it's walking day and remembers making her dress.