Photos of Wigan
Photos of Wigan
Album Contents
Album Contents
Wigan Album
St Catharine's
7 Comments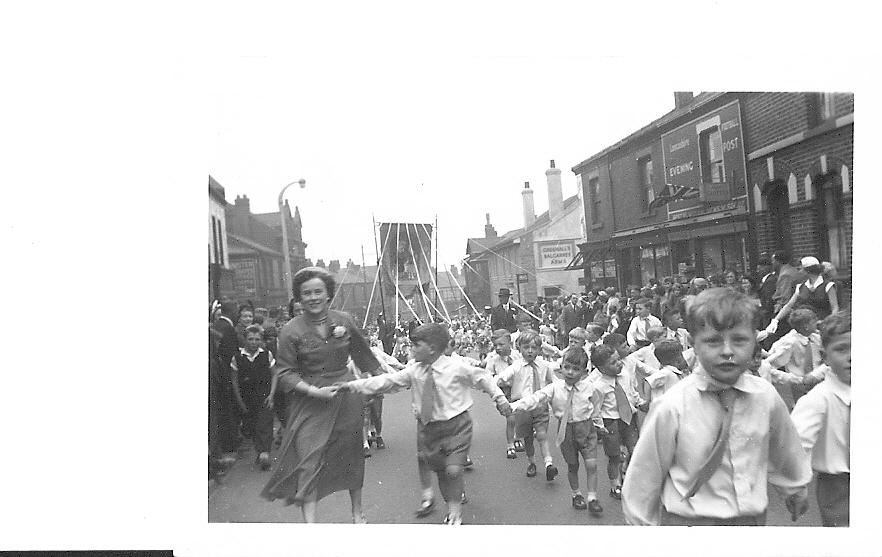 St Catharine's Walking Day circa 1952/3
Photo: JohnAlan
Views: 1,598
Item #: 18813
Shows mum Doreen Hankin and me, in foreground, walking up Scholes. My Grandma Florence Critchley shown on left, full face. Is that Ken Robinson walking at side of road? Note Balcarres Arms pub and Woods newsagents with Howards harware store on corner of Molyneux St.
Comment by: Jean J on 1st November 2011 at 14:46
The Balcarres being the only building that still stands. I did a paper round for the newsagents, Hiltons I think it was called then.
Comment by: Donald Underwood on 1st November 2011 at 16:29
When I first knew the newsagent it was Ralphs'
Mrs Ralph was famous for spending the night alone in the Palace Cinema after a film The Rat,I think ,and won a prize
Comment by: Margaret Kenyon on 3rd November 2011 at 00:59
Just how I remember you John
Comment by: JohnAlan on 3rd November 2011 at 15:35
Hi Margaret, it's a long time ago and things seemed so much simpler and happier then. Perhaps because we were only kids. The pub is now known as The Earl of Balcarres and is up for sale as are many these days. Do you remeber a chocolate bar called Bliss? It ihad a cream and hazelnut filling. No one seems to remember them. Did you get round to speaking with Christine about a class reunion?
Comment by: Margaret on 4th January 2012 at 01:50
Hello John, yes, I did speak to Christine and I thought I put it on the St Catherine's schools part of the album. How can we contact you?
Comment by: John Alan on 9th January 2012 at 14:20
Hi Margaret, you can email me on johna.hankin@virgin.net, would be good to hear from you.
Comment by: Vivian Halsall on 26th April 2012 at 04:39
Hello John Hankin you are just how I remember you. All those years where have they gone!!!! Great picture I must be at the back somewhere with the girls. Vivian Grange