Photos of Wigan
Photos of Wigan
Album Contents
Album Contents
Wigan Album
Ashton-in-Makerfield all Church
9 Comments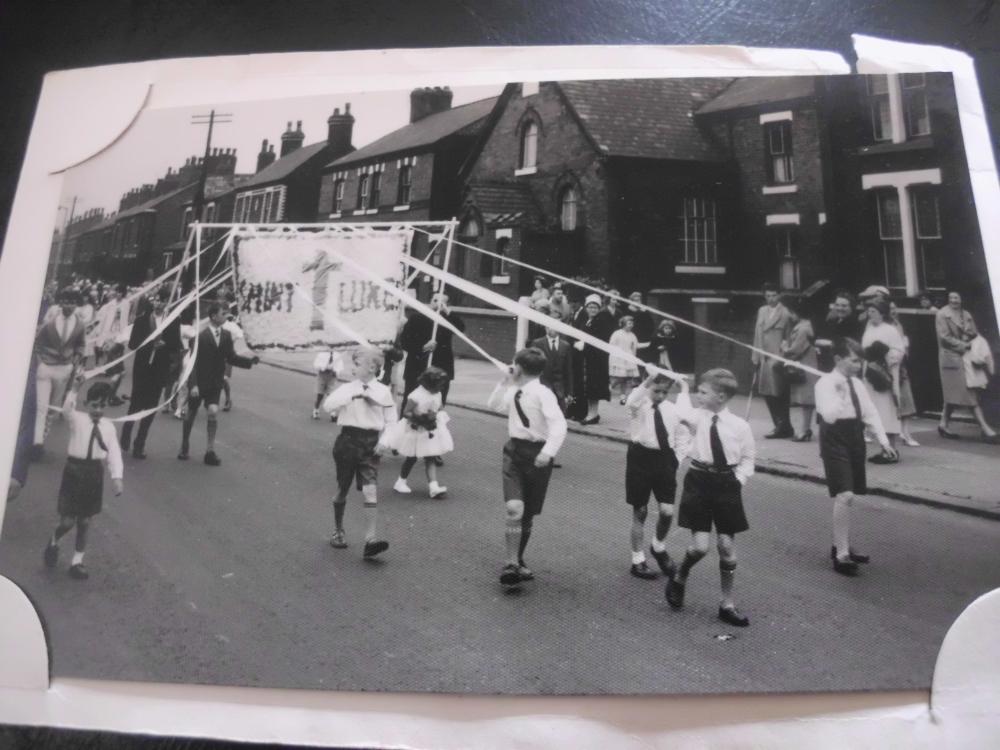 ashton walks
Photo: Eunice Cadman
Views: 3,629
Item #: 18408
another 1 from the house clearance around the same time but with St Lukes banner
Comment by: Kenee on 14th September 2011 at 10:49
This looks like the bottom of Rag Bruw, Bolton Road. Notice the wooden telegraph poles, that would make it pre 1958.
Comment by: David Thompson on 14th September 2011 at 15:10
You are right about this being on Bolton Road Kenee this area was known has little Wales the church in the centre of the photo is where you can now buy a three piece suit from, the procession is heading back up the hill towards St Lukes but the hill isn't Rag Brow this title was given to Rose Hill which runs from Bryn to Landgate the pub half way down now closed was always called the Rag.
Comment by: Kenee on 14th September 2011 at 17:28
What am I like!
I meant Ram Bruw, of course it's not Rag Bruw. I must be getting old.
Comment by: janet on 15th September 2011 at 13:40
My Great Grandparents moved to Ashton from Wales and lived next door to what was the ' Welsh Chapel'....
Comment by: Kenee on 16th September 2011 at 14:40
My great grandparents moved from Point of Ayr, North Wales to Golborne Road (No. 16 long demolished), near 'The Ram'.
The Chapel on the right was one of the Welsh Chaples in and around Bolton Road (Little Wales) . In this particular Chapel thy were still preaching
In Welsh as late as the late 60s .
Comment by: Keith on 25th March 2012 at 18:46
I only found out recently, by researching my mother's side of the family, that her Welsh ancestors lived in this area.
Comment by: Kenee on 29th April 2012 at 17:54
Snap ! Keith !

My great grandmother was Welsh, she came to Ashton from Point of Ayr. I imagine her husband came to work in the pit.
My mother Mary Williams attended the Welsh Chapel.