Photos of Wigan
Photos of Wigan
Album Contents
Album Contents
Wigan Album
St George's, Wigan
10 Comments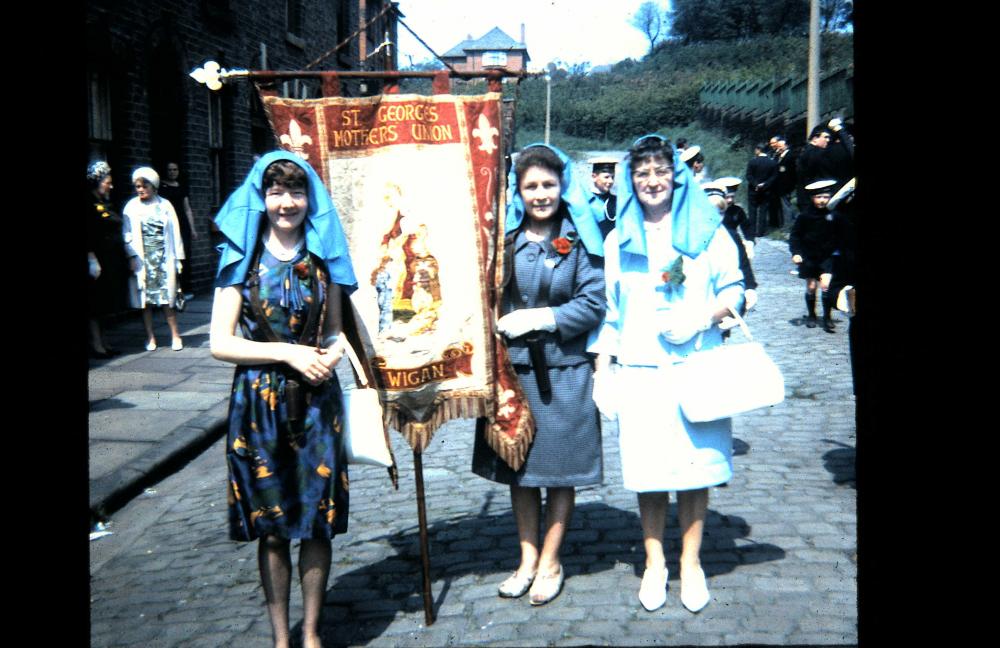 Mothers Uniun
Photo: Fred Cunliffe
Views: 2,585
Item #: 18094
St.Georges walking day,'60's?That's my mother holding the banner,Betty Wilson on her left,I'm afraid I can't remember the lady on the right.
Comment by: Vicky on 17th July 2011 at 13:37
Where is this photo taken?
Hi,Vicky,it's in Windsor street,just below St.Georges school.
Comment by: Vicky on 18th July 2011 at 11:51
Thanks Fred, thought it was. i recognised the green railings but dont remember the houses, they were gone by the time i went to St georges.Going back to a previous post, definately remember your mum doing alterations to choir robes/making walking day dresses.In the latest photo, taken outside St Catherines church is your father on the photo? and did they by any chance live around stanley place later in life?
Sorry,Vicky,my parents last address was Frenchwood Court,Aspull.Do I know you?
Comment by: vicky on 19th July 2011 at 00:35
no, i just remember you parents from st georges church, i was in the choir for a few years and went to sunday school there
Is that Betty who lived in Greenough Street? I lived at no 77, next door but one. Think my mother, and her sisters good friends with Betty?
Yes Tony,And I remember you,and your mother too.
Comment by: Olive Halliwell (Nee Stephens) on 11th June 2012 at 14:53
Hello,
I lived in School St off Greenough St with my mother, (Helen Stephens), 5 brothers and 2 sisters! Mrs Cunliffe made all of our walking day dresses along with baby brother, Peter. She also made my confirmation dress. We alweays walked with St Georges, it was one of the occasions when we had a new dress! I remember Mr Spencer with great fondness he was my inspiration to go on and do an English degree. I was in the same class as his son Geoffrey and also George Giles. Loved every minute of my schooling at St
The lady on the sidewalk in the white hat is my grandma Cissy Hilton she lived in Great Acre St