Photos of Wigan
Photos of Wigan
Album Contents
Album Contents
Wigan Album
St William's RC Primary School
12 Comments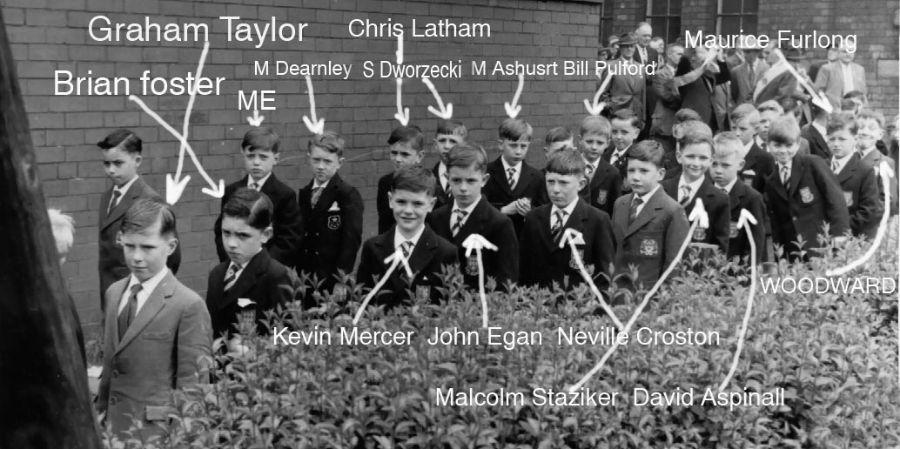 Walking day, c1960/61.
Photo: Gerald Mawdsley
Views: 4,006
Item #: 173
Walking day at St Williams Ince around 1960/61.
Comment by: kirsty on 12th January 2008 at 11:31
albert woodward at the bk neva changed lol
Comment by: Gerry on 5th August 2008 at 17:30
You are right Tony it is You, my mistake, memory and all that I was more your Phils age. Didn't you marry A.T ?
Comment by: andrea on 6th August 2008 at 07:27
yes he married ann, tony is my dad.
Comment by: Gerry on 11th December 2008 at 19:27
Tony and Ann were the Posh and Becks of the Cardy and Mrs Ryan couldn't keep them apart no matter how she tried. That was true Love if ever I saw it.
Comment by: josephine pennington nee beckett on 30th September 2009 at 22:48
gerald. your thansomist lad ont photo. your next nevill.
Comment by: Gerry on 7th October 2009 at 21:20
No Josie I am on't back row marked ME!! who the hansome lad is next to Neville I cant remember
Comment by: josie pennington nee beckett on 8th October 2009 at 20:38
SORRY GERALD. I HAVE CAUSED CONFUSION WAS TALKING TO NEVIL OTHER DAY WE WERE SAYING HOW WE ENJOYED THESE PHOTOS SO I KNOW WHERE YOU ARE SO WHEN I SAID YOU NEXT NEVIL I WAS HOPING HE WOULD SEE IT I MEANT NEVIL WAS NEXT THANSOMIST AFTER YOU NOT NEXT TO YOU . ALAN SAYS I ALWAYS CAUSE CONFUSION ANYWAY IME ONLY A LEARNER. SMASHING PICS THOUGH.
Comment by: Gerry on 8th October 2009 at 21:54
Neville were never Handsome !! His Cousin Peter Jones was and his grandma had a chippy in Petticoat lane where you could get a bottle of milk way after closing time, and you could buy one cig and one match too
Comment by: josie pennington nee beckett on 19th October 2009 at 00:58
oh yes he was i remember him in the 60s on his scooter with his parker on and beleve it or not his fabulous fur coat the fashion at that time beltin.
Hi Gerald my husband Anthony Cunningham is in this photo he is behind Bill Pulford
Comment by: Gerry on 14th January 2010 at 20:18
In recent years I had forgotton Tonys name (yes we called him Tony then) is he 57 now or 58?