Photos of Wigan
Photos of Wigan
Album Contents
Album Contents
Wigan Album
Platt Bridge Methodists
8 Comments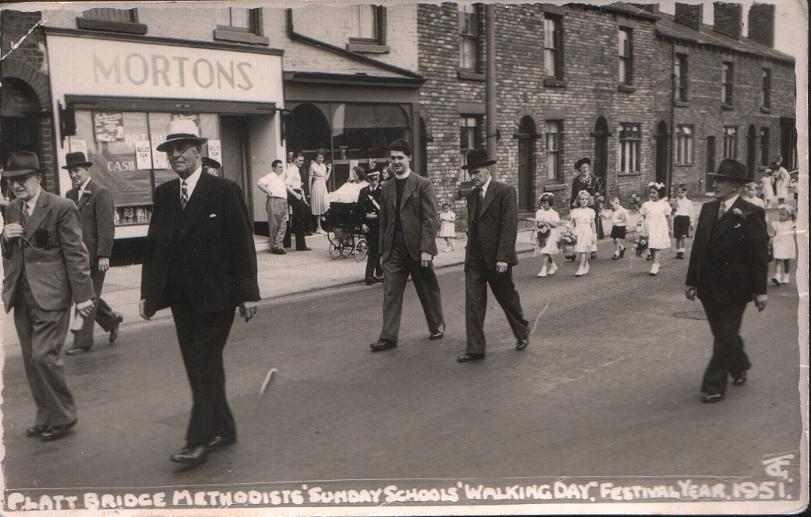 PLATT BRIDGE WESLEYAN CHURCH 1951.
Photo: BILL LANE/H.PENNINGTON
Views: 2,322
Item #: 16803
PROCESSION PASSING MORTONS SHOP GONE MANY YEARS AGO.GENTLEMAN WITH WHITE HAT IS JOHN WILLIE HOWARTH WHO WAS A TEACHER AT ABRAM SCHOOL AND ALSO HAD A CHIP SHOP.RIGHT OF THE PICTURE IS JOHNNY DALE WHO WAS UNDERMANAGER AT MAYPOLE COLLIERY.
Comment by: Andrew on 18th January 2011 at 16:53
Great picture. I remember Mr Dale his housed backed onto my dad's garden (Tom Hunt in Bank Street, Platt Bridge. Both were true gents...thanks for posting.
Comment by: HARRY PENNINGTON on 18th January 2011 at 16:54
I MADE A MISTAKE IT WAS PRIMATIVE METHODIST CHURCH NOT WESLEYAN.
Comment by: John on 18th January 2011 at 17:08
Hi Bill. Where exactly was Morton's shop ? Good pic by the way.
Comment by: owd platt bridger on 18th January 2011 at 21:49
mortons shop was on walthew lane faceing the top of platt street
I was in a bit of a panic when I saw mr. Howarth & Mr. Dale - both were senior members of Platt bridge Primitive Methodist Church. Walking Day was always the 3 Platt Bridge methodist Churches.
Wonderful memories of Zion Methodist church walking days,My Dad,Sydney was in charge of the banner and also choirmaster,he died 2007 age 99 and Mum Nellie died 2003 age 92.We left the area in Sept 1951 for Blackpool so that would be our last official walking day.Thanks for the viewing.
The man in the white trilby is Sam Foster,Mr Howarth is on Sam's right nearest the pavement.The Minister of Zion Methodist at that time I believe was Rev.Oxborough.
Johny Dale was my Great Uncle known as Uncle Jack (My Nan Florance Withington nee Dale was his older sister