Photos of Wigan
Photos of Wigan
Album Contents
Album Contents
Wigan Album
St Catharine's
8 Comments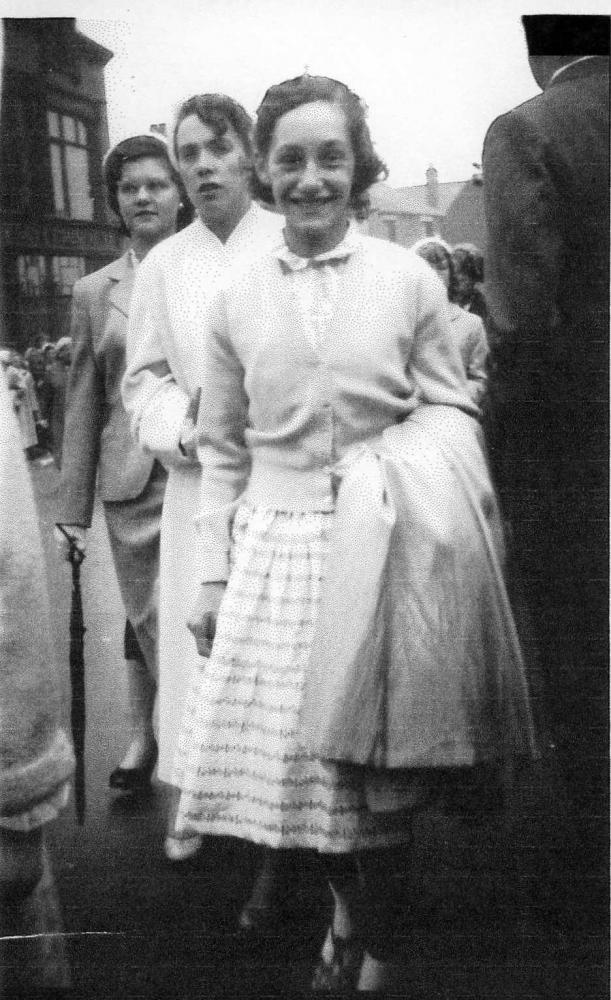 St Catherines Walking Day. Circa 1957
Photo: Dot Hesketh Nee Ince.
Views: 2,626
Item #: 15218
The top of Scholes, with Plat Lane on my left. Can anyone recognise who is behind me?
Comment by: Joe Thomas on 22nd July 2010 at 15:46
I Dont Know The Person Behind You But I Remember You When You Where Dorothy Ince I Lived In The Same Row In Linney Street Do You Remember John Reynolds The Cowser Brothers And The Hickeys
Comment by: dorothy hesketh nee (ince) on 23rd July 2010 at 23:21
Hi Joe. Yes some of the names are familiar. But what number did you live in? Put a street party on with the Linney st crowd which belonged to my sister. Are your parents on it?
Comment by: Ann Roberts ne Lowton on 6th September 2010 at 13:53
My sister Margaret Lowton married Teddy Hickey and they lived in Linney St,not sure of the number,my family lived at 43 Linney St.I remember the Cowsers,I think one was called Ernie. Ann lowton as was
Comment by: Phil Cowser on 16th January 2011 at 15:18
The Cowser Brothers, Do you mean Thomas and Eric?
Comment by: Joe Thomas on 2nd May 2011 at 14:40
They Were David The Eldest And Steven
Comment by: donald underwood on 12th May 2011 at 18:02
Eric Cowser was in my class at St Catharine's Day School 1937-1943.He was a pal of Gordon Oakes
Comment by: Susan Whittaker Tyrer on 25th January 2014 at 22:16
Dorathy I lived next door to you in Linney St 47. I remember you used to do my hair I must have enjoyed it because I became a hairdresser and I am still doing it 40 years later for my sins memories