Photos of Wigan
Photos of Wigan
Album Contents
Album Contents
Wigan Album
St Catharine's
14 Comments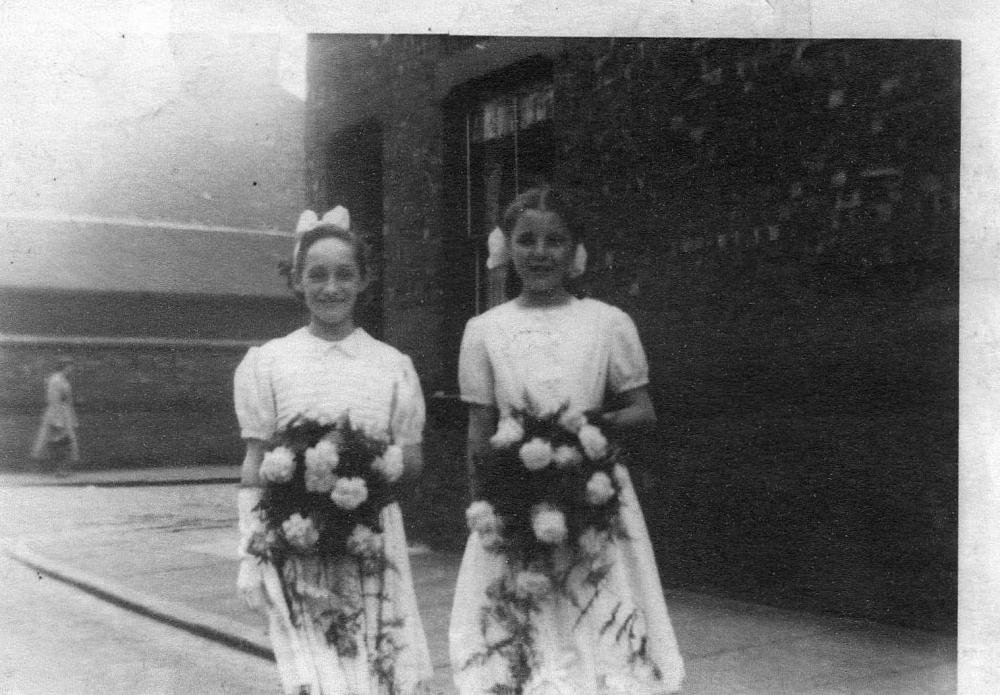 Another Walking Day
Photo: Dot Hesketh Nee Ince.
Views: 3,104
Item #: 15217
Me and Glenis Cherry outside of her house in Linney Street. In the background is a woman walking past the coal merchants entrance in the side street. Further down the side street was Deroma's Ice Cream. I used to run up the back street with a bowl to collect some mouth watering ice cream.
Comment by: Billy Harrison on 6th July 2010 at 12:37
not sure where linney street was,whats name of street woman is walking
Comment by: dot hesketh on 7th July 2010 at 17:40
Hi Billy.Linney St was the first on the right from Platt Lane.
But the St with the lady walking has me beat. Neville St ran off Linney St going towards St Catherines Church. Then came Isabella St, then the one which eludes me. Linney St also ran parallel to Scholfield Lane. Can anyone else help with this query as the old grey cells are not working.
Comment by: Joe Thomas on 25th July 2010 at 15:49
Hi' Dot The Street Is Florrie Street I Used To Live Opposite Where You Both Are Stood I Used To Mate With Glenys's Brother Alan The Coal Merchant Was Mr. Blackburn
Comment by: Dorothy Hesketh (Ince before) on 25th July 2010 at 20:29
Hi Joe. Lovely to get some answers to my query. Florrie St of course. Did you ever go to the Deromas ice cream for a treat?
Used to sometimes follow the coal men and pick up what they dropped. Mum wasnt too pleased as I was covered in the dust. She didnt like it either is I played with the tar on the roads when it got hot. Do you also remember PC49 who lived in Isabella St?
Comment by: Dorothy Hesketh (Ince before) on 25th July 2010 at 20:33
Hi Joe. Just remembered that I have put on Linney St party. This is on the Street scenes, under linney st. Mr Lowton is on who lived on the same block as Glenys. What happened ro Glenys do you know. Blackburn is the name I should have remebered, very appropriate name black for a coal merchants.
Comment by: Joe Thomas on 26th July 2010 at 10:41
Your Welcome Dot These Photo's Really Bring Memories Flooding Back Where Was Deroma's Can't Think Whereabout's It Was But Must Have Had Icecream From There Can You Remember A Horse Drawn Flat Waggon With A Kiddies Roundabout On The Back Of It In The 1950's Very True That
Comment by: Joe Thomas on 26th July 2010 at 10:49
Don't Know Dot Since Moving From Linney Street Lost Touch With Lots Of Those People I Know Alan Used To Live In Golborne In The 1990's
Comment by: Dorothy Hesketh (Ince before) on 26th July 2010 at 15:04
Deromas was in Florrie St but at the Scolfield lane end. Opposite side to the coal merchants. I used to run up the backs behind Glenys house. Some missing ice cream before I got home.
Comment by: Ann Roberts ne Lowton on 29th August 2010 at 16:08
tThis is 33 Linney St.My grandmas Nancy Berry,the Cherry's lived next door,my family the Lowtons lived at 43 Linney St.I recognize Dorothy Ince and Glenys Cherry.As a girl Glenys had rheumatic fever and was very poorly . Ann Lowton as was .
Comment by: dorothy hesketh nee (ince) on 1st September 2010 at 21:33
Hi again Ann, yes i knew of Glenis having ill health as a youngster. Did you marry Mr Roberts locally? I married at St Catherines, then my youngest married there as well. Met up with Eileen Martin also of Linney St. We met in Perth Hospital in Australia, thet would have been around 1977 ish. She was married and I went to her home and met her Mum who had emigrated out there. Lovely to see her after so many years. Her photo is on the school photos when she went to the High School. Nice coincidence.
Comment by: Eileen Naven nee Martin on 21st August 2011 at 04:43
I lived at 63 Linney Street, Remember Dot well after seeing her in Perth, Remember Glenis Cherry and Ann Lowton well.Have kept in touch with Ann Stringman Brenda Ashurst Sheila Summers all Linney Streeters.
Comment by: Keith on 15th September 2011 at 23:19
Hi Eileen, if you go to http://www.wiganworld.co.uk/album/photo.php?opt=2&id=344&gallery=St+Catharine%27s%2C+Wigan&offset=0 you should find a few of your Linney street friends.
Comment by: Joe Blackburn on 29th January 2017 at 21:13
The ice cream makers in florrie St were worthingtons who had a shop at.
The bottom of scholefield lane
Comment by: J Gosnay on 7th March 2021 at 14:46
I am interested that this is 33 Linney Street. Nancy Berry, married to Joseph, was my mother-in-law's grandmother too, and we have a photo of the family outside no. 33 in the early 1930s,