Photos of Wigan
Photos of Wigan
Album Contents
Album Contents
Wigan Album
St Nathaniel's, Platt Bridge
8 Comments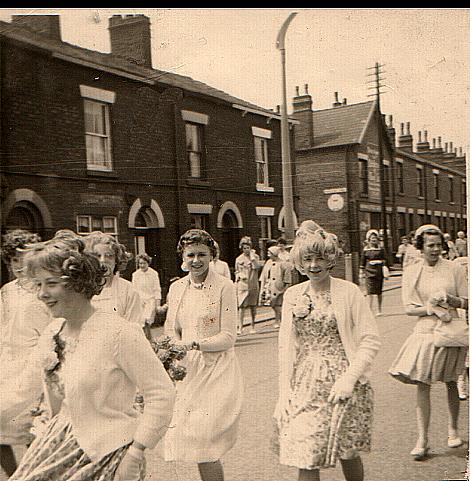 ST.NATHANIELS CHURCH.WALKING DAY
Photo: HARRY PENNINGTON
Views: 2,524
Item #: 14596
Photo of my Cousin Helen Pennington,centre of picture in flowered dress.The procession is walking down Walthew Lane towards the KING WILLIAM pub.I don`t know the year.
Comment by: Dennis on 19th April 2010 at 09:10
Is that Liptrots in the background?
Comment by: Wigwann on 19th April 2010 at 11:04
I think it is, and I also think that a family called Bibby lived in the house with the white trim on the windows at the house near the lampost.
Comment by: Marilyn (nee Morris) on 19th April 2010 at 20:58
Yes, Bibby's did live in that house, Eunice and Eileen. Is that Olive Corfield on the front left hand side of the picture?
Yes it;s Olive Corfield.She lived in Moss Lane I think the year would be around 58/59.
Comment by: HARRY PENNINGTON on 6th May 2010 at 14:10
HI,WIGWANN.IT IS LIPTROTS IN BACKGROUND.I LIVED OPPOSITE WHICH USED TO BE OUR SHOP,TILL THE WAR STARTED AND EVERYTHING WAS RATIONED,SO IT CLOSED,I WAS A BOY AT THE TIME.YES IT WAS BIBBYS AGAINST THE LAMPOST.ALSO NEXT DOOR OR NEXT DOOR BUT ONE, MEADOWS FAMILY LIVED THERE.FOUR BROTHERS DROWNED WHEN THE ICE BROKE.WE CALLED THE POND `THE PERCH PIT`I USED TO PLAY WITH THEM,BUT I WAS`NT THERE THAT DAY.WE CALLED THE MEADOW`S GANG.
Comment by: leslie hart on 2nd October 2010 at 09:53
hello harry ya bibbys lived ther i use go moss lane school we her her sisters a bit older i rember yr mam and u you lived across rd from bibbys& liptrots how u keeping
Comment by: anne woods nee Morris on 3rd July 2015 at 09:40
I went to school with Eunice Bibby. I'm 67 now so quite a while back. I was a Sunday school teacher at St Nathaniels until coming to live on the Fylde coast when I was 26. Went to Moss Lane Sec school. anyone in my class?