Photos of Wigan
Photos of Wigan
Album Contents
Album Contents
Wigan Album
St Nathaniel's, Platt Bridge
28 Comments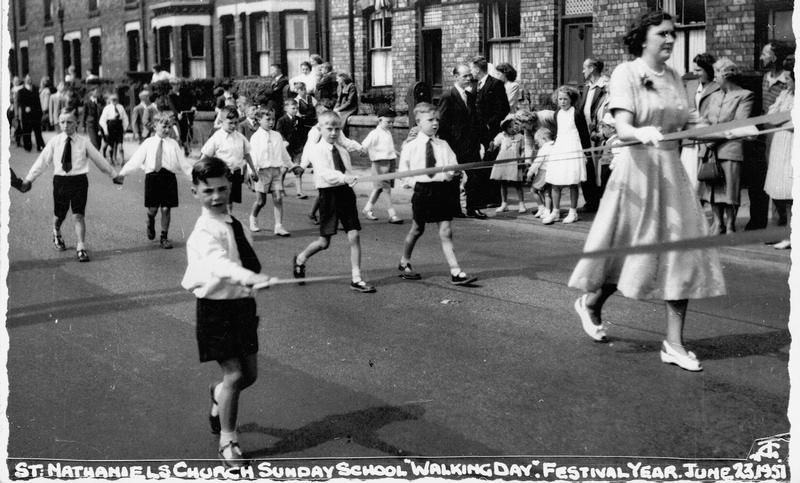 St Nathaniel's Platt Bridge 1953
Photo: Dennis Miller
Views: 2,922
Item #: 14348
Taken on June 23rd 1953, this has caused much debate in my house as to where in Platt Bridge it is... we cannot decide between Walthew Lane or Liverpool Road.

Then again, it could be neither!
Comment by: Jem Glover on 3rd April 2010 at 10:04
Think it could be Walthew lane,there are only two house's with the bay windows as in the picture.They are just down from the shop on corner of Davies St.Mi Son lives in the one on the right as you look at photo,if it is Walthew lane think they were pit bosses House's in year's gone by
Jem... thank you, I think you may have nailed it.
Comment by: Mark Calter on 4th April 2010 at 16:36
IS the lad on the far right is FRED WATERWOTH,S son ALAN
Comment by: W.P on 4th April 2010 at 18:58
I'm not convinced about the two houses in question. These houses do not have stone lintels above the windows and doors they have bricks on their ends. Also the gate posts to these houses are brick.
Comment by: W.P on 4th April 2010 at 19:39
Appologies I am wrong about the lintels.
Comment by: Dennis on 5th April 2010 at 04:43
Mark... yes it is Alan Waterhouse.
Comment by: Wigwann on 5th April 2010 at 11:21
Is the man at the far end of the line Mr Bailey from the St. Nat's junior school,also is it 1951 or 53?
Wigwann... my fault, it is indeed 1951.

It could very well be Mr Bailey, a bit before my time however.
Comment by: Wigwann on 6th April 2010 at 08:55
Thanks for the info,now who is the lady on the banner?
I think the lady on the banner is Miss Marsh a Teacher at St Nat's Infants.The boy in the foreground is Dennis Redfern. We were at School together.
I am almost sure the first house after the second bay is 108 Walthew Lane. Lived there with my gran Hannah Walker until I was 7. The next house was Ivy and Albert (can't remember surname) then the Harts (Fanny and Stanley)then Ellison's chippy then Massey's grocers.
Comment by: TREVOR BOWDEN on 17th August 2010 at 22:44
OUR HOUSE WAS 106 IVY AND ALBERT BOWDEN WITH MY SELF AND MY SISTER EILLEN
Comment by: linda (massa) on 19th August 2010 at 16:27
Trevor I remember you and your sister Eileen. I sometimes bump into Hazel Massey (remember her from the shop) in Chorley and I believe she is friends with your sister. Tell your sister I said hello.
Comment by: linda massa on 25th August 2010 at 15:52
Walking day 1948 and the road is covered in cobbles. Five years later they are gone and have been tarmaced over.
yes linda it was borden trev&eileen & ilived next door les hart i still live in platt bridge bin here 63 yrs
Comment by: JOHN BAILEY on 25th September 2010 at 15:26
FRONT LEFT DENNIS REDFORD MIDDLE BILLY EVANS AND JOHN FARREL BACK RIGHT JOHN BAILEY AND ERNIE WOLSEY BOB JACKSONS OLD HOUSE IN BACKGROUND BAY WINDOW TONY CARROL LIVED NEXT DOOR DEF WALTHEW LANE
Comment by: linda massa on 1st October 2010 at 17:01
Hello Leslie Hart, I remember you well. Your mum was one of my godmothers.
Comment by: leslie hart on 2nd October 2010 at 09:45
hello again linda my mam&dad are dead now my sister olive still living she lives at beech hill been ther 51yrs were are u living now not c u for 5oyr get in touch
Comment by: linda massa on 2nd October 2010 at 16:47
Hello Leslie, live in Much Hoole now near Preston. Say hello to your sister for me.
Comment by: linda massa on 2nd October 2010 at 22:21
Hi Leslie - if you don't have a user name on here send an e-mail to brian@wiganworld.co.uk and he will give you my e-mail address.
linda i have sent a e mail to brian e wudent give me your email adress so i sent him my mob number so u can give me a ring with my adress ok
Comment by: Linda (massa) on 9th March 2011 at 15:13
Is that your mum sat on the wall outside your house Trevor?
Comment by: Wanner on 12th June 2011 at 18:13
John Bailey......... Re Tony Carroll. Its Tony Holcroft who lived next door to Bob Jackson. He's my father in law. Carroll was his mums maiden name.
hello linda my sister olive past away 6th jan last yr she was 73 R.I.P
Comment by: linda massa on 17th March 2013 at 14:12
Sorry to hear about your sister Olive Les.
LINDA CAN YOU RING ME 01942 530632 I LOVE TO HAVE AQ CHAT TO YOU NOT SEEN YOU FOR OVER55YRS LES HART X
i linda i dont no your married name thats y i not been able to e mail u if u want to give me ring my num is 01942530632 les
Comment by: Wallace Price on 5th August 2018 at 08:05
Is the man in the suit at the back on the pavement Jack Bailey, Len Baileys brother, Jack was a teacher atSt. Nats. when I was at school, others were Nobby Hurst, Sammy Devonport, Mrs. Baldwin, Mrs. Stringfellow