Photos of Wigan
Photos of Wigan
Album Contents
Album Contents
Wigan Album
St William's RC Primary School
5 Comments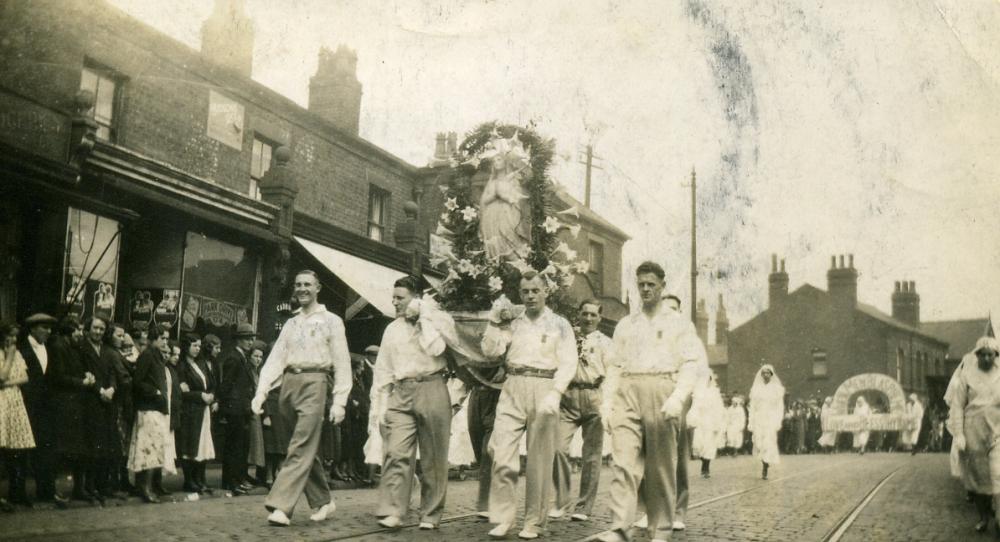 St Williams R.C Ince Walking Day
Photo: Glenys Cunningham
Views: 1,746
Item #: 12741
This photo was with our family photo's we don't know anyone in the photo can anyone help
Comment by: josie pennington nee beckett on 5th December 2009 at 00:29
HELLO GLENYS, CANT HELP WITH PIC BUT I PUT ONE ON UNDER WALKING DAY EXACTLY THE SAME . SAME STATUE &FLOWERS ON INCE BAR 1950s DIFFERENT MEN THIS PIC MUST BE A LOT OLDER YOU CAN SEE THE TRAM LINES & THE ONLOOKERS DRESS IS OLDER ITS OBVIOUSLY INCE DOES ANYONE KNOW WHERE ABOUTS.
Comment by: josie pennington nee beckett on 5th December 2009 at 00:40
LOOKS LIKE BOTTOM OF CARELESS LANE WHERE GIRLS ARE CARYING ARCH THING.
Comment by: John on 5th December 2009 at 09:56
Josie, The picture is taken just over the canal bridge near Roase Bridge Methodists with the procession walking towards Birkett Bank
Comment by: Anne Swarbrick (Woodward) on 4th January 2010 at 09:02
is the shop with the sun canopy the chemist " Jack come tomorrow" as my Dad use to call it ,whenever you went in he would say "come back tomorrow" to collect your script
Comment by: JOSIE PENNINGTON BECKETT on 19th February 2010 at 17:36
no annejack tommorows was quite a bit further on across from bulldog tools ish,i remember going in the chemist and he never heard you i could be stood waiting for ages till he eventually came in from the back and ur right whatever u wanted he would most of the time say can u come back tommorow.