Photos of Wigan
Photos of Wigan
Album Contents
Album Contents
Wigan Album
St Peter's, Bryn
6 Comments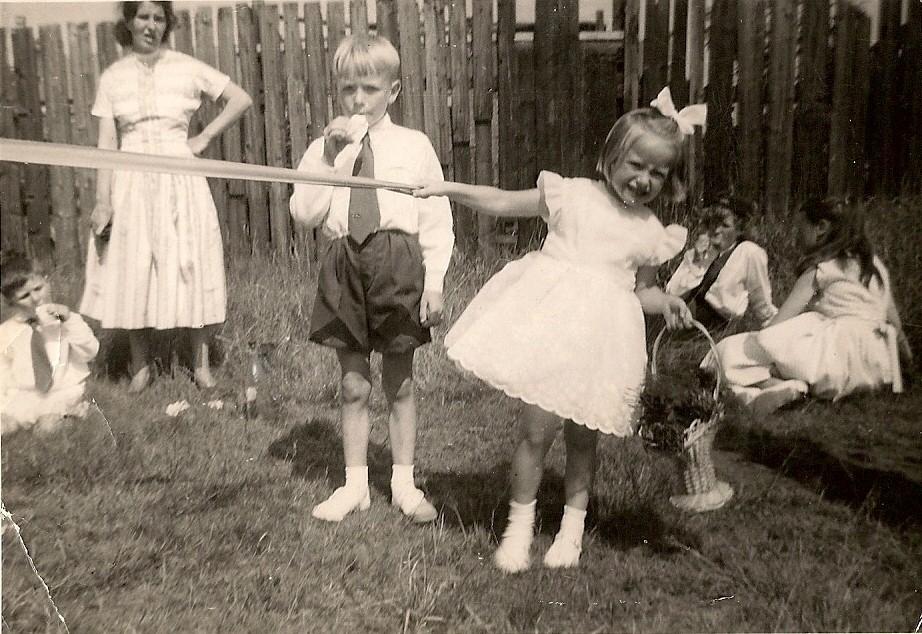 St Peter's Bryn early 60's
Photo: Joan Harrison[nee Pilling]
Views: 2,236
Item #: 11972
This was taken in the early 60's. I am holding the banner,my brother John Pilling is stood behind me eating ice-cream,behind him is my auntie Molly with my cousin John Sherman.The photo was taken on Whitledge Green where the walking-day used to have their service after the walk.
Comment by: lanky11 on 1st October 2009 at 15:33
I was born in Bryn lived there till 1970 my name was Margaret Edwards from clifton road the Pillings lived across the road are you related to them? Not sure of the road they lived on now but if was not clifton I used to walk with st Peters bought back memories
Comment by: Karen Halliwell on 1st October 2009 at 17:39
Hello there Barbara, you're a stranger these days.
What a great photo, i'm sure i must have been round about at the same time. X
Comment by: Joan Harrison[nee Pilling] on 1st October 2009 at 18:25
Hi Lankii,we did live in Clifton Road but I was only a baby.We moved to Nicol Road arround 1957 you may know my older sisters Kathleen,[who lives in Clifton Road now,her married name is Yates] and Anne,[her name is now Tinsley].
Comment by: Joan Harrison[nee Pilling] on 2nd October 2009 at 11:35
Hi Karen,it is me Joan on the photo with our John.Barbara is younger and she now lives in Rhyl.
Comment by: lanky11 on 4th October 2009 at 13:25
Heyyyy so funny I was born in Nicol rd then moved to Clifton rd when I was 2
Comment by: Karen on 9th October 2009 at 20:21
Sorry, I knew you had posted the photo but i think it threw me a bit seeing you with blonde hair, i just thought of your Barbara. X