Photos of Wigan
Photos of Wigan
Album Contents
Album Contents
Wigan Album
Hollandmoor/Digmoor
4 Comments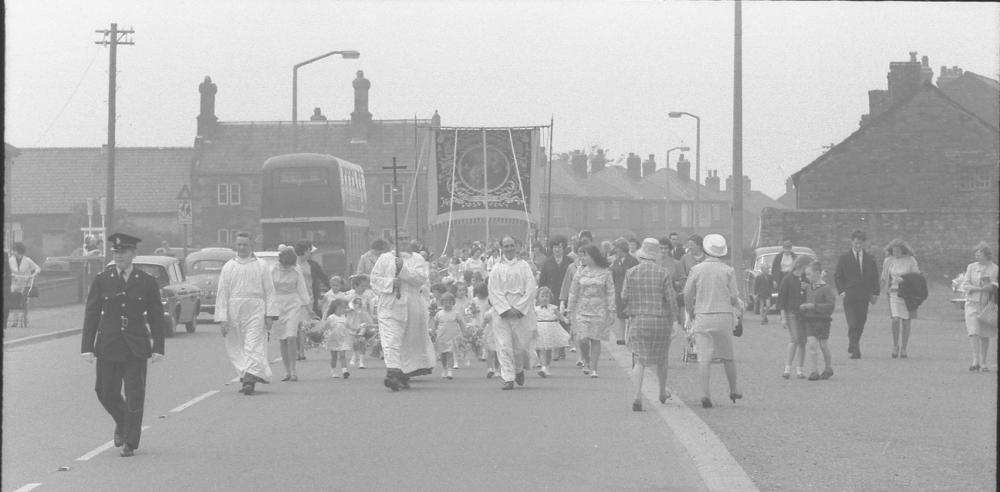 Walking day 1960's Hollandmoor - Digmoor Nr Wigan
Photo: Martin Pearce
Views: 1,860
Item #: 11646
Photo by Colin Pearce.
Notice the Ribble Buzz the Ford Anglia and the Morris minor, good old not so lead free cars.......yes I know I spelt Buzz wrong....or did I.
Photo taken on Ormskirk road opposite the Hare and Hounds Public House, before they cut the road off with the dual carridge way cutting off a lot of FAMILY they did not have to do. Including the family butchers etc....Open it back up I say......another round- about would help to send more people around another bend they didn't need....! Then block up the subway that is just a dumping ground.
Comment by: Helen on 29th August 2009 at 08:24
I remember this bit of Holland Moor from way back in the late 40's early 50's. We lived at 235 Ormskirk Rd, the house is hidden behind the School House & building, on the corner of Back Lane. We used to hang around the gas lamp outside the front of the school in the darker evenings.Knew a family of Alkers that lived in the cottages nearly opposite the school & Gaskells petrol pumps, the children were John & Audrey. The family at the School House were the Gaskells, their daughter Jean was a friend of mine.
Mrs Rigby's shop was on the right, next to the Hare & Hounds, the pub with a weighbridge outside, the Post Office house just a little way further up. I remember Walk Sundays very well. Back in the area a couple of years ago we got lost looking for this bit of Holland Moor. Ormskirk Rd was the main road to Southport from Wigan.
Thanks for the memory Martin.
Comment by: Ellen on 7th September 2009 at 21:12
Helen,I went to the school in the forties,then to UGS. I,m enjoying a little Monday afternoon nostalgia in Ontario,Canada and would hardly recognise much of present day photos.
Comment by: Helen on 8th September 2009 at 08:19
Ellen, my sister Anne Bradshaw, 4 yrs older than me went to UGS in the 50's. I have some pics of a school trip she took to Paris with a group of girls. I will look them out & post them on WW, you might recognise someone.

My life in Holland Moor & Wigan was along time ago but I love a bit of nostalgia too.
Comment by: Ellen on 8th September 2009 at 22:12
Helen,thanks for your reply.I don't think I remember your sister,but I remember the Paris trip. I didn't go, but one of my close friends did. I have been in internet contact with her for about a year now.My major trip from school was to Switzerland Christmas/New year ?55/56 or 56/57. I was in 4th form when the Winstanley Road building opened.We lived on Nixons Lane since I was 1or2yrs old. My parents moved to Ormskirk Road across from the Labour club after I had gone to Leeds for Nurses training.