Photos of Wigan
Photos of Wigan
Album Contents
Album Contents
Wigan Album
St William's RC Primary School
12 Comments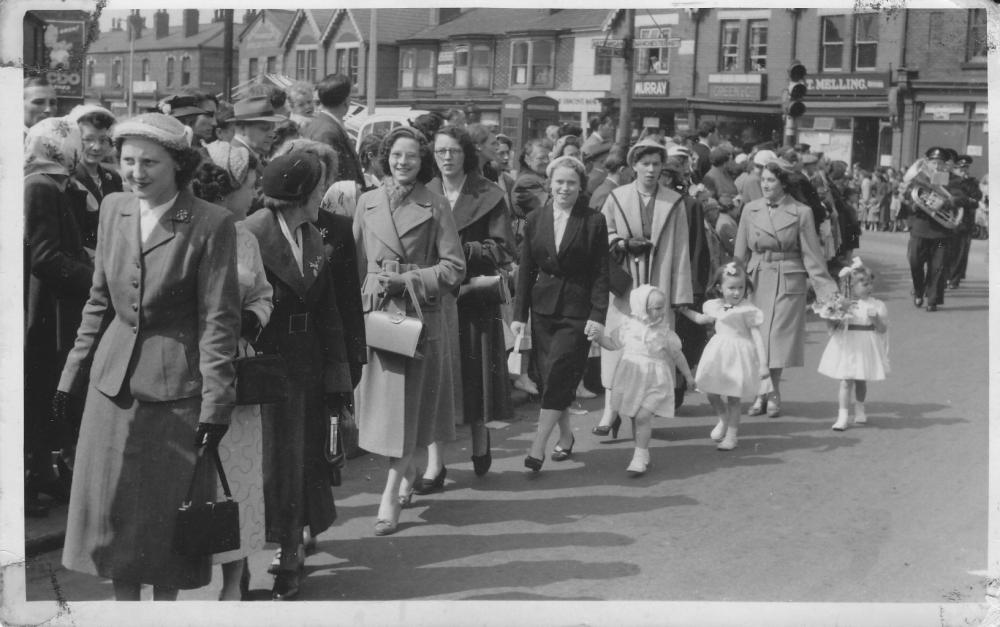 Top of Ince Green Lane
Photo: Gerry
Views: 3,560
Item #: 11580
Walking day For St St Williams do you know anyone? its around 1956 ish
Comment by: John B on 17th August 2009 at 19:34
Don't know anyone Gerry, but it's a great picture.
gerry the last ladie at the back is my aunt marion and my cus marilyn.
Comment by: A Bolton on 18th August 2009 at 00:34
Would this be at the traffic lights at Ince Bar Gerry?
Comment by: irene roberts nee griffiths on 18th August 2009 at 09:38
Thanks for posting this wonderful, nostalgic photo of Ince, Gerry.I had clogs as a little girl in the 50s, from Tom Melling's shop, which can be seen in the background.
Comment by: Gerry on 20th August 2009 at 15:41
This the jct of Ince Green Lane and Manchester road at Ince Bar my mother Doreen is on the pic just in front of the lady with the little Girl, this lady (with the little girl)was called Logue I think. The lady in front of my mum is called Betty Stone and lived in Belle Green Lane opposite Sally Foys Chippy === Irene, that Mellings shop was the butchers, The shoe shop was near the old post office and the was another opposite Postlthwaites butcher in Ince Green Lane
Comment by: Evelyn on 21st August 2009 at 19:58
I believe the lady 3rd from the back with the dark suit on is Brian Worthingtons(Brians Chippy in Ince Green Lane)sister. Sorry I don't know her name
Comment by: Gerry on 22nd August 2009 at 00:01
do you mean the lady with the dark suit with the little girl?
her name was Logue, or summat like that
the lady 3rd from the back is my mum her name was madge logue she was married to liam and thats me her daughter kathleen can anyone remember my dad liam
Comment by: Gerry on 2nd September 2009 at 21:28
Hi Kathleen did you live in Windermere Rd opposite Maureen Keefe?
Hi Gerry yes i lived opposite maureen are you Geery mawsdley did you live on kendle rd do you remember my mum and dad
Comment by: Gerry on 14th September 2009 at 19:25
OK youve got me Kathleen I remember you and your mum and dad and most of the people on Windermere Road too. great days werent they? I wish we had our time over again
Comment by: josie pennington nee beckett on 16th October 2009 at 18:55
lovely photo jerry luv the shoes& bags too.