Photos of Wigan
Photos of Wigan
Album Contents
Album Contents
Wigan Album
Hindley Bridgecroft Chapel
12 Comments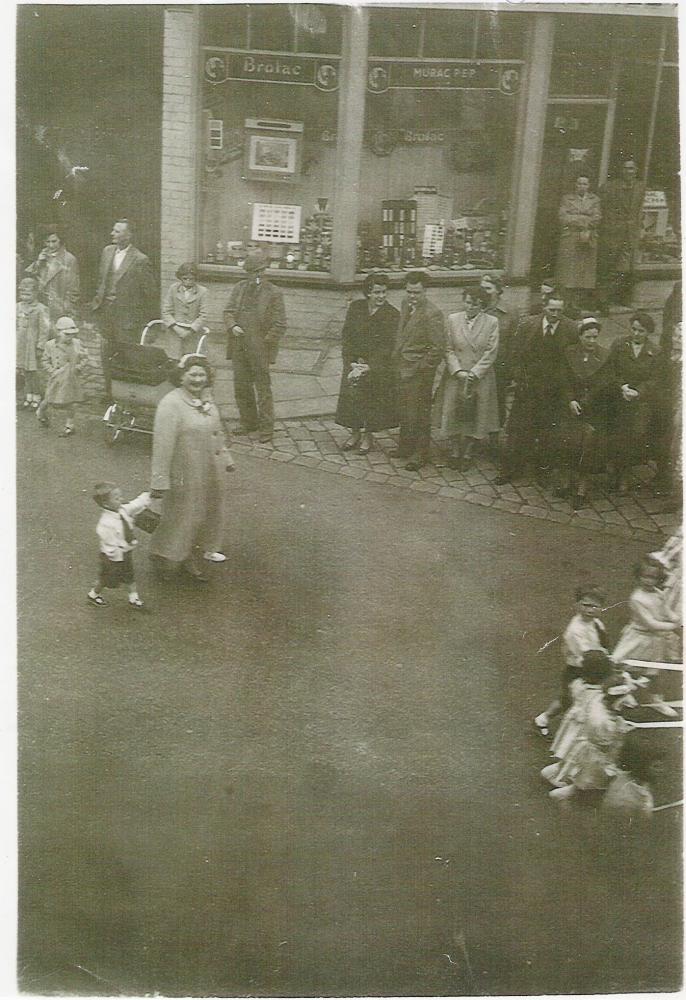 Hindley Bridgecroft Chapel walking day, 1950s
Photo: irene roberts nee griffiths
Views: 3,243
Item #: 11395
Apologies if this photo appears twice.....I lost the webpage whilst uploading,and am unsure if it was sent. The lady in the procession is my Mother-in Law, Mrs. Beatrice Roberts,who lived in Bridge Street at the time of the photo. She is holding the hand of her youngest son, Tony, and her next-in-age son ,Peter,(my husband), is the little lad to the right of the photo looking non-too-happily at the camera. The procession is passing Deansgate, where Market Street joins Bridge Street.Just out of shot is where the British Legion(later Castaways Club)stood. Peter wonders if anyone remembers the Wheatsheaf pub further along, between the Legion and The Cross Keys?
YEAH MY GRANDAD & GRANDMA OWNED THE PUB , THERE NAMES WERE ROBERT & LILLY THOMAS THEY LEFT ABT 1961ISH
Comment by: jeremyb on 6th August 2009 at 18:46
From what I remember the Wheatsheaf was a little lad,s pub.

Apparently the area where the Bridgecroft stood has all been tidied up and looks quite smart.
Comment by: Derek in Aus. on 7th August 2009 at 02:14
My Brother-in-law lives in Deansgate, bungalows where France STreet joins in. What has replaced the Paint shop?
Comment by: Irene Roberts on 7th August 2009 at 10:18
I think it's been a number of things since those days, Derek. Peter is going to check what it is now when he passes it, but I've a feeling it is probably just an empty building now.
Comment by: Irene Roberts on 7th August 2009 at 21:30
Derek, it seems to be a private house now, but what a lovely 1950s pic of the paint-shop, eh? Those days when every village had separate shops for everything,with personal service, instead of supermarkets with everything under one roof. Progress?.....I don't think so!
Comment by: Derek in Aus. on 9th August 2009 at 00:15
Yea Irene I remember quite a lot of the shops that were in Hindley, but the last time I was there all I seemed to see was metal shutters on everything.My biggest dissappointment was ST Peters School----GONE
There were two paint & wallpaper shops on Bridge st,One was i think called Lowthers (someone correct me if i'm wrong),The other was F H Critchley.Mrs Critchley was my teacher at AllSaints Infants class in the early sixties and a loverly lady.There was a shop in between these two called Whites Surplus Store ,i used to get my woodwork pinny from there and my first pair of "John Bull" work boots when i became an apprentice welder in 1972 .Happy Days.
Comment by: irene roberts nee griffiths on 27th February 2010 at 21:23
Hello, are you the Colin Barnes who used to know my mam and dad, Bob and Tizzie Griffiths, in Platt Bridge?
It sure is Irene,tell you what cock you've come along way from a barmaid at Platt Bridge Inn int 70's.Them afternoon sessions with the glass works boys -Nimmo ,Bob Smith ,Lanagan ,will always be in my mind.Love your written work in Past Forward ,love to meet up with you one day .
Comment by: irene roberts nee griffiths on 28th February 2010 at 17:43
Nice to speak to you again, Colin. My Mam and Dad thought the world of you. Glad you liked the Past Forward stories.....the last one, My Mother's Eyes, was all about Tizzie. A few Wigan World fans have mentioned my parents, and said they remember them as lovely people, which makes me so proud.
Comment by: Colin Barbe's on 24th August 2015 at 11:38
Maurice Whittle the Oldham and Wigan footballer had a sports shop here in the Late70s early 80s .Can anyone confirm this.–++