Photos of Wigan
Photos of Wigan
Album Contents
Album Contents
Wigan Album
Abram C of E School
19 Comments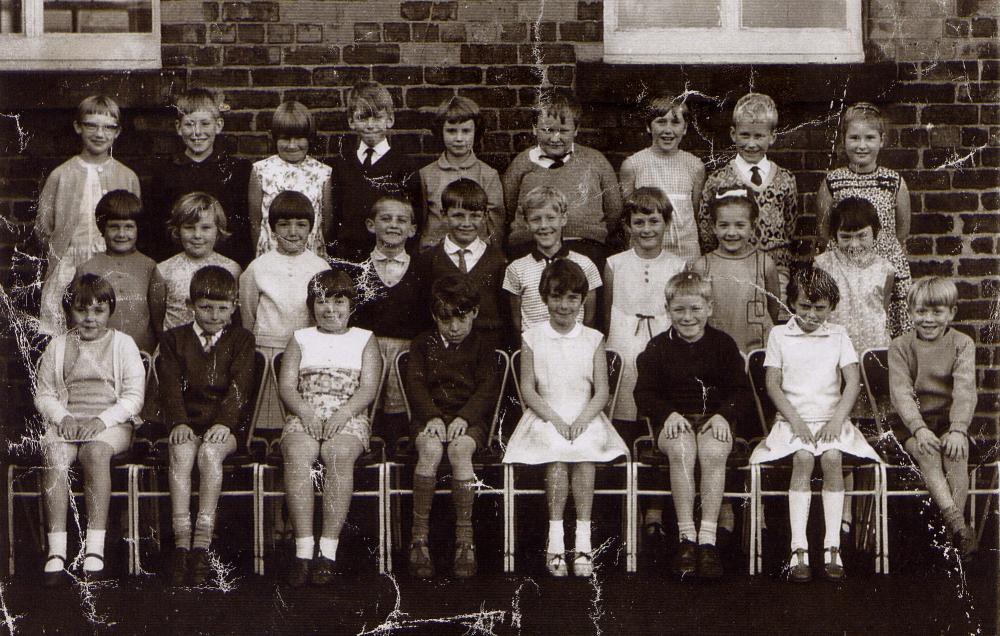 Abram C of E - (approx) 1967
Photo: Carol Moore nee Walker
Views: 28,611
Item #: 9335
I got this photocopy from Geoffrey Darbyshire who has the original photo but I have lost touch with him.

(Back Row, L to R) Kay Renshaw, Michael Baxter, ? , Steven Shaw, ? , John Johnson, Julie Ashton, Geoffrey Darbyshire, Wendy Unsworth.
(Middle Row, L to R) Carol Leyland, Pamela Eatock, Carol Walker, ? , Steven Taylor, Jeremy Broad, Margaret Clayton, Lyn Griffiths, ? .
(Front Row, L to R) ? , Neil Cox, Gillian Farrimond, Paul McNamara, ? , John Williams, Wendy Needham, Kevin Percival.
Comment by: Dennis Miller on 16th February 2009 at 04:19
I know Pam Eatock very well, she and her husband are very close friends of me and the wife. I will have to point this out to her.
Comment by: Mark Calter on 16th February 2009 at 15:07
Jeremy Broad has not alter still got that cheeky grin,are we sure about Neil Cox because he is a ringer for their Barry on this photo,my children grew up with these boys and girls but went Holy Family,and BIG John Johnson was our paper lad
Comment by: Karen on 16th February 2009 at 21:35
I recognise one or two names on here and they seem around my age at the time. Did some of them go to Ashton Central school?
Comment by: debbie on 24th April 2009 at 14:50
It is not Neil Cox it is Barry Cox because Neil was in my class and was slightly older.
not sure but i think the 5th from left on front row is me can any one remember me veronica radcliff
Comment by: Jean Stanley on 25th July 2009 at 15:07
I have the same photo.3rd from left back row is Shirley Wilson,between Steven Shaw and John Johnson is Julie Edwards.David Crosland is between Carol Walker and Steveb Taylor and Alison Halliwell (?) at the end of the row.
I'm 1st on the left front row, Sandra Davies is between Paul McNamara and John Williams. Joy Clements must have been off school the day 'cos she's not there.
this has made my day looking at photo it brings back happy days i remember most of the class and often wonder what they are doing
Oh my goodness this was my class, i remember most of the kids names, I very often wonder about what used to be my best friend Kay Renshaw, i see she commented, i would love to know how shes doing,
Comment by: Wendy Price (nee Unsworth) on 1st January 2012 at 14:35
We all looked like a mottley crew, where are they all now?
Comment by: Jean Stanley on 5th May 2012 at 22:21
Can you believe it's 45 years ago since this was taken? I'm still teaching and living in Rochdale with my almost 21 year old son. What's everyone else doing?
Comment by: Jon Wonders on 29th November 2012 at 08:42
Amazing over 16000 views and only 10 comments?

Am I missing something?
Comment by: Jon Wonders on 29th November 2012 at 08:45
Amazing over 16000 views and only 10 comments?

Am I missing something?
neil cox worked with me 1987 88 at baxters abramhe was a HGVdriver
Yes this photo was supplied by my mum,who still lives in Abram.I bet it's spent most of its life in a shoe box.That jumper if mine must have been a 1off .Why did the class room always smell of stale milk. The "Milk monitors" were to blame !!
Comment by: carol bannister nee leyland on 26th April 2014 at 22:55
My mum still has this photo,I named everyone before I saw all the names,I stil live in Abram
Haha I was a milk monitor jeff its so nice to read the messages on here Alyson and I are in touch I remember Jean Stanley and Carol Leyland.
To Jean Stanley,Your posting above, relative to Shirley Wilson as being one of your class mates.She is the sister of Brian Wilson.He was my class mate at Moss Lane school.I am trying to trace him re a school reunion.Could you contact me via my email on this posting.I too live nr Rochdale (Shaw).Hope you may be able to help me trace Shirley, in my efforts to locate Brian.Await your response.Brian R.
Re my last posting to Jean Stanley.Spoke to Jean but unable to help.Therefore,to Shirley Wilson,if you read this posting. I am still trying to trace your brother Brian for a Moss Lane school reunion.Understand from an ex neighbour, that you may live in Liverpool area & be in the nursing profession.Contact me on the email attached to this posting.Or anyone else who may have contact with Shirley Wilson as was.In anticipation of a reply Thanks.
Comment by: Kay Makinson (renshaw) on 25th January 2017 at 03:21
I live in Ashton in Makerfield when I walk to my mum & dads with my grandchildren I often look around at people and wonder if they were my school friends and if I they still live in the are like carol leyland, l recently made friends with best friend via fb Alyson Halliwell.