Photos of Wigan
Photos of Wigan
Album Contents
Album Contents
Wigan Album
Holy Family R.C.Primary School, Platt Bridge.
11 Comments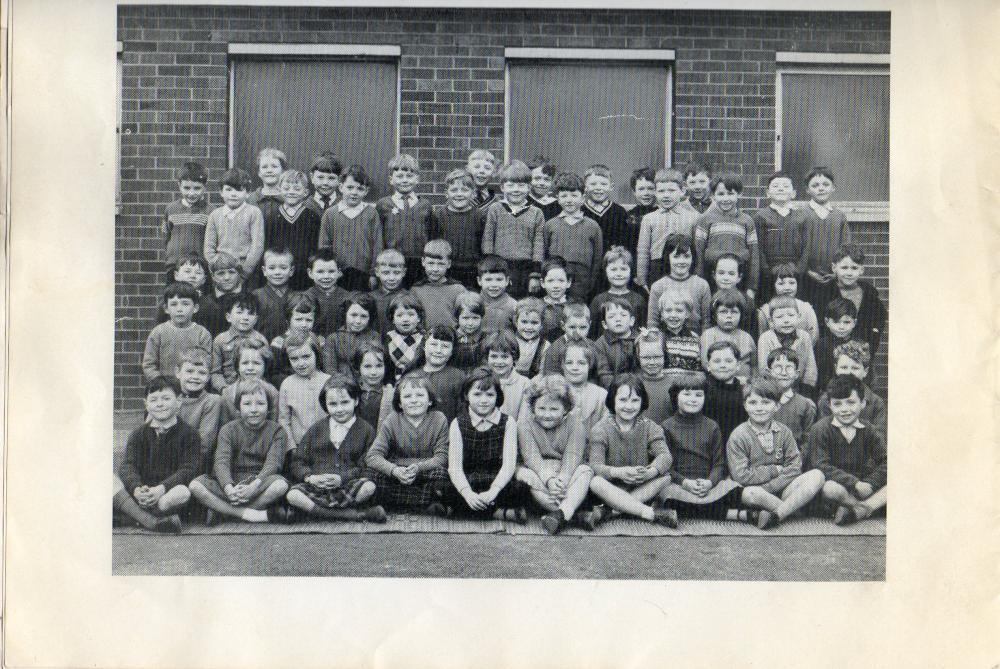 Infant school children
Photo: anne bretherton
Views: 32,074
Item #: 8033
This photo was in a brochure about the new school that was being built.
Comment by: eric gaskell on 20th November 2008 at 21:21
I should know everyone really as it was my class and they all look so familiar, but I have probably got them all wrong!
Back row 4th from the left is me, with dark V neck. Four boys along is Bernard Hoofe (cousin) and I think the boy next to him is ? Cumberbirch, then one of the Appletons.
Next to top row 2nd boy from left Martin(?) Pickup next to Paul Scott(?), then Alan Dorricott, next one looks like Gary Parkinson next to Jimmy Lloyd, then Trevor Gurhy and Billy(?).
3rd row down from left, 2nd boy Paul Kelly on the right of that row is another Paul Kelly (who emigrated to Canada) standing next to Anthony Moore.
Front row from the left I think the first girl is Denise Toughey.
Most of the group ended up at Cardinal Newman.
Comment by: anne bretherton on 24th November 2008 at 13:35
Eric it was all the Infant classes and im on the front row,4th from right.
Comment by: eric gaskell on 25th November 2008 at 17:32
I think I go Denise Toughey wrong, I have been informed by my sister that that is my cousin Pauline Taylor - not Denise.
Comment by: anne bretherton on 28th November 2008 at 18:31
front row L-R paul robinson,pauline taylor,catherine kelly,kathryn flanagan,susan darbyshire,susan sheridan,me,norma heyes,neil valentine,john salmon.
2nd row L-R colin scott,ann salmon,julia cunningham,pauline kelly,sharon scully,debra gurhy,margaret golding,?,?,david scully.
3rd row L-R ?,paul kelly,?,julie whittle,janet topping,lynn scally,margaret scully,?,?o'hara(twin),christine gurhy,karen biggy,rob moore,?.
4th row L-R ?,wilf pickup,paul halliwell,antony derricott,gary parkinson,jimmy lloyd,trevor gurhy,?o'hara(twin),betty meadows,?,?,paul carey.
5th row L-R keith dempsey,?,eric gaskell,?,john gurhy,bernard hoofe,?appleton,cyril griffiths,anthony moore,Paddy campbell,?,?.
back row L-R ?,?,michael chamberlain,sean swift,ste parkinson,steven whittle ?.
Remember so many of these names and faces Kev Ap next to Bernard and so many good times growing up with some of these good catholic boys as Swifty would say,I bumped into Swifty in Pemps many years ago hadn't seen him for 15 yrs and it was just like we were still at school 10 yrs old maybe that says a lot but many great memories. Joe Rynn still drinks in the Bowling Green on Wigan Lane and looks as fit as a fiddle. Thanks Anne for putting these on pitty I was wagging it and birds nesting the day the picture was taken.Sorry you turned out a Red Swifty other than that your a splendid lad.
Comment by: anne bretherton on 18th December 2008 at 11:53
John if you look on the Holy Family junior school picture im sure your on that.Dont know what happened when they took these pics coz all the kids seem to be mixed up.Some of my classmates are on the junior pic.I think your on second row to the right next to kevin conway.
excellent photos anne I will show these to our Ant,Helen, Sheelagh and mother who may of been school secretary around that time.
Are you the eric that later went onto Whelley? Dorothy
Comment by: Mike Appleton on 10th January 2011 at 21:54
There are at least three separate year 'groups' in the picture. I'm three to the right from Kevin. Ant Moore, Trevor Gurhy, Christine Gurhy, Lynne Scally, Paul Carey were in the same year as me. Jimmy Lloyd, Gary Parkinson were a year above and Kevin, Bernard Hoofe, Rob Moore, Steve Parkinson were the two years above. Rob - I remember Mrs Moore working at the school. Thanks for the memories…
belting photo anne brings back memories met up with john higham a few times bowling green an anvil in town i work with kev an mike appletons young bro andy
Comment by: Jon Wonders on 29th November 2012 at 16:33
Amazing over 18000 views and only 10 comments?

Am I missing something?