Photos of Wigan
Photos of Wigan
Album Contents
Album Contents
Wigan Album
Platt Bridge
8 Comments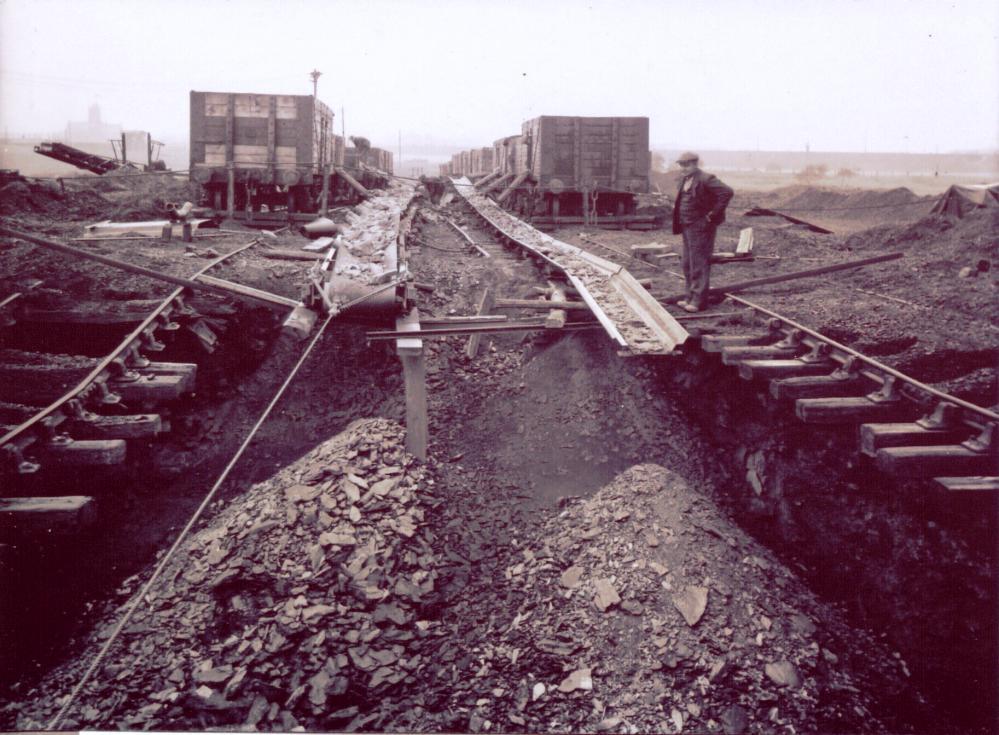 Collapsed mine shaft, 1945
Photo: David Devine
Views: 9,923
Item #: 7584
Filling in the mine shaft on Saturday, 2nd June 1945. This is the hole that a railway engine, 13 loaded wagons and the driver, Ludovic Berry, disappeared down. All are still there to this day.

Full story:
http://www.wiganworld.co.uk/stuff/past1.php
Comment by: Barbara Sherrington (Webster) on 13th October 2008 at 23:19
I've been trying to find the spot where this is, I believe there's a plaque. Anyone know how to get to it?
Hi Barbara, there is a plaque of which I took a photo of a couple of years ago, if you look at

www.wiganworld.co.uk/stuff/past1.php

and scroll to the bottom you will see it.

To get there, go through Platt Bridge heading towards Abram, when you get to the main junction, turn left down Bickershaw Lane. Go about 400yds and you will see a little lane on your left (signposted caravan park) - its a gypsy site, be careful!

You will really struggle trying to find it as its in undergrowth off the path. I went into the caravan park and a lady by the name of Margaret called a couple of young lads over to take me to the spot.
Can you please tell me were abouts the memorial stone is for ludovic berry,i know its somewere between abram and platt bridge but not sure were.thank you
Comment by: geof on 31st January 2010 at 22:26
There were 5 locos, based at Low Hall, as well as Dolly there was Daisy, the others were called Number ?, I don't remember which numbers.I used to get to ride on them as a kid, as my granddad Ted Kyn aston was in charge of them. He is the man shown, and he showed me over 50 years ago several shots of the scene with him on them. He lived in 22 Church Road, opposite St Nats Church, visible in the background.He died 1993, aged 93. His brother John also worked with the locos, living in 479 Liverpool Road.
Comment by: paul h on 20th January 2013 at 17:25
Could just see the shaft from my bedroom window when i was a kid,now its hidden by trees; We used to play there me n r kid. There;s a steel pipe going over the brook to the left of the pic abt 20 inch dia we used to run across it ignoring the 15 ft drop into the water! Must have a walk over the next time i go down to my mums. Ive never seen the mem plaque.
Hi is there any other way to see the memorial stone of Ludovic Berry, my Grandson and I have been looking for it for a while and we have not had any luck, Can any one help
Thank You
Comment by: Jack Potter on 23rd July 2017 at 17:28
Dianne. There is a gravestone in Abram churchyard in memory of Ludovic Berry.
Comment by: Helen on 18th October 2020 at 18:44
First time there today and we found it its actually pin pointed on Google maps that how I found it