Photos of Wigan
Photos of Wigan
Album Contents
Album Contents
Wigan Album
Golborne Boys Secondary Modern
15 Comments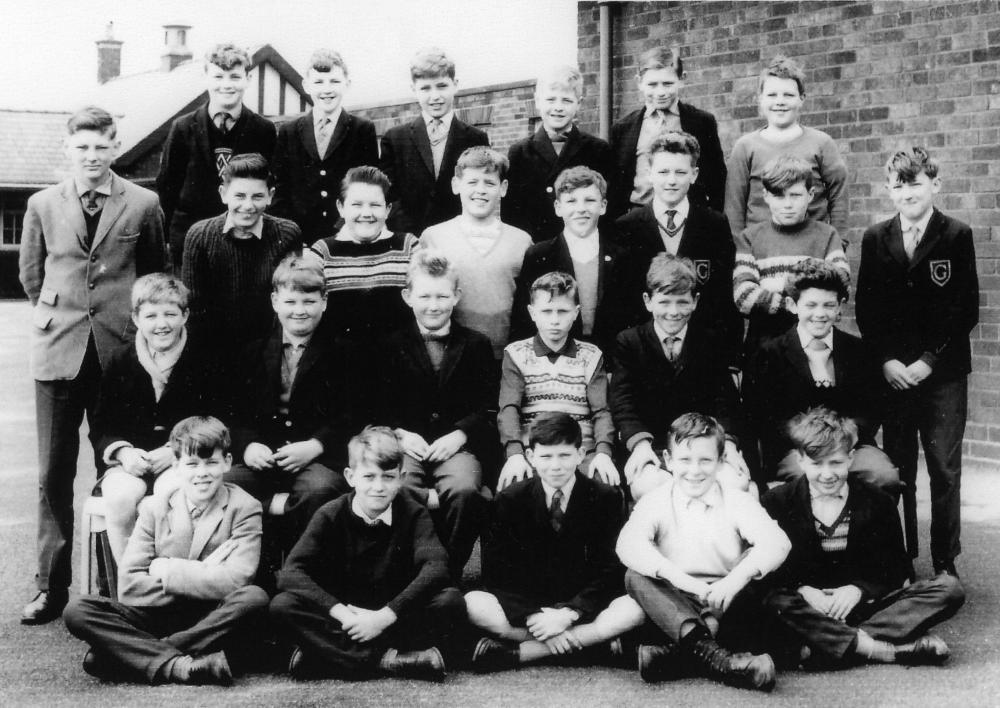 Golborne Boys Secondary Modern
Photo: Paul Lange
Views: 22,153
Item #: 7138
Class A, taken 1962/63 I am back row 2nd from the right.
Comment by: Broady on 24th August 2008 at 21:14
Paul,

I should probably recognise more people but the only one I know is Dave Hart. Are there any more Abramers on the photo?
Comment by: broady on 24th August 2008 at 21:16
Paul,

I think I recognise Brian Swan also.
Mick - Here are some names
Back row 1st left Alan Gorrie ( lived Culcheth Ave, drowned Juction ) Next to back row 1st left Stephen Ball ( lived Thirlmere Ave Then moved to Bickershaw, now lives in Lowton.
2nd left David Hart ( lived Coniston Drive, now lives next door to me ) 3rd left Terance Butonwood ( lived Lee Lane - still there ) 6th left Michael Chadwick ( lived Culcheth Ave - still there ) Third row from back 4th from left Brian Swann ( lived Warrington road near old junior school ) Nobody on front row from Abram.
Comment by: paul on 26th August 2008 at 08:10
Mick ????? sorry Bill, thinking of somebodyelse ( your younger brother ?? )
I believe the young lad second row from back, second right is Peter Hill.
Lesley - Yes it is Peter Hill.

As far as I can remember here are the names from top left to bottom right.
Alan Gorrie, Stephen Green, Stephen Mathews, Leonard Roby, Paul Lange (me), Billy Hooton, Stephen Ball, David Hart, Terance Burtonwood, Peter xxxxx, Philip Bentham, Michael Chadwick, Peter Hill, Alan Gerard ?, James Picton, John Edwards, Louis Knight, Brian Swann, Alan Berry, Barry Derbyshire, Alan Fairhurst, Louis Culshaw, Alan Parkinson, Geoffery Roberts ?, Alan Anders.
Comment by: keith pennington on 21st January 2009 at 21:57
first left is my cousin Alan Gorrie,never seen this photo before ,thanks a lot will print it off and pass it to his sister Christine
hi Paul ,sorry can't seem to contact you for some reason, have posted my e mail address ,regards Keith
Names The Boy at the far Right is Stephen Aspinall not Alan Gerard. The Peter is Peter Williams. I Think It was Keith Derbyshire and Eric Parkinson. I have the same Photo
I never met these guys - Left school "61"- Was Peter Aspinal(Pey Wap)still teaching - Jones the head ? -I was a Lowton sparra - sort of
Happy Days. I am the person between John Edwards and Brian Swann. If anyone fancies meeting up then contact me on dmd40j@gmail.com
I'm sure it's Dennis Parkinson (Allan's brother, and I used to live next to Peter Williams.
Well I lived in Australia from 1973, but the company I worked for sent me to train Engineers in Africa for 3 years then I worked for a defence contractor and spent 2 years in Turkey on a defence project during the second Iraq war, now I have retired and living in Costa Rica and having a great time and been married to my wife Olga for just coming up to a year now, would love to catch up with some of you guys.